Your Ultimate Guide to Black Friday Trampoline Deals (2023)
Find the best Black Friday trampoline deals and score big savings with our expert Guide! We reveal how to prepare, where to look, expert tips and more for 2023.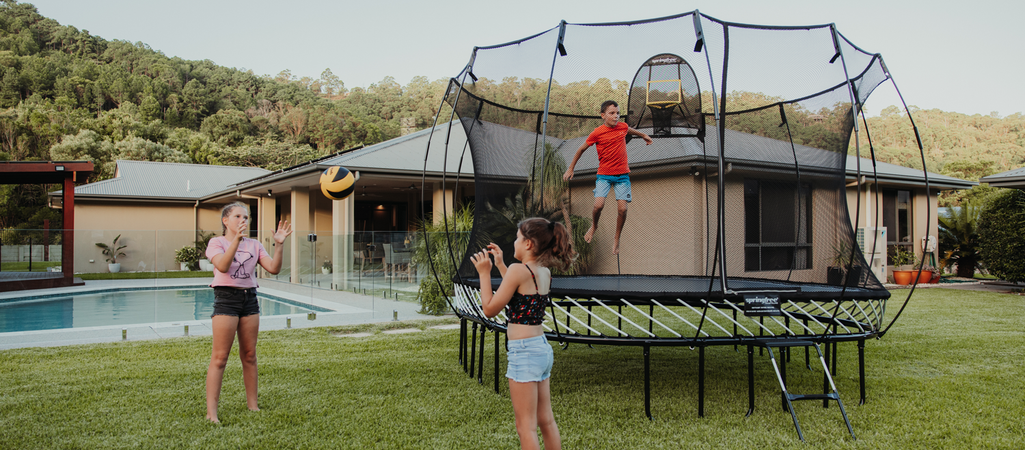 Black Friday is one of the biggest shopping days of the year, and it's a great time to buy a trampoline on sale.  
Many retailers and brands offer discounts on trampolines during Black Friday, which can save you a lot of money. But with so many trampoline deals available, it can be tough to know where to start.  
That's where our Guide to Black Friday Trampoline Deals comes in. We'll use our first-hand experience as a springless trampoline manufacturer to walk you through everything you need to know to find the best Black Friday trampoline deals, including: 
When and where to find the best trampoline deals. 
How to choose the right trampoline for your needs. 
Tips for saving even more money on your trampoline purchase. 
Whether you're looking for a trampoline for your kids or yourself, we'll help you find the best Black Friday trampoline deal so you can get the most bang for your buck.  
When Is Black Friday in 2023?  
Black Friday this year is on Friday, November 24, the day after Thanksgiving. There will likely  be Black Friday trampoline deals before this date, however (more on this later).  
Fun Fact: Black Friday gets its name from retailers' accounts going from "in the red" to "in the black" due to the influx of spending from customers. "In the black" signals that a company has become profitable.   
Preparing for Black Friday Trampoline Shopping  
If you want to get the best trampoline for the best price, you will need to do some preparation.   
Use the following expert tips to make sure you're ready to buy the right trampoline on sale:  
Research which brand and type of trampoline you want before looking at deals. 
Measure your backyard and consider which size of trampoline you need. 
Go over which trampoline safety/quality/durability features are a necessity for you.  
Assess which trampoline accessories or add-ons you want.   
Plan your budget accordingly.  
Sign up for email newsletters from trampoline brands/retailers to receive the latest deals. 
Follow brands/retailers on social media for more information on Black Friday offerings. 
Find which brands/retailers sell the trampoline you want and compare prices. 
Read customer reviews and note any awards the different trampoline brands have won. 
If going to a store on Black Friday, consider store opening times and locations.  
Many brands/retailers will offer Black Friday deals BEFORE Black Friday. So, don't wait until November 24 to look for a trampoline deal. Use newsletter signups and social media alerts to help notify you when a trampoline goes on sale.  
If you prepare before Black Friday, you will be set up to capitalize on the best trampoline deals once they go live! 
Where to Find Black Friday Trampoline Deals  
Once you're prepared and have chosen which trampoline you want, you need to know where to look.  
Here's a list of places to look for trampolines on Black Friday:  
Top Trampoline Brands to Watch on Black Friday 
Many trampoline brands offer Black Friday deals, so there's a chance that the trampoline you want will be on sale.  
Here are some of the major brands to watch as Black Friday approaches:   
Springfree Trampoline  
Oz Trampoline
Jumpflex 
Lifespan Kids
Vuly 
It's no guarantee that these brands will offer Black Friday discounts on their trampolines. They will also differ in the types of deals they offer.   
Some may offer a "$ off" or "% off" of your trampoline purchase. Others may opt to include free trampoline accessories, like a trampoline basketball hoop, with a trampoline purchase.   
Choosing the Right Trampoline on Black Friday  
The most important part of getting a trampoline on Black Friday is that you get the right trampoline, NOT just the cheapest.   
Black Friday is a time for savings, but it doesn't mean that you should settle for a low-cost trampoline.   
How to Buy the Right Trampoline  
Here are all the main factors to look for when buying a trampoline:  
Safety Features – What specific trampoline safety features does this trampoline come with?      
Trampoline Quality – Is this trampoline built with quality materials that ensure its longevity through childhood?     
Durability- Can this trampoline last under years of jumping and weather conditions without breaking down?      
Warranty- What parts are included and how long is the trampoline's warranty?      
Design and Style – Does this trampoline look aesthetically pleasing in your backyard? Can you customize it?     
User Reviews – Does this trampoline have positive online reviews? Has it won any awards?        
Trampoline Cost– Is this trampoline within your budget and worth the investment?       
Other Important Factors- Trampoline weight limits, installation, customer service and accessories.      
Cheap trampolines are cheap for a reason: They are typically less safe and likely won't last past 1-3 years without strenuous maintenance.   
Our advice? Take advantage of Black Friday and get a high-quality trampoline that will safely last in your backyard for the long haul.   
It will keep your kids safer, last for years without needing to replace parts and look more visually appealing in your yard.   
Black Friday vs. Cyber Monday Trampoline Deals 
It's difficult to declare which "shopping holiday," Black Friday or Cyber Monday, provides the better trampoline deal.   
Whether you should buy a trampoline on Black Friday or Cyber Monday will depend on your preferences.   
We would advise you not to wait too long to buy a trampoline around the Holidays. If you want to have the trampoline installed by Christmas, it may be better to buy on Black Friday just in case it'll be a long delivery process.   
However, you can also argue that Cyber Monday may net you a better deal, and it's only three days after Black Friday – so there's not a huge time difference.   
FAQ: Black Friday Trampoline Deals  
To make sure we covered everything, here are answers to frequently asked questions about Black Friday trampoline deals:   
1. Do Trampolines Go on Sale for Black Friday?  
Yes, most trampoline brands and retailers offer sales on Black Friday. However, the type of sale and how big it is will depend on who's offering the sale. We've seen offers change dramatically year-to-year.   
2. How Much Are Trampolines on Black Friday? 
Normally, backyard trampolines cost anywhere from under $200 to over $5,000. On Black Friday, you can expect most trampolines to cost less than what they typically cost.   
However, this is not guaranteed and how much a trampoline costs on Black Friday will depend on the brand and where you buy it.   
3. Who Has Trampolines on Sale for Black Friday?  
Many trampoline brands and major retailers will have sales for Black Friday. Local retailers, backyard dealers and membership clubs may also have Black Friday trampoline deals.  
4. Are Deals Cheaper on Black Friday or Cyber Monday? 
This depends on the brand and who's offering the Black Friday sale. If you're wanting a trampoline for Christmas, you may want to buy on Black Friday since it's three days before Cyber Monday and will have more time to be delivered.    
5. What Is a Good Price for a Trampoline?  
A good price for a trampoline depends on your goals. If safety and quality is your biggest concern, then a good price for a trampoline will be different than somebody who's just looking to get the cheapest price.  
When Do Springfree Trampolines Go on Sale?     
Buying a trampoline on Black Friday can generate significant cost savings for you. Now that you know all about Black Friday trampoline deals, you're prepared to get the best deal possible.     
But you may still have questions about which trampoline to buy. Many people ask us about our springless trampolines and when they go on sale.  
This is because Springfree Trampolines are the safest, highest-quality and longest-lasting trampolines on the market. They are certainly not cheap, however ($999-$2,999), which is why Black Friday could be the ideal time to purchase one.   
We've previously addressed if Springfree Trampolines go on sale directly in an all-encompassing article titled, "Do Springfree Trampolines Ever Go on Sale?"  Check it out and increase your chances of getting the best trampoline for a better price!