What to Know About Cyber Monday Trampoline Deals (2023)
Shop smart on Cyber Monday for trampolines. Our guide will help you navigate the best sales with expert tips. Learn what to consider and find the perfect deal!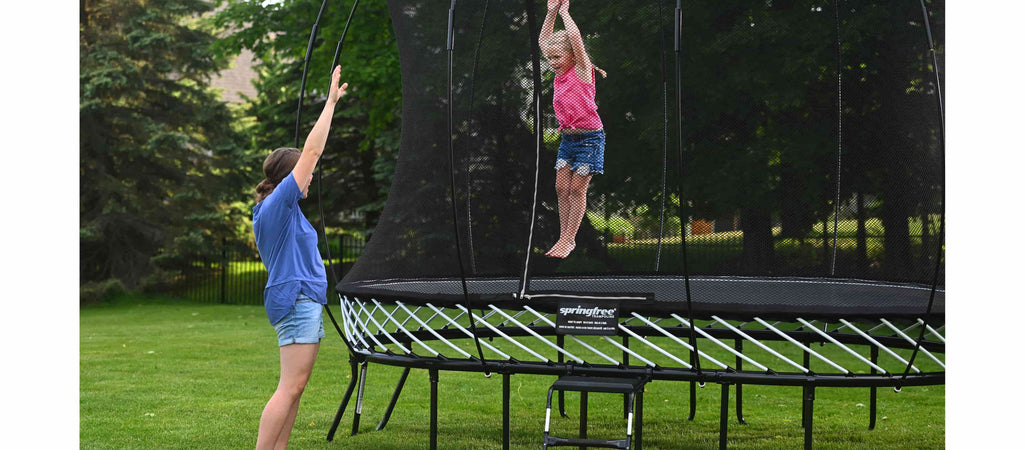 Cyber Monday is one of the best times of year to buy a trampoline, with many retailers and brands offering deep discounts.  
With so many options out there, though, it can become difficult to pinpoint which Cyber Monday trampoline sale is the best one for you. 
In this article, we'll lean on our decades of expertise as a trampoline manufacturer and share some tips on how to find the best Cyber Monday trampoline deals. 
We'll also tell you what to look for in a trampoline and how to make sure you're getting a good deal. 
When Is Cyber Monday in 2023?
Cyber Monday is on Monday, November 27, 2023. It follows three days after Black Friday, which is on November 24.  
Did you know? Cyber Monday was first coined in 2005 by the National Retail Federation (NRF) in a press release after they noticed a trend of online shopping on the Monday following Thanksgiving. The term caught on, and it is now one of the biggest shopping days of the year! 
Why Choose a Trampoline on Cyber Monday?
There are multiple reasons why you would want to buy a trampoline on Cyber Monday. They include:  
Discounted Prices: Cyber Monday is known for its exclusive online discounts and deals. You can often find trampolines at significantly lower prices than during other times of the year, making it a budget-friendly option. 
Wide Selection: Retailers and trampoline brands typically offer a wide range of trampolines on Cyber Monday, allowing you to choose the one that best fits your needs and preferences. 
Convenience: You can shop for trampolines from the comfort of your home, avoiding the hassle of in-store shopping (especially during the busy holiday season!) 
Access to Reviews: Online shopping platforms provide access to customer reviews and ratings, helping you make an informed decision about the trampoline's quality and features. 
Comparative Shopping: You can easily compare prices and features of different trampoline models from various sellers, ensuring you get the best value for your money. 
Trampoline Bundles and Add-Ons: Many retailers offer special promotions like free shipping or bundled accessories along with the trampoline purchase, further enhancing the value of your Cyber Monday deal. 
Pre-Holiday Delivery: Buying a trampoline on Cyber Monday gives you plenty of time to get the trampoline delivered and assembled before Christmas.
How to Prepare for Cyber Monday Trampoline Shopping 
Now, we're going to let you in on some tips and tricks for how to ensure you get the best Cyber Monday trampoline deal possible:  
#1: Research which brand and type of trampoline you want before looking at Cyber Monday deals.  
#2: Measure your backyard and consider which size of trampoline you need.  
#3: Go over which trampoline safety/quality/durability features are a necessity for you.  
#4: Figure out which trampoline accessories or add-ons you want.   
#4: Plan your budget accordingly.   
#5: Sign up for email newsletters from trampoline brands/retailers to receive information on the latest deals.  
#6: Follow brands/retailers on social media for more information on Cyber Monday trampolines.  
#7: Find which brands/retailers sell the trampoline you want and compare prices. (Use a pricing comparison tool!) 
#8: Read customer reviews and note any awards the different trampoline brands have won.  
#9: Create online accounts ahead of time on the websites you plan to shop on. 
#10: Bookmark trampoline pages from the places you're interested in.  
#11: Make sure you're using secure websites to shop and be alert for scams.  
#12: Ensure that you're in a place with a stable internet connection for online shopping.  
By following these steps, you will be prepared to take advantage of Cyber Monday trampoline sales and get ahead of the crowd when November 27 comes around!   
Where Can You Find Cyber Monday Trampoline Deals?
After you've completed your preparations and selected the trampoline model you desire, the next crucial step is determining where to buy a trampoline.  
Luckily for you, many places offer Cyber Monday trampolines on sale or clearance. Here is where you should look for a trampoline on Cyber Monday:  
Choosing the Right Trampoline on Cyber Monday
The most crucial part of getting a trampoline on Cyber Monday is that you get the RIGHT trampoline, NOT just the cheapest.     
While Cyber Monday is synonymous with savings, it shouldn't prompt you to settle for a low-cost trampoline.   
How to Buy the Right Trampoline
Here are the factors to look for when buying a trampoline:    
Safety Features 

– What specific

trampoline safety

features does this trampoline come with?      

 

Trampoline Quality

 – Is this trampoline built with quality materials that ensure its longevity through childhood?     

 

Durability

- Can this trampoline last under years of jumping and weather conditions without breaking down?      

 
Warranty

- What parts are included and how long is the trampoline's warranty?      

 

Design and Style

 – Does this trampoline look aesthetically pleasing in your backyard? Can you customize it?     

 

User Reviews

 – Does this trampoline have positive online reviews? Has it won any awards?        

 

Trampoline Cost

– Is this trampoline within your budget and worth the investment?       

 

Other Important Factors

- 

Trampoline w

eight limits

, installation, customer service and accessories.     

 

 

 
Here's the truth about cheap trampolines: They often come with reduced safety features and tend to require maintenance, such as part replacements, within just 1-3 years.   
Our expert recommendation? Seize the opportunity presented by Cyber Monday deals and invest in a high-quality trampoline that will ensure long-term safety in your backyard.   
Not only will it enhance your children's safety, but it will also endure for years without necessitating frequent part replacements, all while adding a more appealing visual charm to your yard. 
Examples of Cyber Monday Trampoline Deals
To provide context for the types of trampoline deals you might see on Cyber Monday, here are the last two Cyber Monday sales we've run at Springfree Trampoline:  
2021: $150 off trampoline purchase, free delivery and free Swing.  
2022: Save up to $900 + Free Delivery.  
*These are not going to be the promotions run this year! We're just giving you a sense of the types of trampoline deals that can run on Cyber Monday. The deals will vary widely depending on the brand and where you're shopping from.   
Many trampoline brands run deals on Cyber Monday, but it's never guaranteed that the trampoline you want will be on sale.   
Will Springfree Trampolines Go on Sale This Cyber Monday? 
Buying a trampoline on Cyber Monday can lead to substantial cost savings. Now that you're well-informed about Cyber Monday trampoline deals, you're ready to secure the most favorable offer.  
However, you might still be pondering which trampoline to choose. Many individuals inquire about the availability of discounts on our springless trampolines.  
This is because Springfree Trampolines are the safest, highest-quality, and longest-lasting trampolines on the market. Undoubtedly, they come at a premium price ($999-$2,999), which is why Cyber Monday presents the perfect opportunity to make a purchase. 
To address the question of when and if Springfree Trampolines go on sale, we have previously provided direct answers in an article titled "Do Springfree Trampolines Ever Go on Sale?"   
Explore it to maximize your chances of buying the best trampoline at a more favorable price!