The Christmas Day Trampoline Reveal!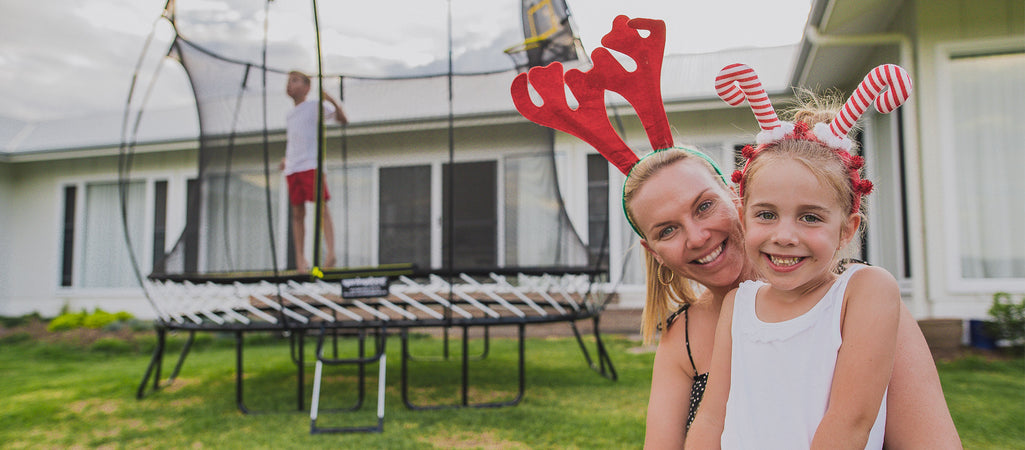 There's nothing more exciting on Christmas day than the big reveal.
Especially if the gift is a Springfree Trampoline! Here are our tips on how to wrap and reveal the biggest and ultimate gift this Christmas
Christmas gift wrapping. Some people love it, some hate it. Either way, it would be hard to find enough wrapping paper to cover a gift as exciting as a Springfree! 
Thankfully we've seen some great ideas over the years we can share with you that dress the trampoline up and add to the excitement of the reveal on Christmas Day. 
1.  A big red bow 
Nothing is more festive than a big red bow. Last year we had so many people ask that we actually created a video with step by step instructions which you can view here
2. Tinsel and decorations
At this time of the year there is such a great selection of tinsel and decorations available. A long strand of tinsel is an easy way to tie a bow around the trampoline. There are also giant baubles available from most retailers which could be hung from either either the top of the net or the frame for some fun.
4. Christmas Lights
If you're thinking of showing the kids their gift in the evening, decorate it with Christmas lights for an extra element of Christmas magic. Keep the lights on throughout the Christmas season to add to any other Christnas lights you might have. 
4. Balloons + Balls
Most kids love balloons and balls – they're so much fun.  And filling the trampoline with balloons and balls is fun and easy, provided you have some help blowing them all up and sourcing them!  Choose a colourful theme or stick with festive red, green and white – whatever you choose, the kids will be delighted!
5. A Treasure Hunt
What would be more exciting on Christmas day than a treasure hunt that leads to the ultimate bounty?! If you can keep your kids away from discovering the big surprise before gift-giving time (or have tarps or sheets you can hide your Springfree under in the meantime), this idea will create so much excitement! Start with a clue, written on a piece of cardboard hanging on the tree or in an envelope under the tree... and lead them to it! You can cut straight to the chase, with something like "head outside" or make it a fun treasure-hunt, by sending them to various places around the house where the next clue will be hiding! 
Whatever you decide to do, the kids will still be surprised (and delighted) to see their very own Springfree in the backyard. Make sure you have the camera ready and capture the moment – it will be one to treasure. 
Learn more about our Springfree Trampolines and why they are the ultimate Christmas Gift, or view our trampoline range. 
Other Articles You May Enjoy