Trampoline or Pool? | Which One Is Right for You?
Trampoline or pool? Make an informed decision with our expert comparison of the pros & cons of each backyard amenity. Learn which is right for your family!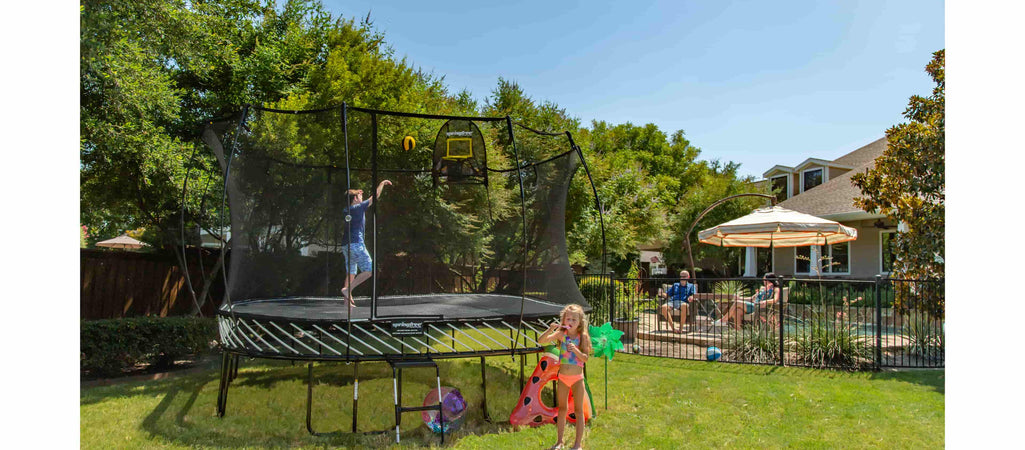 The serene oasis of a swimming pool or the boundless joy of a trampoline? 
Whether you envision lazy afternoons lounging poolside or the thrill of soaring through the air, the choice between a trampoline and a pool brings a delightful dilemma.   
As you embark on this decision-making journey, you must weigh the pros, cons and costs of the two popular backyard amenities before buying.   
Today, we will use our insight into the outdoors, to sum up the advantages and disadvantages of buying a trampoline and a swimming pool.  This article will help you decide whether to buy a trampoline or pool! 
7 Pros of Trampolines 
Let's start with the pros of outdoor trampolines:  
1. Improves Physical Health – There are numerous health benefits to trampoline jumping, including better heart health, bone health, coordination, immune system and weight management, among others.  
2. Low-Impact – Trampolines are easy on the joints, yet are still more effective than other common workout platforms, like running on a treadmill.  
3. Stress-Relieving – Trampoline jumping releases endorphins, chemical signals in the brain associated with happiness, and improves circulation—which can help improve your mood. 
4. Promotes Active Lifestyle – Trampolines help kids and adults stay consistently active outdoors.  
5. Fosters Creativity – Trampolines encourage creativity and are highly versatile. You can play hundreds of trampoline games and host trampoline sleepovers, for example!  
6. Develops Motor Skills—Trampolines are a great way to develop motor skills and spatial awareness, especially important for younger children.
7. Fun and Engaging – There's a reason trampolines are synonymous with childhood. Trampolines can provide hours of fun for the whole family!  
7 Cons of Trampolines
Flipping it over, here are some cons to outdoor trampolines:  
1. Safety Risks – If not used properly, trampoline injuries, like strains, fractures and bruises, can occur. Low-quality, cheap trampolines also pose numerous safety concerns.   
2. Takes up Space – You must have room in your yard to safely accommodate the trampoline's size.  
3. Eyesores – Many trampolines (mainly cheap ones) might be considered eyesores by some.   
4. Weather Limitations – Since the trampoline is outdoors, it's at the whims of the weather. Burning hot, freezing cold or stormy weather may render the trampoline unusable.  
5. Restrictions Apply – Certain age restrictions (must be six years or older) and trampoline weight limit restrictions could affect your ability to safely jump.
6. Maintenance Required - Some form of trampoline maintenance is usually required to ensure its longevity. This could mean replacing parts or periodically cleaning your trampoline. 
7. Liability Risk – If you don't have trampoline insurance, you might be liable for a child's injury. Trampolines can also affect your homeowner's insurance.    
7 Pros of Swimming Pools
Now, let's shift to swimming pools – here are some of the pros of pools:  
1. Relaxing - Pools are a great way to unwind and destress the mind a body. Especially on a hot summer's day! 
2. Socializing – Pools are a go-to place to host a party or social event. Swimming parties work equally well for kids and adults. 
3. Physical Benefits – Pools are also a solid place to get a workout in. Swimming benefits include improving your cardiovascular system and muscle tone while being low-impact.  
4. Aesthetic Appeal – A well-built swimming pool can enhance the aesthetic of your backyard.  
5. Customization – Pools can be customized to your liking. Whether it's the structure of the pool or the accessories you include (waterfall, basketball hoop), pools offer design flexibility.  
6. Outdoor Fun – There are not many other outdoor activities more enjoyable than swimming. A pool offers a fun and consistent way to stay outdoors.  
7. Increased Property Value – A well-maintained pool can increase the value of your property and attract more buyers if you decide to sell. 
Photo courtesy of Forbes   
7 Cons of Swimming Pools
Finally, let's go over the cons of swimming pools: 
1. High Upfront Cost – Pools cost anywhere from $20,000 to over $100,000 to install, depending on many factors – like the type of pool, its size and location.
2. Operating Costs – Besides the initial costs, pools require monthly operating costs that can add up quickly. These include water treatment chemicals, energy costs and maintenance/repairs. Having a pool may also increase your homeowner's insurance.  
3. Safety Concerns – Pools can cause significant injury, particularly to young children. Drowning is a one of the leading causes of unintentional death for Australian children, according to KidSafe.  
4. Must Have the Space – A pool can take up significant room in your backyard and can limit other backyard possibilities.  
5. Ongoing Maintenance Required – Consistent cleaning is necessary to keep the water clean, balanced and safe.  
6. Limited Use – Like trampolines, pools are also subject to Mother Nature's demands. Unless you can heat your pool (which costs money), you may not be able to use it during the cold weather season.  
 Photo courtesy of Leisure Pools  
Trampoline vs. Pool Costs
One area that might be holding you back from choosing a trampoline or pool is the cost. Here is a quick summary of how much trampolines cost compared to pools:  
Cost of an inground pool:   
Initial costs – Around $40,000-$200,000+

 

Yearly ongoing costs – Around $500-$5,000+

 
Cost of an outdoor trampoline:  
Initial costs – Around $300-$5,000+

 

Yearly ongoing costs – Around $20-$150+

 

 
The upfront and ongoing costs of an outdoor trampoline will almost always be smaller than that of an inground pool (a lot of times significantly smaller).  
There are also different types of trampolines and pools, and pricing can vary depending on which one you choose.   
Trampoline or Pool: Which Is Better For You?
A trampoline or pool can produce permanent joyful moments for kids and adults alike. However, each option comes with risks, making research key to a satisfactory purchase.  
The pros and cons you learned here today should help you narrow down what you're looking for. However, you may still be on the fence about which one to go with. 
Our advice is to consider what your goals are with your backyard and assess whether it's worth the cost. Swimming pools, in particular, can be a huge expense in both time and money.   
If you're looking for a more cost-effective solution, a trampoline might be a better fit – trampolines are much less of an investment than pools.  
However, if you want the relaxing and social benefits of a swimming pool, it may be well worth the investment. Assess the pros and cons, set your budget and go build the backyard of your dreams! 
Treadmill or Trampoline? 
At Springfree Trampoline, we believe wholeheartedly in the sentiment that safe active play outdoors is key to a healthy lifestyle.  
The way you decide to go about staying active is up to you, but there are many options you can choose from.  
If you're looking for a way to get consistently active and are tired of the basic forms of exercise, then check out our "Treadmill vs. Trampoline" article.  
This will give you an overview of how a trampoline compares to another exercise platform. It may also be a solution for you if you're wanting a pool but desire another place to get a good workout in!