Outdoor Exercise: 5 Trampoline Health Benefits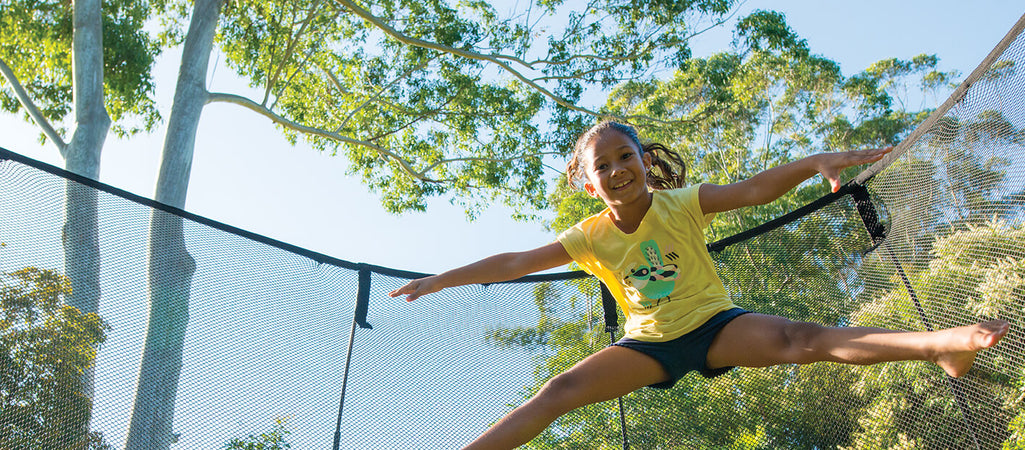 Getting tired of hitting the gym? Want to take your exercise time outside with a breath of fresh air? We've got you covered because ten minutes of bouncing can actually have similar health benefits to a 30-minute run. But wait, there's more! There are lots of health benefits to jumping on a trampoline. Check out our top five!
1. Heart Health 
Increasing your heart rate with 10 minutes of jumping a day will strengthen the muscles that are needed for a healthy cardiovascular system. If a happy heart isn't a good reason to bounce, we don't know what is!
2. Joint Protection
Your bouncy Springfree Trampoline mat acts as a great absorption pad. Taking all the force when you land, it prevents the jarring of ankles, knees and your spine. Plus, it's a lower impact workout on your joints than running on a treadmill. If you're thinking about buying a treadmill check out our post on the treadmill vs. the trampoline.
3. Co-ordination Boost
The combination of jumping high, maintaining balance and concentrating on executing the move will help to improve your motor skills and co-ordination – all in one go.
4. Increase in Energy Levels
As you jump, more oxygen is carried around your body in the blood stream. This will instantly increase your energy levels and make you more alert.
5. Strong Bones
Powerful jumping means your legs work hard to push you upwards over and over. This small amount of stress actually helps encourage your bones to increase in density and reduce the chance of developing osteoporosis. 
So what are you waiting for? Take your exercise routine outside and into the backyard! Read these quick trampoline fitness exercises to get started.