Three Creative Ways to Use Your Trampoline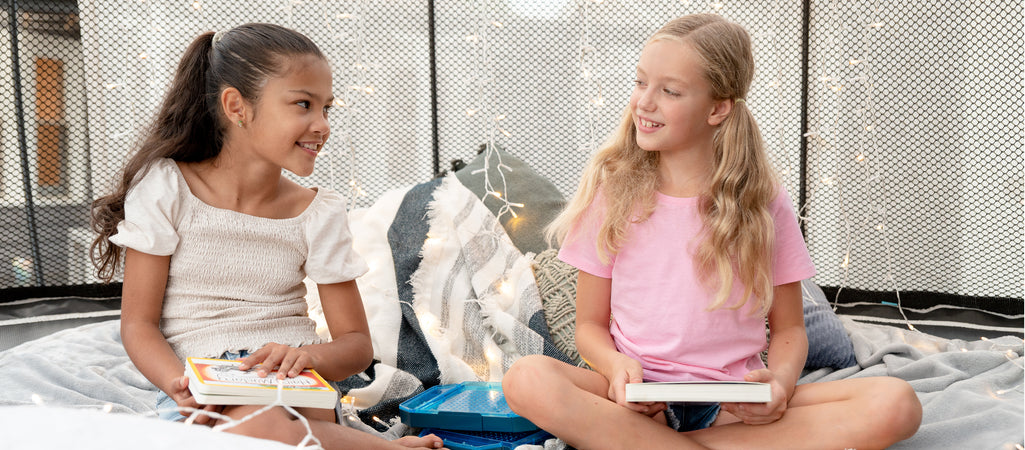 A trampoline is a fantastic addition to any family-friendly backyard, with plenty of benefits. It's an excellent form of exercise (disguised in a fun activity!) and offers kids a great way to develop their gross motor skills, including co-ordination, balance, agility and muscular endurance. It's also a fantastic open-ended toy that encourages little minds to get creative, inventing their own games and rules.
If they need a little inspiration, here are three of our favourite ways to use a trampoline – that isn't simply just jumping!
Balloon Battle
For this game, you'll need a set of regular balloons, either all in one colour or different colours. Blow up each balloon and add to trampoline. Now it's time to jump!
You can add a new challenge by using all the same colour balloons, with the exception of one. The game is to find the different coloured balloon – and keep a hold of it!
Blanket fort
For a cosy night under the stars, why not make a blanket fort on your trampoline? Drape battery-operated fairy lights around the net of your trampoline and then place sheets or blankets over the top to create a fort. Add a couple of pillows or blankets to the base of the trampoline before inviting a few favourite soft toys in to play the night away!
During the summer, you could also use your trampoline as a shaded area for a picnic. Simply drape a cotton sheet over the top and lay down a picnic blanket on the mat. Add some of your favourite snacks and a cold drink for lunch with a difference – just make sure you hold onto anything that could spill!
Obstacle course
Looking for a new way to entertain the kids and burn some energy? It's time for a trampoline-based obstacle course. The complication level will depend on your garden, the equipment available and the ages of the participating kids. In our version, we've used a skipping rope, flags hanging on the trampoline netting, a ball and a hoop.
Each participant starts by picking up a skipping rope and completing one lap around the trampoline. Then, they jump into the trampoline and touch each flag once. A ball is then bounced into the trampoline, which they have to catch and throw into a hoop to complete the circuit. The fastest time wins!
Trampolines are a fantastic addition to any garden, with more than just physical benefits! They offer a great base from which kids' imaginations can run wild, inventing games and activities, just like these. If you're looking to add a trampoline to your backyard, explore our range.  We offer a 10-year warranty, free delivery and a free measure your yard service, making it easier than ever to add to your backyard.