Is An Expensive Trampoline Actually Worth It? 
Wondering whether an expensive trampoline is worth the cost? Learn more about the pros and cons of investing in an expensive trampoline and if it's right for you!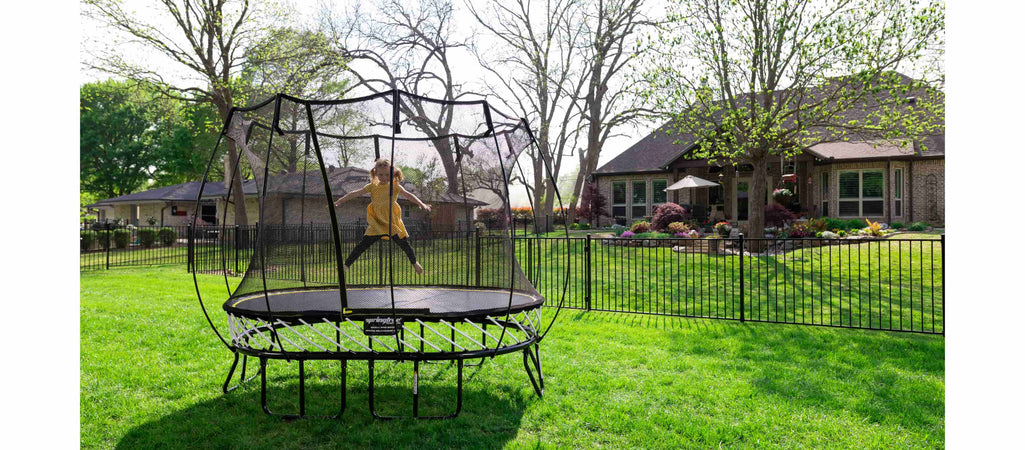 Let's face it, a lot of people either don't want to or can't justify paying thousands of dollars for a backyard trampoline.  
It's an understandable sentiment: Trampolines are not necessities. It's why many who want a trampoline may naturally be inclined to consider the cheap route and pay $200-$400 rather than $1,000+.  
While cheap trampolines can be a good fit for you if you're looking for a short-term trampoline, it's likely that they won't last past 1-3 years without myriad replacement part changes. Not to mention, the increased concern around the safety of your jumpers. 
If you're looking for a long-term trampoline that will not only last but ensure the safety of your jumpers while adding to your backyard's aesthetic, then you could be a candidate for an expensive trampoline. 
At Springfree Trampoline, we sell one of the most expensive trampolines you can buy so we know all about the pros and cons of high-priced trampolines. We will be going over the main ones in detail in this article while also providing the ultimate question you need to ask yourself before buying an expensive trampoline.   
We will also broadly summarise who would be a good fit to invest in an expensive trampoline. But first, let's dive into how expensive trampolines compare to cheap trampolines:  
Expensive Trampolines vs. Cheap Trampolines 
The main difference between expensive and cheap trampolines is, of course, the price. But there are also safety, quality and durability differences that must be noted when discussing how they differ from each other. 
The main differences between expensive trampolines and cheap trampolines, besides price, include: 
SAFETY: Expensive trampolines are inherently safer than cheap trampolines because of features that can include durable and flexible nets, thicker and stronger padding and a springless design where the jumper cannot hit the frame (In Springfree's Trampoline's case), etc.   

QUALITY: Expensive trampolines typically use hardier materials than cheap trampolines for key features like the frame, net and poles that include protections against rust, ultraviolet light (UV) and strong winds. The mat quality and weave will also be better. 

DURABILITY: Because of the sturdier structures and weather-resistant features, expensive trampolines can last up to 5-10+ years under reasonable use. Cheap trampolines may not last past 1-3 years. 

BOUNCE: Many cheap trampolines don't have the bounce that expensive trampolines do. Expensive spring trampolines typically use longer springs to create a higher bounce and expensive springless trampolines have a much more smoother bounce than cheap trampolines do.  

BACKYARD AESTHETIC: Many cheap trampolines can be considered "eye sores" that take away from the aesthetic of your backyard. Some expensive trampolines, on the other hand, can add to the appeal of your yard, even offering custom colors that can match furniture or yard art. 
There are also smaller differences—like warranty coverage, customer support and added trampoline accessories—but the five points above display the major distinctions between expensive and cheap trampolines. 
A Skywalker Trampoline, which is a cheap trampoline (courtesy of BJ's Wholesale Club): 
A Springfree Trampoline, which is an expensive trampoline:  
Pros of Expensive Trampolines 
We covered many of the pros of expensive trampolines in the last section, but let's isolate them so you can get a full list of the advantages of buying an expensive trampoline. 
Not every expensive backyard trampoline will have the same features, but generally speaking, the pros of expensive trampolines include: 
Superior safety. 

Premium quality. 

Longer lasting. 

Better and more appealing design.  

Higher, softer and quieter bounce.  

Longer warranties. 

Superior customer support. 

Higher quality trampoline accessories (like a trampoline basketball hoop). 
Cons of Expensive Trampolines 
There are a few notable cons of expensive trampolines, with the most pertinent one being the financial investment. Here are the four main cons to expensive trampolines: 
High upfront price ($1,000-$5,000+)  

May take more time to install. 

Fewer options to choose from (there are more cheap and mid-trampolines than expensive ones). 

Could be difficult to find in a store.  
Buying a Trampoline for the Short or Long-Term? 
After considering the pros and cons of expensive trampolines, the primary question you need to ask yourself when assessing whether a high-priced trampoline is worth it is: Are you looking to buy a short or long-term trampoline? 
The answer to this question can likely answer whether an expensive trampoline is worth it or not. 
If you're looking for a trampoline that your family can use periodically for a couple of years, then it doesn't make financial sense to invest a lot of money into a trampoline. You would be better off buying a cheap or mid-trampoline.  
However, if you're looking for a trampoline to last safely in your backyard throughout your child's childhood, then an expensive trampoline may be worth investing in.  
As mentioned earlier, cheap trampolines are likely not going to last long and typical mid-trampolines aren't built to withstand weather and consistent usage for the amount of time that expensive trampolines can. 
Cheap and mid-trampolines also may not have the weight capacity or the jumping space to accommodate your jumpers, particularly if they are growing children or teenagers.  
This won't apply to everybody, but you can think of expensive vs. other trampolines in this way: 
Short-Term Usage / Less Safety Features = Cheap/mid-trampoline 
Long-Term Usage / Best Safety Features = Expensive trampoline 
Who Would Be a Fit for an Expensive Trampoline?  
Let's now go over who an expensive trampoline would be a good fit for: 
Those that want a safer and quality trampoline for their family.  

Those that want a trampoline to last in their backyard for 5-10+ years. 

Those that want their child to grow into, and not out of, a trampoline. 

Those with aspiring gymnasts or jumpers that will use the trampoline often. 

Those that want a better bounce. 

Those that want a well-designed trampoline to fit into their backyard aesthetic. 

Those that care about longer warranty coverage, customer support and added accessories.  
You also must have the budget to pay for an expensive trampoline. However, some trampoline brands (like ours at Springfree) offer financing that can mitigate the short-term financial cost of buying an expensive trampoline.  
With financing, you pay in installments instead of the full price. Financing can certainly be an option for families that want a premium trampoline but don't want to pay the large upfront cost right away.  
Another thing that must be mentioned is not all expensive trampolines are created equal. Brands that sell premium, high-priced, trampolines have unique attributes that may make one brand better than the other to you.  
It's important to dissect what each brand offers and tailor it to what you value most in a trampoline.  
Which Expensive Trampoline Should You Buy? 
The cost of an expensive trampoline can be steep, so assessing everything we talked about today---the pros, the cons and everything in between--will be crucial to figuring out whether one is right for you.  
If you read through this and are thinking that an expensive backyard trampoline could be worth it for you, you now need to find the specific type of trampoline you want. 
Our Springfree Trampolines are considered the safest, highest quality and longest lasting trampoline you can buy. Their safety features include a springless design, a net that flexes when jumped into, a frame that lies underneath the jumping surface, a mat with no hard edges and the use of pliable enclosure rods instead of metal poles.  
They are also built to endure harsh weather conditions and consistent jumping for 10+ years, as long as they are reasonably used. If you're looking to buy an expensive trampoline, a Springfree Trampoline is, backed by independent research, the best trampoline you can purchase. 
But it is up to you to decide whether a Springfree Trampoline is worth it or not. We have previously gathered 20 of the most pressing questions about Springfree Trampoline and provided honest, direct answers to each of them.  
If you're curious to learn more about Springfree Trampoline, read through our article, "Answering Your Most Pressing Questions About Springfree Trampoline" to learn if a Springfree is right for you!