Like any good parent, when buying a trampoline, safety is likely at the forefront of your mind. You may have come across Springfree Trampoline and wondered if it really is safer than a regular trampoline and if so, how? We answer these questions for you today.
What Is Springfree Trampoline?
Springfree Trampoline is designed using flexible rods that sit beneath the jumping surface, instead of the traditional steel coil springs found on the edge of the trampoline. The solid metal frame also sits below the jumping surface, so you end up with a soft edge on the jumping surface which helps prevent injuries from landing on solid areas of a trampoline. Springfree Trampoline inventor Dr. Keith Alexander was able to create a safer trampoline, by removing the hazards that a rigid perimeter frame and the steel coil springs cause and creating a flexible jumping enclosure that works to support a jumper than work against a jumper.
Trampolines are a major cause of injury for kids and adults alike. Most trampolines that use springs, use padding as protection and/or an enclosure net; however often this is not enough to truly protect your child from serious injury. Springfree Trampolines is the safest trampoline in the world as it has been able to eliminate the areas of a trampoline that cause up to 90% of injury from trampolines.
Let's take a closer look at key differences between Springfree and regular/traditional trampoline.
1. Regular Enclosure Net vs Springfree Trampoline FlexiNet
Almost all trampolines these days come with an enclosure net. These nets are an important safety feature as they help to prevent falls from the trampoline that may result in broken bones. Both the Springfree and most regular trampolines come with woven safety nets.
Regular trampolines typically use steel poles that are wrapped in foam to hold up the net. Some of these poles are placed relatively close to the jumping area so can easily be hit by the jumper –creating another cause of injury. There are some that do sit further away from the jumping area, but they don't have the same flexibility to move with the jumper that a Springfree Trampoline has, meaning they act as a form of resistance should the jumper somehow land near it.
There is also a variance of quality of the net with some using a tightly woven nets and others using fairly flimsy material that tears easily.
The Springfree Trampoline comes with a flexible net that moves with the jumper and effectively rebounds the jumper back to the main jumping surface. There are no steel poles for the jumper to land on or jump into. The net is also a no-climb net, meaning fingers cannot fit inside the holes of the net and is more resistant to tearing.
2. Regular Frame vs Springfree Trampoline Frame
The frame on a traditional or regular trampoline often surrounds the springs and is still visible to the jumper. In some cases, the safety net sits on the outside of the frame putting the jumper in particular danger of hitting the frame. Some of the safer traditional trampolines have started to put the safety net on the inside of the springs, providing additional protection; however, without using flexible nets, the jumper is still at considerable risk of hitting the frame.
The frame on a Springfree Trampoline is completely hidden far below the jumping mat so there is no chance a jumper can land on it. It is incredibly solid and stable. Additionally, whilst most trampolines are made of sturdy steel, the Springfree trampolines have three layers of rust-protection that won't flake or peel.
3. Regular Springs + Pads vs Springfree Trampoline Flexible Rods
As with the frame, traditional trampolines have springs around the perimeter of the trampoline putting the jumper at risk of landing in the springs area and causing injury. Most models do cover the springs with padding; however, the padding often deteriorates faster than the rest of the trampoline – particularly in our harsh climate.
Springfree Trampoline uses flexible rods underneath the jumping mat perimeter, tucked out of harm's way. The long mat rods simulate a longer spring, which achieves a very smooth bounce that doesn't "bottom out" (suddenly become very hard at the bottom of the bounce) like a cheaper traditional model would. Springfree aims to provide a bounce that is enjoyable but doesn't risk having kids catapult out of the trampoline! According to consumers the bounce on a Springfree Trampoline and regular trampoline are comparable.
4. Regular Trampoline Edge vs Springfree Trampoline SoftEdge
Traditional trampoline edges are taken up with both the springs and frame structure so not only do they take up more space but have a smaller jumping surface, they are also considerably dangerous for jumpers.
Springfree Trampoline has created a SoftEdge on their trampolines so kids can jump right into the very edge without getting hurt. This also means you get more jumping space on your trampoline without taking up more space in your yard.
For example, a trampoline mat that is 3m in diameter (3m of jumping space), actually has a total footprint of 3.5m* with the frame and springs.
A Springfree Trampoline mat that is 3m in diameter, only takes up 3m* of space.
* The diameter examples for both traditional and Springfree does not include space needed for net and poles.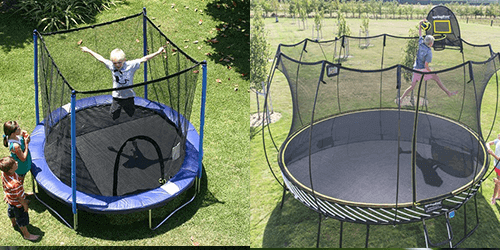 Additionally, the latest trampoline test results by consumer watchdog CHOICE® saw CHOICE® test one size trampoline from 8 popular trampoline brands against the Australian Safety Standard (AS 4989:2015), including Springfree Trampoline's R79 Medium Round.
Of all the trampolines tested, the Springfree Trampoline model tested, the R79 Medium Round, was the only trampoline brand to pass all the safety tests, receiving an impressive CHOICE® score of 93%.
You can view the full report by CHOICE® here.
There's no doubt that purchasing a trampoline for your family is a big decision and can be a big investment, so you need to make the right choice that suits your family best. Many Springfree families went through the same process before making the decision that was right for them.
We hope that the above has helped to clear up any questions you might've had about how a Springfree Trampoline is different to your traditional trampolines. But we do welcome you reach out to us if you have more questions not addressed here.