Choosing the Right Trampoline For You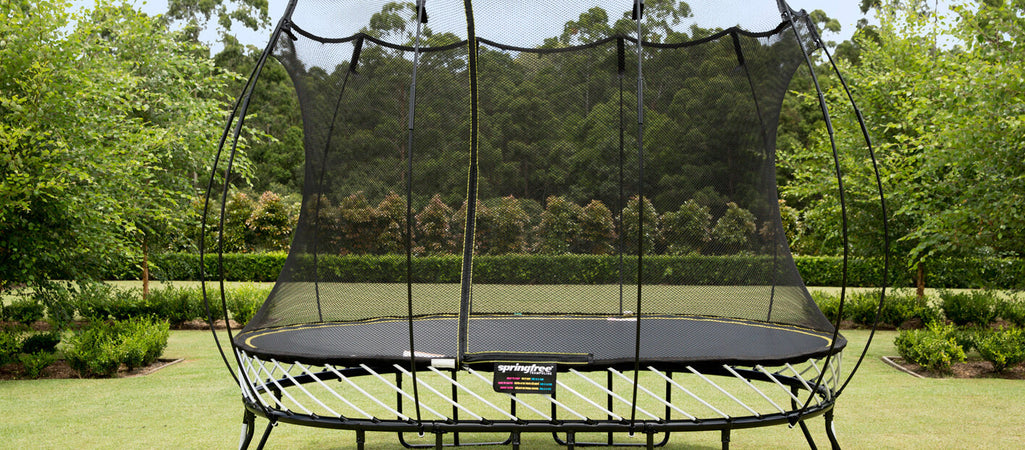 We are often asked the question; which trampoline is right for me? Or, what size should I choose for my yard? What size and model trampoline is best for my family?
There are a few main things to consider in choosing the right fit for your family.
When considering the right trampoline to fit your yard space, safe lateral clearance is an important consideration; how much space you need for your trampoline and safe clearance around it. 
Springfree Trampoline follows Australian safety standard recommendations. To ensure safe installation of your new trampoline, we strongly recommend the space meets the following conditions:
Safe Trampoline Safe Clearance Conditions
Flat and even (If the space you have isn't level, we recommend the rise/gradient be no more than 3 degrees across the whole space.  We don't advise installing where the slope is greater than that).
Safe lateral clearance space of 1.5m on all sides of the trampoline
Minimum height clearance of 6m from the ground
Clean and free of obstacles or debris
Springfree Trampoline Sizes and Clearance Requirements
This provides the jumper with a safe lateral clearance and it allows the FlexiNet to flex out and catch the jumper without running the risk of hitting something hard like a wall or fence.
Our smallest trampoline, the Springfree Trampoline Small Round, requires a minimum lateral clearance of 3.3m, with the diameter of the mat being 1.9m. These are designed to fit smaller backyards. Our Medium Round requires 4.4m, with a mat diameter of 3m. 
For yards that are more rectangular, or long and narrow, our oval shapes are a good option. Our Medium Oval requires a minimum safe lateral clearance of 3.8m x 4.8m, with a mat diametre of 2.4, x 3.4m, and our Large Oval requires 3.8m x 5.4m, with a mat diameter of 2.4m x 4m. 
For larger yards, our Large Square requires a minimum lateral clearance of 4.8sqm, with a mat diameter of 3.4sqm. And our Jumbo Round requires 5.3m minimum safe lateral clearance, and has a mat diameter 3.9m. 
The Jumping Surface Area
If your yard space and budget allow, the Jumbo Round has the largest surface area of the mat with 12.6 sqm. Next largest in jumping surface area is Large Square, which has 10.5 sqm of jumping surface. The Large Oval is the next down in mat surface area with 8.5 sqm, followed by the Medium Round and Medium Oval both with 7.3 sqm then our small range of Compact Round with 5 sqm, Compact Oval with 4.4 sqm and our smallest Small Round with 2.8 sqm. 
The Jumpers 
The trampoline model you choose also depends on who will be using the trampoline. Will Mum and Dad have a go? The Small Round has a recommended safe maximum jumper weight of 80kg, whilst all our larger models have a recommended safe maximum jumper weight of 100kg. Most of our trampolines are strong enough to take a structural load capacity of 500 kg, however for safe jumping the maximum weight for these trampolines is 100 kg. 
The Maximum User Weight is based on how heavy you are and how high you jump. It is about ensuring jumpers don't 'bottom out' (touch the ground while jumping). The Australian Safety Standards allows for a minimum 15% safety margin to ensure that even when you jump approximately 1m off the mat, and you weigh the maximum user weight, you won't touch the ground.
Jumper Ages and Springfree Models
The Compact Round is our smallest trampoline, providing plenty of jumping room. It can be used by anyone, and most suited to young bouncers. It has a soft, easy bounce and is great for little jumpers and smaller backyards.
Our Medium Round trampoline is the best of both worlds - not too big and not too small. A soft bounce designed for medium-sized yards and all ages. 
Our Medium Oval trampoline maximizes the space in your backyard, and is great for narrow yards. There's plenty of jumping room with yard space to spare. A soft bounce designed for all ages.
Our Large Oval trampoline is great for jumpers of all ages. If you want a bigger trampoline but have a narrow yard, this is a great option. A soft, responsive bounce designed to fit in narrow yards.
Our Large Square trampoline is one of our most popular trampolines. It has a soft bounce and plenty of jumping space. Designed for large yards and children (and adults!) of all ages. For larger families with active children, this is a great option.
Personal Preference
When all the above is considered, part of choosing the right trampoline for you all comes down to personal preference. Do you like the look of the square models the most? Maybe the ovals? Do you want the huge jumping surface that the S155 Jumbo Square provides? After you've checked you have safe clearance, sometimes the best way to choose is to simply pop down to on of our Experience Centres and have a jump on each trampoline to see which one you love best.
Happy Jumping!