Accessories to Protect and Enhance Your Springfree Trampoline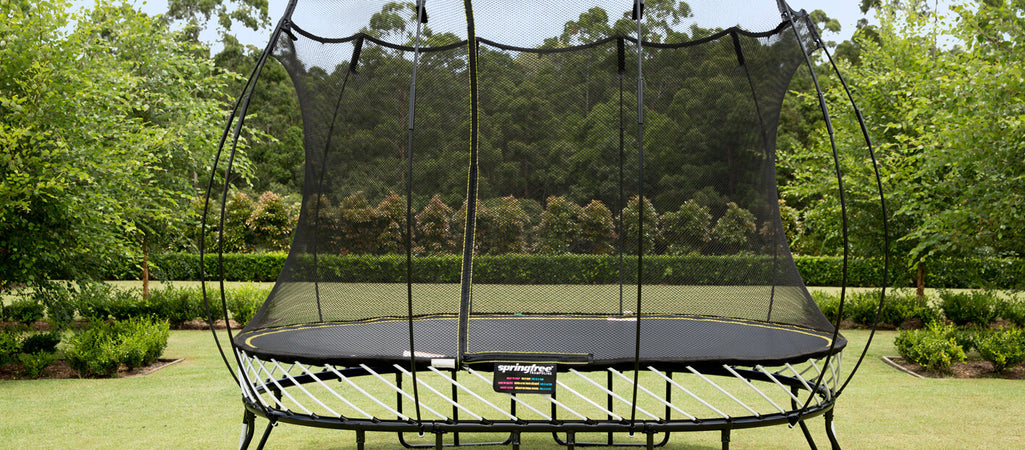 If you're the proud owner of a Springfree Trampoline, congratulations! you can rest assured you've chosen a safe, high-quality trampoline!
And your whole family can enjoy the sheer joy in bouncing, enjoying your trampoline for years to come!  
We have a range of Springfree Trampoline accessories, to protect and enhance your Springfree, as well as add to your convenience! 
From the fun FlexrHoop and ball (a great Christmas gift), to the Care Pack and Ground Anchors to protect your Springfree, to the FlexrStep and Shifting Wheels to make life easier, there's something for everyone. 
And the great thing is, they're all available for purchase either seperately, or in a value accessory bundle! 
FlexrHoop 
The perfect Christmas or Birthday present for any age, our FlexrHoop  - a safe trampoline basketball hoop - adds a whole new element of fun to the trampoline. It's built with the same materials and design concepts as our trampoline, so no hard surfaces are added to the jumping area.
It's great for kids (and adults) who want to practice their slam dunk! 
And for Mums and Dads who like to show off, try shooting hoops from outside the trampoline to impress your little munchkin while they're jumping!
The FlexrHoop comes with a soft, neoprene material basket ball, and a pump. 
Lose your Springfree ball? Don't worry, you can also purchase a replacement ball and pump, so you can continue to slam dunk with a soft, safe ball for years!
Shifting Wheels
Springfree trampolines are high-quality and sturdy. The Shifting Wheels make it easy for one adult to shift the trampoline when yard work needs to be done, or to keep your grass green, seeing the sunlight and happy. The wheels slip easily under the legs to make moving your Springfree Trampoline a quick and easy task.
FlexrStep
The FlexrStep allows for easier entry onto the trampoline without introducing a hard surface to the jumping area. And it even comes with a trampoline lock to restrict unsupervised jumping. 
Care Pack
If you take care of your Springfree, and show it all the love it deserves (you'll find tips in your instruction manual, and the 
Care & Maintenance
 part of our website), it will stand the test of time even further!
Ensuring your Springfree Trampoline is in slick condition is as easy as 1, 2, 3. Seriously! With help from the Mighty Mat & Net Wash, Slick Zip Lubricant and Fab Frame Finish your Springfree Trampoline will be maintained and looking its very best at all times.
In true Springfree Trampoline style, all products in the Care Pack are fully biodegradable food grade, completely safe for contact with children and pets.
You can purchase the Care Pack seperately as an accessory, or as part of an accessory value bundle!
The Care Pack comes with:
1. Mighty Mat & Net Wash
A concentrated wash designed to remove dirt, grime, soot and bugs off your Springfree Trampoline. It also cleans and restores the overall Finish.
2. Slick Zip Lubricant
The lubrication is ideal for the zips and will not attract dust and dirt.
The clear non-hazardous food grade silicone oil will provide anti-corrosive and anti-moisture properties.
Heat and cold resistant and anti-static.
3. Fab Frame Finish
Providing a protective film to your frame, the Fab Frame Finish will enhance metal paintwork and provide protection from UV rays and harmful contaminants such as bird and insect droppings.
Ground Anchors
If you live in a high-wind area, or experience sudden storms, the Ground Anchors are a great accessory for you. The Springfree Trampoline Ground Anchors help to safely and securely anchor your trampoline to the ground. Tested to withstand pull-out forces of approximately 900 N.
Two anchors positioned on either side will securely anchor the trampoline. Each box includes two anchors (4 anchors are required for the S155, being our largest trampoline model).
Any of these accessories make a great gift for a Springfree Trampoline owner, and add to the fun and convenience of a Springfree! 
You can browse our full range of Springfree Trampoline accessories! Or, view our range of Springfree Trampolines.