Why a Springfree Trampoline is Worth the Wait! By @FlatOutMum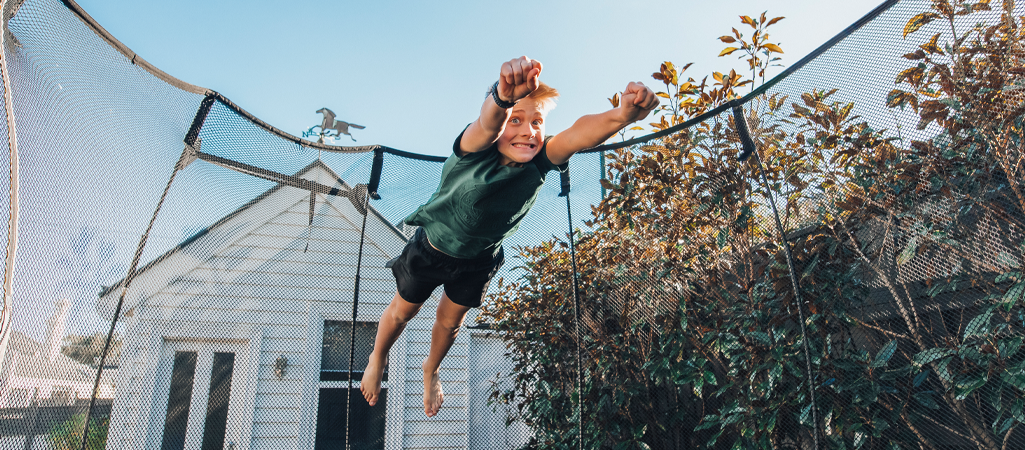 Our first Springfree Trampoline arrived way back in 2008, on the day our second son Ben was born. Charlie received the best present, that has honestly just kept on giving to our family. Since then, we have upgraded both our family size and our trampoline. The boys now enjoy the 'large square' Springfree which is 3.4 metres length & width to accommodate larger children and a bigger back yard. 
For many years I have been sharing the benefits of why we love the 'world's safest trampoline' and a few years ago I became an official Springfree Ambassador. This is a title I only agree to for my most trusted and favourite brands. The quality of the construction, range of sizes and of course the strong and durable zip and netting are the main reasons we trust Springfree. You may not know, Springfree was actually created by an inventive Dad who wanted a safer trampoline for his kids.
Springfree is the only trampoline to be recommended by consumer group CHOICE® three times in a row (2017, 2019, 2021) as the safest. Their ten year warranty (Australia's best) is another reassurance when purchasing a Springfree (the warranty covers the entire trampoline, not just the frame).
We have watched all of our boys from babies, up to 15 (and growing) use the Springfree most days. Rain, hail or shine (the hail is particularly fun!) Jumping, lying, chatting, picnic-ing, wrestling, sleeping, rolling, drawing and star gazing for sleepovers, our trampoline has seen it all. If the net could talk!!! Families everywhere love their Springfree so check out their high review rating (not just ours!) 
I can vouch for the fact that you really get what you pay for after years of being outside and the rough and tumble our boys put them through. We love adding the basketball ring for more action (especially as the kids get older) and this has truly tested the strength of the net!
My advice is to choose the biggest Springfree your space and budget allows as your children and visitors will always make the most of it. They do not 'grow out of it' and it really is the gift that keeps on giving.
As with most popular family brands, they will sell out especially in the lead up to Christmas. I am urging you to order asap the model that is best for you. They have a great AR tool (augmented reality) that helps you place the various trampoline sizes in your space to help make your decision. Another great tool they have is their FREE installation app (BILT) that helps you install and build yourself upon delivery using easy 3D interactive instructions.
Availability is currently model specific and the website is the best place to check, or you can call or chat online to their team. Even with the models on order, the expected delivery time frame is noted and they do not take pre-orders for models that are out of stock (it means they know that model it is definitely on its way as Springfree own and operate their own factory). If the model you'd like is 'out of stock' you can sign up to get notified and this is definitely the first list contacted to confirm as the model moves in to the 'pre-order' category. A Springfree is for an entire childhood, so waiting for the right model is worth it. 
They also have finance options to help pay for your purchase including interest free finance. See www.springfreetrampoline.com.au for all of the options. 
In every home and at every stage of our parenting journey, the Springfree really has marked the safe spot in our backyard. It's like a magnet drawing the kids outside, their own special territory to take their friends, to relax and to feel enclosed. If you could bottle the joy inside that trampoline net you'd be a millionaire. A Springfree Trampoline is worth every cent and worth the wait.