Where to Buy a Trampoline in 2023 | A Definitive Guide
Get the most out of your trampoline purchase. Find out where you can buy a trampoline, how to choose the right place, and how you could potentially save money!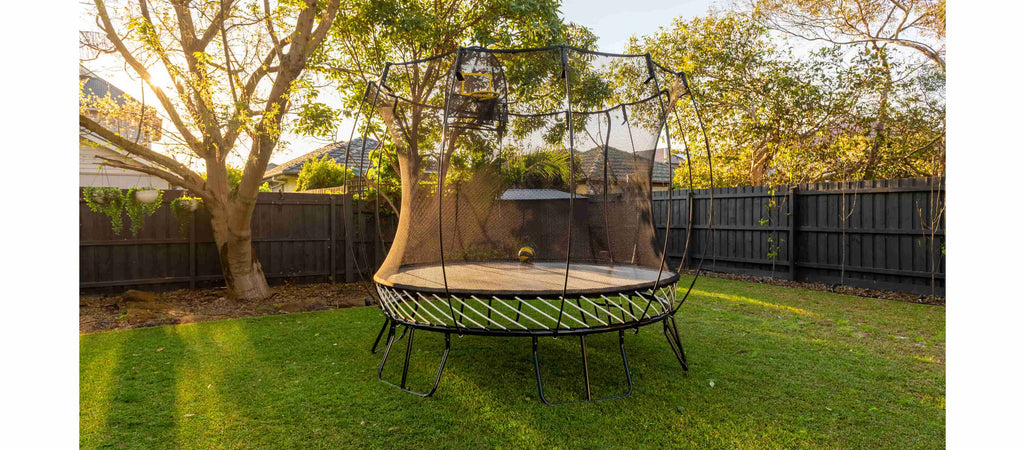 If you're looking for a trampoline, there are a few different ways you can buy one. 
To make a seamless purchase that is most convenient for you, it's important to understand where you can buy trampolines. Why?   
Because factors like shipping, delivery and potentially, installation, all play a role in your satisfaction with a purchase. Depending on where you buy a trampoline, these factors could vary. 
Inventory is also another reason to familiarise yourself with who sells trampolines: Some companies or retailers may be more apt to have your desired trampoline in stock.  
What might be most pertinent to you, though: You could potentially save money depending on where you buy a trampoline. 
Safe to say, where you decide to buy your outdoor trampoline is more important than you may think.  
Because we sell trampolines, we have direct expertise on where to purchase a trampoline and will use our platform to inform you on this crucial topic today. 
You will learn what to consider when buying a trampoline (to make sure you get the right trampoline the first time!) before going into detail about where you can get a trampoline and the pros and cons of each option.   
7 Things to Consider When Buying a Trampoline 
Before you can get to the point of purchasing a trampoline, you must first figure out which trampoline to buy. 
You may have already figured out which trampoline you want, but if you haven't, the factors below will steer you toward the right trampoline: 
Safety Features – What specific safety features does this trampoline come with?    

Quality – Is this trampoline built with quality materials that ensure its longevity through childhood?    

Durability- Can this trampoline withstand years of jumping and weather conditions without breaking down?   

Warranty- What parts are included and how long is the warranty?    

Design and Style – Does this trampoline look aesthetically pleasing in your backyard? Can you customise it?   

User Reviews – Does this trampoline have positive online reviews?      

Cost of the Trampoline – Is this trampoline within your budget and worth the investment?      

Other Important Factors- Weight capacity, installation, customer service and accessories.   
We have an entire article dedicated to the main things you need to consider before purchasing a trampoline. Check out the seven things to consider when buying a trampoline to learn more! 
Where to Buy a Trampoline  
Now let's get to your pressing question: Where can you buy a trampoline? 
Buying a Trampoline Online 
The first, and most common option, among consumers who are buying a trampoline is shopping online for one. 
There are a couple of different paths to purchasing a trampoline online. Let's go over both in the next section: 
Retailer vs. Trampoline Brand 
The two primary ways of buying a trampoline online include buying from a retailer or buying directly from a trampoline brand (or manufacturer).  
Many of the major retail giants that we all know — Kmart, Big W and Rebel Sport, among others—sell trampolines online. Online retailers—like Amazon—are also popular destinations for trampoline purchases.  These retailers carry different brands and allow you to purchase directly from their websites. 
Example of Big W's Trampolines on their website: 
You can also purchase directly from the company that manufactures the trampoline you want. These companies, commonly called trampoline brands, include Jumpflex, OZ Trampolines, Vuly and Springfree.  
Example of a Springfree Trampoline on our website:  
What are the key differences between buying from a retailer and a brand online? Here's a quick breakdown: 
A retailer will usually have more brands to choose from, whereas the trampoline brand will only sell its own products. 

A trampoline brand may be more likely to have your desired trampoline in stock.  

Since retailers typically mark up prices to make a profit, their trampolines may be more expensive than they are on the brand's direct website.  
Just as there are differences between buying from a retailer or trampoline brand, there are also similarities—like being able to purchase from anywhere and the potential for trampolines to be on sale depending on promotions the retailer/brand is running. 
That last point is vital if you want to try to find the best price. One of the major pros to shopping online is being able to easily compare prices from different sources and assessing whether one place is offering a bigger sale on the product you want. (More pros & cons coming later!) 
There are also other ways to purchase a trampoline online, like through various online buying and selling sites such as Facebook Marketplace, eBay or Gumtree. However, trampolines on these types of sites are typically used and there's inherently more of a scam risk when purchasing from an independent user.  
We would recommend purchasing from a verified brand or retailer, but it doesn't hurt to browse through one of these sites if you're looking for a good price on a trampoline and you're okay with buying used. Be careful about scammers if choosing this option, though.  
Buying a Trampoline In-Store 
The other option you have to purchase a trampoline is the old-fashioned way: Going to the store and picking it up yourself. 
If you choose this option, you will likely have to go to one of the retailers we discussed in the previous section, or to a local backyard store. There might be trampoline brands that have a storefront in a few places, but it is not particularly common in the industry. 
Your best bet with the in-store option will be to go to a retailer, like Kmart, Big W or Rebel Sport and purchase a trampoline there. 
There's likely not a huge difference between purchasing a trampoline from store to store in terms of pricing. For example, buying a Kmart Trampoline as opposed to a Big W Trampoline, or vice-versa, is probably not going to yield significant cost savings.  
The real difference lies in the type of trampoline you're looking for. One retailer may sell the specific trampoline you want while the other may not. One may have it in stock while the other retailer may be out of inventory. 
Some retailers may only have their trampolines stored in the back and not on display. This is where going to a local store in your area that sells trampolines could be beneficial if you're looking to physically see and touch the product before purchasing.  
Example of a Springfree Trampoline in a store at one of its locations: 
Where Should You Buy a Trampoline? 
You now know the two primary ways of buying a trampoline, either online or in-store. So, which one should you choose? 
Pros and Cons of Buying a Trampoline Online 
To help you answer this question, let's go over the pros and cons of both options, starting with buying a trampoline online:  
Pros:  
You can buy from the comfort of your home and don't have to commute anywhere.  

Comparing prices from competing brands or retailers is easier.  

Don't have to wait in line or deal with salespeople.  

It's typically a simple process to purchase online.  

Able to look at customer reviews before purchasing. 

You don't have to physically carry the trampoline package from the store to your house (unless purchase online and pick it up in the store).  
Cons: 
You don't get the trampoline right away.  

You can't try out the product before purchasing.  

You might have to pay a shipping fee (although some brands, like us, offer free shipping Australia-wide).  
Pros and Cons of Buying a Trampoline In-Store 
Let's now assess the pros and cons of buying a trampoline from a store:  
Pros: 
You get to touch the product before purchasing (assuming it's on display). 

You don't have to wait for the trampoline to ship or pay a shipping fee.  
Cons:  
You must commute and either carry the product to your car or get one of the workers to do it. 

Comparing prices from company-to-company is more difficult.  
Need Help With Your Trampoline Purchase? 
For multiple reasons, where you decide to buy a trampoline can influence a lot of elements of your trampoline purchase.  
Not only does it affect things like shipping and delivery, but inventory and pricing can also be impacted by where you purchase. 
The end goal, no matter where you purchase, is the same: Get the trampoline that aligns most with your goals.  
If you prefer to shop online, then assess the differences we discussed previously and order a trampoline online from your preferred destination, whether that be a retailer or directly from the brand.   
If you like the gratification of purchasing a product in a store, then find out if your local retailer has the trampoline you want in stock and go get it! 
Our advice as a long-time trampoline manufacturer is to never settle on a trampoline. Make sure to get a trampoline that is safe and meets all your requirements. Trampolines should be long-term investments, so take your time in making a purchasing decision. 
Need assistance on buying a trampoline? Our team at Springfree Trampoline is professionally trained to offer honest and expert-led guidance as you look to finalize your trampoline purchase. 
Reach out to us if you have any questions about purchasing a trampoline and one of our team members with get back to you shortly!