Tips for Buying a Trampoline On Sale | How to Get the Best Deals
Score big savings: Discover how to buy the best trampoline on sale! Get expert tips and the inside scoop on when to get the best trampoline deals this year.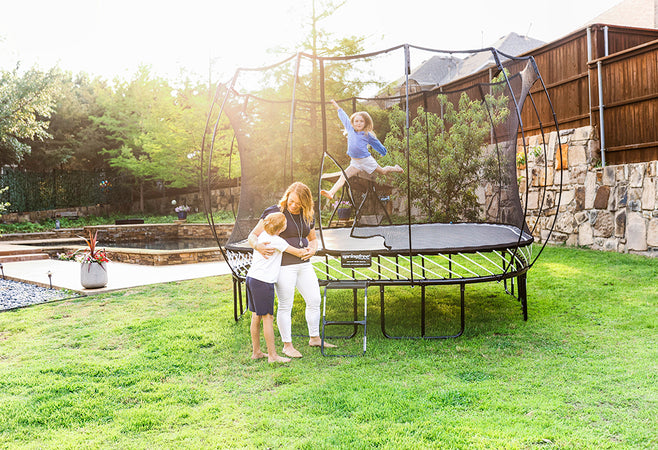 Trampolines can be expensive, and the best time to buy a trampoline is on sale. 
But how do you find the best trampoline sales? And how do you make sure you're getting a good deal? 
As a trampoline manufacturer ourselves, we've got the inside scoop on when to buy a trampoline on sale. If you want to save money on your trampoline purchase, you've come to the right place. 
In this article, we'll share some tips for buying a trampoline on sale and how to get the best deals. We'll also cover some of the things to look for when choosing a trampoline, so you can be sure to get the perfect one for your needs. 
When to Buy a Trampoline 
Like any consumer product, trampolines are more likely to go on sale at certain times of the year. If you're aiming to buy a trampoline on sale, these are the best times to find trampoline sales: 
Beginning of the warm weather season 
Black Friday and Cyber Monday 
Around the Holiday Season 
Trampoline brands, retailers or dealers differ on when they might offer a trampoline sale. It's never guaranteed that the trampoline you want will be on sale during the times listed above.  
If you're strategically planning to buy a trampoline though, the times above will be your best bet to buy a trampoline on sale.  
Where to Find a Trampoline on Sale 
There are plenty of places that may offer outdoor trampolines on sale at a given time. When searching for a discounted trampoline, check the following places:  
The best way to find a trampoline on sale for you might be simply typing in "trampoline on sale nearby" or "trampoline on sale near me" in a search engine. Regardless of how you decide to search, you won't be lacking options regarding where to buy a trampoline.  
8 Tips for Finding the Best Trampoline Deals 
Now, you can know when and where to buy a trampoline on sale, but how do you get the best "bang for your buck?" 
Finding the best trampoline deals requires a combination of research, patience, and savvy shopping tactics. Here are some tips to help you score the ultimate trampoline deal.  
1. Sign up for newsletters (like the Springfree Newsletter) to receive the latest on trampoline sales.  
2. Follow trampoline brands/retailers on social media to stay updated on the latest deals.  
3. Wait for seasonal sales, especially Black Friday/Cyber Monday!
4. Check for trampoline bundles that may include extra accessories, like a trampoline basketball hoop.  
5. Scour the web for coupon codes.
6. Call or email the trampoline brand and ask about sales.  
7. If buying for Christmas, buy early if you can! Delivery times can be prolonged around this time. Check for trampoline sales on Black Friday and Cyber Monday.   
The key to finding the best trampoline deal is a thorough research process. Ensure that you've done your research and then purchase without delay, as most trampoline sales are for a limited time.  
What to Look For When Buying a Trampoline on Sale 
Speaking of value, you don't want to just buy the cheapest trampoline on sale because it saves you money.  
Cheap trampolines are typically less safe and don't have a long lifespan. If you want a trampoline to last for more than 1-3 years without continuous maintenance, you will need to invest in a high-quality trampoline.   
Here are some things to consider when trying to find the right trampoline on sale:   
Safety Features – What specific trampoline safety features does this trampoline come with?     
Trampoline Quality – Is this trampoline built with quality materials that ensure its longevity through childhood?    
Durability- Can this trampoline last under years of jumping and weather conditions without breaking down?     
Warranty- What parts are included and how long is the trampoline's warranty?     
Design and Style – Does this trampoline look aesthetically pleasing in your backyard? Can you customize it?    
User Reviews – Does this trampoline have positive online reviews?       
Trampoline Cost– Is this trampoline within your budget and worth the investment?      
Other Important Factors- Trampoline weight limits, installation, customer service and accessories.    
Considering all these factors, pinpoint what's most important to you and use it to guide you to your ideal trampoline.   
The great thing about buying an outdoor trampoline on sale is you can get a premium trampoline for a discounted price. You can also potentially get big trampolines, like 14 ft or 15 ft trampolines, for better prices.   
We would recommend buying a trampoline on sale rather than buying a used trampoline. With trampolines on sale, you save money and get a trampoline that doesn't have any wear and tear.
FAQ: Buying a Trampoline on Sale 
To wrap up, let's run through some of the common questions you may have about buying a trampoline on sale:   
1. How Much Is a Really Good Trampoline? 
A really good trampoline can range from $800 to over $4,000, depending on which size and brand you choose. If you're looking to buy a long-term trampoline, it's well worth it to pay the upfront cost so your kids are safe and jumping for the long haul.  
Trampoline financing is offered by many brands/retailers for those who don't want to pay the full trampoline cost at once.  
2. When Do Trampolines Go on Sale? 
When a trampoline goes on sale will depend on the brand and place you're buying from. However, the beginning of spring, Black Friday/Cyber Monday and the Holiday Season are the best times to look for trampoline deals.  
3. Who Has Trampolines on Sale?  
Most trampoline brands or retailers who sell trampolines will offer discounts at some point. The best thing to do is search up for the brand and type of trampoline you want – you can typically find the trampoline you want on sale somewhere.  
4. Do Trampolines Go on Sale for Black Friday?  
Yes! Black Friday is one of the peak times for trampolines to go on sale. Make sure to check the website of the brand you want or look at retailers like Walmart to see what kind of sales they are running.   
5. Who Has Trampolines on Sale for Black Friday? 
Most trampoline brands or retailers will have some kind of trampoline sale for Black Friday. However, this is not guaranteed. Make sure to check multiple sources on the Internet to find the best Black Friday trampoline deal.   
When Do Springfree Trampolines Go on Sale?   
Buying a trampoline on sale can yield a significant cost savings for you. Now that you know when trampolines go on sale and who offers them, you can start to look for the best deals.  
Many people ask us about our springless trampolines and when they go on sale. Springfree Trampolines are the safest, highest-quality and longest-lasting trampolines on the market, but they are not cheap.