Sydney's Top Ten Parks & Playgrounds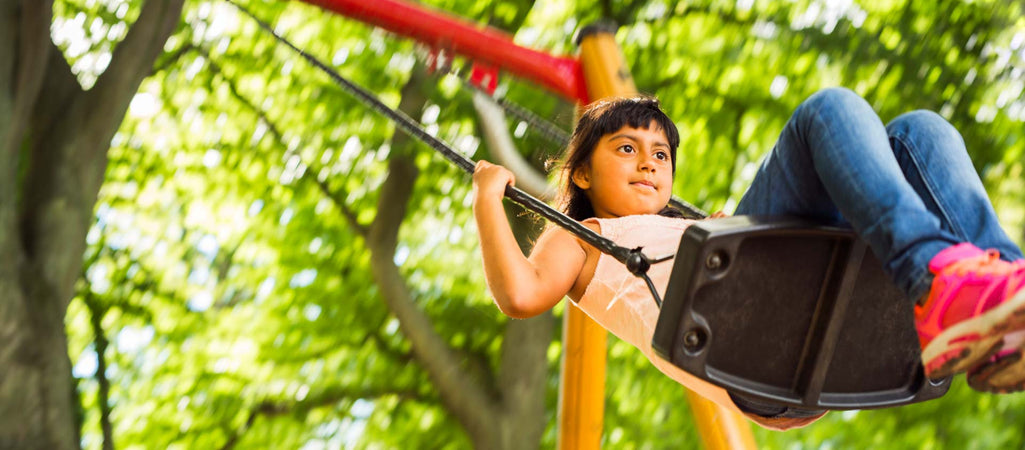 Get the kids out of the house this weekend and explore some amazing family friendly playgrounds, park and gardens in your backyard. We've done the round up for you, so all you need to do, is pick the next adventure.
1. Hyde Park
Ideal for families wanting to check out a park near the CBD. Located in the heart of central Sydney, Hyde Park happens to be the oldest park in Australia and is also one of the most iconic.
The park is split into two sections at Park Street, commonly referred to as Hyde Park North and Hyde Park South. Hyde Park North's highlight is the monumental Archibald Fountain featuring dolphins, tortoises and horse's heads adorning an ancient mythological creature in the form of a bronze Apollo. Hyde Park South's Anzac Memorial most particularly appeals to war veterans and historians.
Hundreds of large, leafy trees provide shaded spots ideal for family gathering and picnics.
2. Tumbalong Park
One of Darling Harbour's most popular, public spaces for children to play and relatives to spend the day, is family-friendly Tumbalong Park.
Making waves is the wondrous water park which kids are absolutely raving about! With 26 water jets, a 10-metre high octanet, tangled web, people-powered water scoop, super slide and swings, Tumbalong Park is about as thrilling as it gets!
Once the kids have soaked themselves to the skin, the Chinese Garden of Friendship is a more mellow environment to dry off and chill out in. Designed by Chinese landscape artists in consultation with the local Chinese community, this is a gorgeous garden to take in, too.
A fun way to spend the day is to catch a ferry to Darling Harbour by boarding at King Street Wharf or Pyrmont Bay Wharf to complete the water theme adventure!
Image credit: Tothotornot.com
3. Waluba Park
Wulaba is an Aboriginal word of the Gadigal people, meaning 'rock wallaby'. Rock wallabies were once a regularly sighted around Waterloo, which was home to the largest swamp in the district until it was replaced with development in the early 20th century.
Sydney artist, Nuha Saad, cleverly created this wonderful playground which resembles a rainbow swirl of multi-coloured ice cream with a web of nets, trail of tunnels, selection of swings, and loads of ladders that lead to a three-storey-high metal super slide!
4. Fairfield Adventure Park
Specially designed for the recreational needs of tweens and older children, Fairfield Adventure Park is state of the art, rising above the type of play equipment traditionally designed for younger children.
Although still as safe with sandy surfaces and soft landings surrounded by the shade of trees, the slides are so much bigger and the climbing nets ten times taller! If you are brave enough to ascend the 11-metre high futuristic space net, you can then stumble across the swinging sky bridge and choose from three escape slides, including one of the tallest in Australia. The 33-metre long double flying fox is fun to trial, too!
Sporting fields and natural parklands surround this playground so it is the perfect place to spend an entire day outdoors exercising!
5. Bungaribee Park
Ideal for western Sydney families. Bunggaribee Park has recently undergone a $15 million development.
Including a fantastic new playground for kids and one of the largest off-leash dog areas in Sydney, you can bring your pooch to play along with the rest of the family. With nets to hike up to a colourful, geometric climbing tower and slides to slip down into a super-sized sand pit, kids will feel spoiled! They can also fly on the fox, swing on swings and balance on beams!
Walking and cycling tracks, barbecues and picnic shelters are also available around the protected wetlands of Bungarribee and Easter Creeks where thousands of native trees and wildflowers have been planted in restoration of the Cumberland Plain.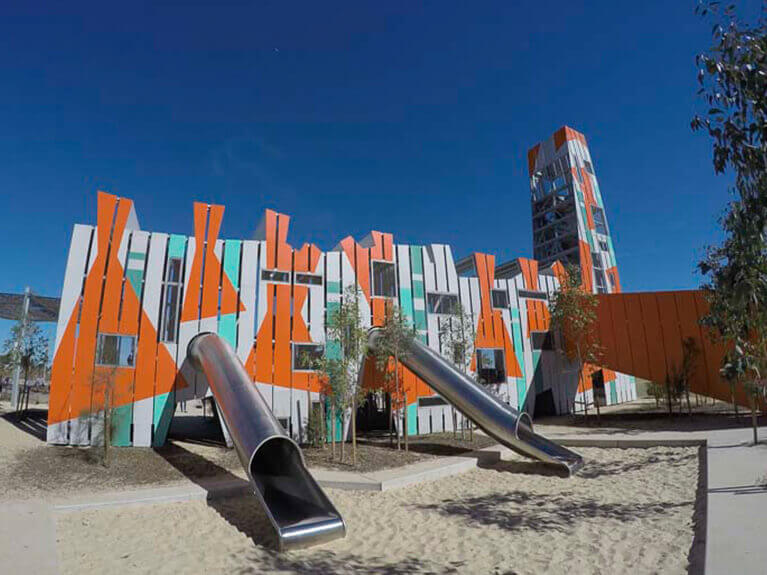 Image credit: hellosydneykids.com.au
6. Blaxland Riverside Park
This Olympic Park play space sprawls out over 300 metres overlooking the picturesque Parramatta River where parents can set up picnics under large shade cloths and watch their wide-eyed kids race towards amazing play structures.
A favourite element of this park is entering the 12-metre wooden tree house by tip-toeing across a web netted rope bridge, with Spider-man hanging from the roof surveying the parklands below. Surrounded by tunnel slides on all sides is another significant rope climb. The tandem flying foxes hang not too far above a soft, rubbery surface for two siblings to soar at once. And don't you dare give the massive spinning disc, Viking swing or wet and wild, water play a miss!
7. Constellation Playground
If an extra-terrestrial experience excites your kid, Constellation Playground is uniquely space-themed as the name suggests! Toddlers are tempted by swings, a sandpit, and hillside slides while older children are climbing champions and fox flyers! And if togetherness is your thing, an entire family can fit on one of the tripod swings.
The Bay Run is great for a play break to walk, run or cycle. Grown-ups get to enjoy sitting on benches while witnessing serene waterside views and grabbing a coffee or some nibbles from nearby cafés.
Image credit: parraparents.com.au
8. Enmore Park
Yet another popular place to play astronauts is Enmore Park where there's not just one, but TWO space rocket ships! You can race to the top of the rope rocket, too!
For children five and under, the Magic Yellow Bus Mobile Playgroup stops by on Thursday mornings between 9am and 12 noon with fun games and activities to join.
Another big drawcard is the newly renovated Annette Kellerman Aquatic Centre, which now offers an eight-lane 50-metre lap pool and a mini pool for toddlers. A café and a gym are also included in the complex if all that swimming burns too many calories and makes you feel hangry.
9. Prince Alfred Park
Having had a huge transformation, award-winning and state of the art, Prince Alfred Park is the place to be.
Recent upgrades include, technologically advanced courts for tennis and basketball, tailor-made play areas for kids and sustainable landscaping that consists of hundreds of rainforest species and the latest filtration systems, water-saving fixtures and stormwater harvesting including underground storm water reuse to supply 95% of the park's water.
Open year round is the City's first heated, outdoor pool that is fully accessible via a ramp into the water. Animated chimneys serve as functional public art pieces atop a green, native grass roof to regulate the temperature of the pool complex.
Toddlers love the splash deck while parents keep an eye on older swimmers from the bleachers. Additional amenities include umbrellas that provide sun protection and shade, and sky-lit change rooms. Surrounding landscaped space has been upgraded with new exercise circuits, custom-built furniture and energy-efficient lighting.
10. Domain Creek Playground
Domain Creek playground is the newer of the two Parramatta Park playgrounds. Nature-   based with plenty of green space and magnificent mazes made from tree branches and wire, this park presents endless possibilities for kids to extend their active imaginations and expend nervous energy!
Parents will find it hard to tear their young engineers away from the sand diggers and water pumps, while higher spirited tykes will no doubt spend most of their time hanging out at the pod of sunken trampolines where they can bounce to their heart rate's cardio content!
Enjoy reading this article? You can learn more about our super safe trampolines or read more Springfree blog articles.