Melbourne's Top Ten Family-Friendly Playgrounds, Parks and Gardens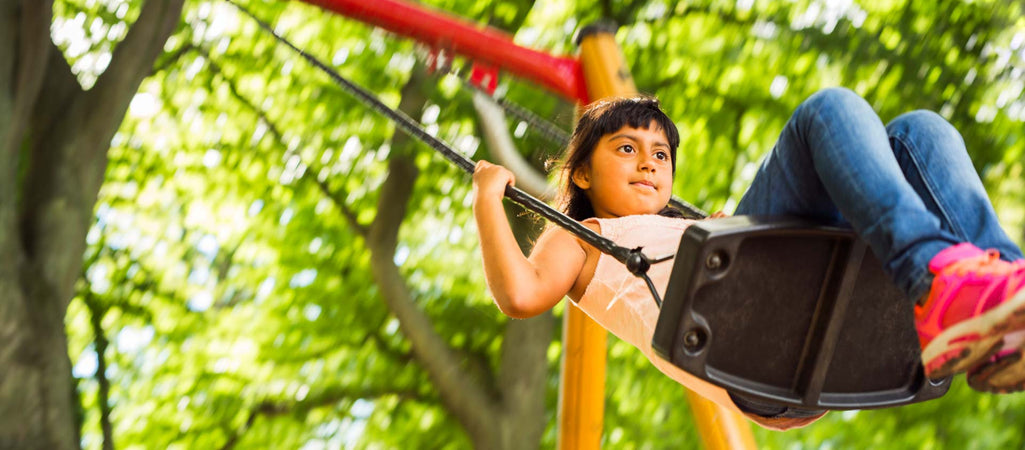 Get the kids out of the house this weekend and explore some amazing family friendly playgrounds, park and gardens in your backyard. We've done the round up for you, so all you need to do, is pick the next adventure.
1. The Ian Potter Foundation Children's Garden
Do your kids love to get their hands dirty in the garden? The Ian Potter Foundation Children's Garden is the perfect place for youngsters with green thumbs!
The importance of conservation plus a sense of responsibility for the natural environment is impressed upon visitors, and the garden is cleverly designed to educate yet also excite children from a very young age.
Kids can amuse themselves by delving into the natural world within an interactive environment which contains fun water features, plant life that changes with the seasons, adventurous trails to explore and interesting constructions to utilise as backdrops for photos on Instagram!
2. Enchanted Adventure Garden at Arthur's Seat
Fancy a day trip that takes you out of the city on a drive to the scenic Mornington Peninsula? The multiple, national award-winning Enchanted Adventure Garden is just a short distance from Melbourne at Arthur's Seat and well worth the visit.
A highlight is tree surfing – an activity that takes you on an unforgettable climb through the canopies with multiple levels and challenges designed to motivate both parents and children!
With an aerial obstacle course, 5 zip-lines, tube slides, several mazes, bridges and a rock wall to climb, the kids won't bore easily and will later sleep like babies. There is even a little nippers' course for the younger ones unable to keep up with their older siblings and parents. This way no one misses out on the opportunity to swing like Tarzan!
Due to the popularity of this park's tree surfing and to avoid disappointment, we highly recommend pre-booking your entry tickets online.
Image credit: Enchanted Adventure Garden
3. Plum Garland Memorial Playground
If you're looking for somewhere more city-central to entertain the kids. Plum Garland Memorial Playground is the place to be this summer!
An outstanding example of how an urban park can still be well integrated with its natural surroundings, Plum Garland's sandy South Melbourne shoreline meets up with play equipment and shows off ships sailing into Port Philip Bay.
Aside from picnic tables and benches, there are even sun loungers for parents to put their feet up while watching their children climb ropes. There's also a fenced in area with a harness and nest swing for toddlers. After swinging on swings under the shade of large sails, kids can then be freed to run barefoot right onto the beach and build sand forts, so don't forget to bring your buckets and bathers!
This location is also perfect for an afternoon stroll along the St. Kilda/Middle Park foreshore with bub napping in the pram while you and your eldest child enjoy a refreshing treat from Jock's Ice Cream and Sorbets on Victoria Avenue in Albert Park.
4. Royal Park Nature Play
Perfect for older children (5+ years of age), Royal Park Nature Playground is located in the centre of an amphitheatre with rock step sides and includes high rope crosses, large, log ladders with different heights to climb, and some steep, fast and twisty metal slides!
There is also an interactive water play area with spray guns and manual hand pumps engineered to control the flow of water and channel it down to the below mud-pit. A separate dry sandpit also exists with a bird nest swing and metal skeleton of a dinosaur to scale.
Other elements include a hut made of metal and tree branches, huge rocks and logs to scramble over, and paths meandering through native and indigenous plants and bushes. Six swings overlook the entire playground and a precipitous grassy hill provides infinite pleasure rolling down the steep side.
5. 'Cubbies' Fitzroy Adventure Playground
Known to locals as Cubbies, Fitzroy Adventure Playground is a sanctuary for urban kids who may not be fortunate enough to grow up with a large backyard for free play. Operated by Save the Children Australia and funded in part by the Yarra City Council, Cubbies historically claims to be the first playground built in the nation and has catered to inner-city dwellers from newly arrived communities since 1974.
In 2017, a more modern playscape called Coal Flowers was created and installed by sculpture artist, Benjamin Gilbert, and funded by various philanthropic donors as well as the State Government. Gilbert worked with local children in the early design stages to develop the concept and teach them the skills needed to create the play structure.
Sourced from coal mine conveyor belts, Coal Flowers is an architectural marvel that features pods made of steel and recycled rubber perched on top of five poles. Housing 25 solar panels, the flowers generate and harness electricity for Cubbies' use and feed into the power grid. Even the flower petals are purposefully designed to provide shade for children.  
Image credit: Tothotornot.com
6. Monument Park
Perfect for arty families. Monument Park is a work of art right in the heart of the city near New Quay Promenade and easily accessible via public transport. Monument Park is where world renowned artist, Callum Morton, was inspired to cover pre-existing monuments with layers of concrete, creating a carpet-like effect.
Nature fights its way to weave through cracks in the sculptures exposing greenery in the form of plant growth, which makes the park even more intriguing and beautiful. Families can relax in manufactured spaces cut out of heightened forms on the concrete surfaces.
Pack a picnic and enjoy sunset views over the city and harbour.
7. Hays Paddock Park
Due to its very accessible playground, Hays Paddock Park is appraised as being one of the most inclusive and creative parks in Melbourne. Two local mothers of both able-bodied and disabled children, Danielle Blanden and Jenny Grahem, were encouraged by the City of Boroondara to develop this exceptional park back in 2003.
Throughout the entirely fenced in playground to ensure safety, an interactive sand pit, slides, swings and see-saws sit alongside a rope-climbing structure underneath colourful, butterfly shades. Winding around the play equipment are wide, wooden ramps and soft flooring. Braille and sign language instructions are provided for the blind and deaf. And a learner's bike path can assist parents teaching their children to upskill from training wheels to two wheels.
Image credit: Tothotornot.com
8. A Maze 'N Things
A Maze N Things is a Theme Park located on Phillip Island, built in a bush setting around mazes, games, puzzles, and optical illusions. Major attractions include Australia's largest 3D Timber Maze, a Shrinking Room, Illusion Room, Flooded Room, Puzzle Café, and Maxi Mini Golf Course. Spin around in the rotating room or lose yourself in a mirror maze. You'll be fooled into thinking you've shrunk, lost gravity or even disappeared altogether!
Close to the Penguin Parade, Seal Rocks and the Grand Prix Circuit, there's a lot for everyone to see and do nearby, too. Koalas can be spotted across the road at the Koala Conservation Centre and swimming or surfing is less than 5 minutes' drive away if you fancy a side trip to the seashore.
9. Kidstown
Hours of family entertainment can be found at Kidstown, which is surrounded by native bushland and spread over 5 acres across the Goulbourn Valley. A sensory fruit bin and dairy maze pay homage to the orchard and dairy industries that have prospered in this region. 
Founded by the local community in 1995, and now owned and operated by the Greater Shepparton City Council, entry to Kidstown is via gold coin donation towards park operation and maintenance as well as funding projects developed to enhance the overall experience. 
10. Gumbuya World
A $50 million facelift and rebrand transformed former Gumbuya Park into Gumbuya World, where you can get away from the hustle and bustle of the city to appreciate a countryside adventure!
Gumbuya World consists of four different, major attractions: Oasis Springs, Wildlife Trail, Oz Adventures and Outback Explorers. 
Oasis Springs is a water park that not only features some epic waterslides but also showcases a section that teaches surfing lessons. For those who want a more mellow experience, they can instead opt to raft along the 300-metre Lazy River.
The Wildlife Trail is home to more than 50 amazing animal species. Hand-feed kangaroos, wallabies and emus, dabble with a dingo, or cuddle a Koala. A petting zoo allows little ones to get up close and personal with more placid animals such as baby goats, ducks and lambs.
Adults and older kids can enjoy a thrilling ride at Oz Adventures whereas Outback Explorers caters to youngsters.
Enjoy reading this article? You can learn more about our super safe trampolines or read more Springfree blog articles