How to Move a Trampoline Easily and Safely | Springfree Trampoline 
Moving a trampoline can be intimidating, but don't worry: Our expert tips will show you how to move a trampoline safely and easily. Read on to find your solution!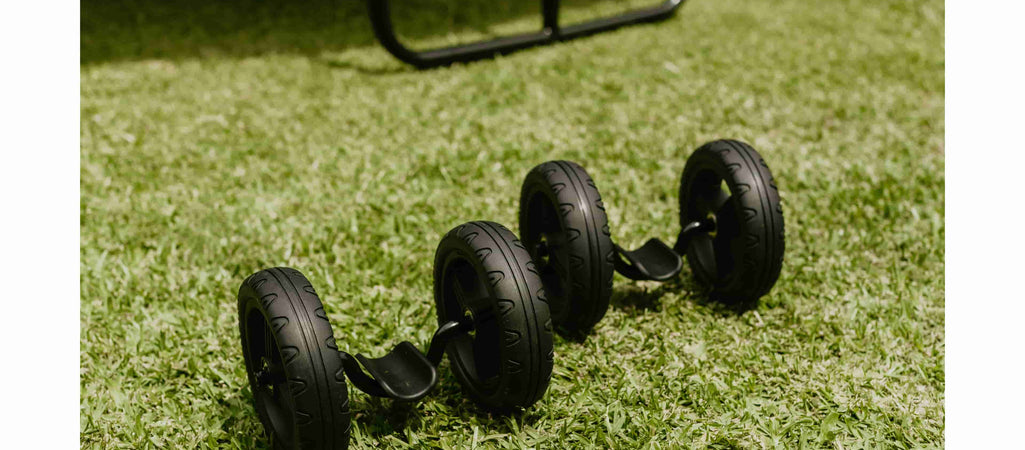 Whether you're relocating your trampoline to a new home or simply sliding it out of the way to mow, moving a trampoline may seem overwhelming.  
There are multiple ways to move your trampoline, and as resident trampoline experts at Springfree Trampoline, we will break them all down in this article! 
You will learn how to move a trampoline to another house, how to move a trampoline by yourself, how to move a trampoline on a trailer and how to move a trampoline to mow or complete other backyard projects without taking it apart.   
We will also discuss when it might be beneficial to hire a trampoline moving service before rounding up some expert trampoline moving tips to keep in mind! 
6 Ways to Move a Trampoline 
What is the easiest way to move a trampoline? There are six primary methods to moving a trampoline and one might be a better fit for you than the other. Let's discern them all so you can choose the best way to move your trampoline: 
Manually Pick Up the Trampoline 
The first method can be considered "the old-fashioned way." If you're figuring out how to move a trampoline to mow or conduct another backyard project, manually moving it could be an option. 
Can one person move a trampoline? Probably not manually -- you will likely need at least two people to move it, especially if you're moving it to a spot that is further away. A backyard trampoline can weigh up to 200-300 pounds, so you must be careful if choosing to manually move it.  
You can also simply slide the trampoline out of the way if you need to move it quickly and for a short distance. 
Trampoline Wheels 
Another way to move a trampoline is by purchasing trampoline wheels, which is a common trampoline accessory.  
Wheels work great when moving a trampoline by yourself. To move a trampoline using wheels, you will want to attach them under the trampoline frame's legs, like so: 
The wheels are designed so that they will easily go under the trampoline's leg without scratching the frame. From there, you will roll the trampoline to its desired location! Trampoline wheels cost around $100 and typically come in pairs of two. 
*See the Springfree Shifting Wheels here! 
Using a Trailer 
This next method is an option for those pondering how to move a trampoline to another house or how to move a full-size trampoline.  
You can use a trailer to haul the fully assembled trampoline to another house, just like you would if you were moving furniture. However, you must ensure that the width of your trailer matches your trampoline's width before transporting it.  
The tough part about moving a full trampoline is you it will only work if you don't have any small spaces to navigate. For instance, a fully assembled trampoline won't fit through a small gate or door.  
You may have to disassemble some parts of the trampoline, like the enclosure net, so that you can get it through the small space.  
Also, be wary of the weather when transporting and tie down the trampoline with ratchet straps before taking off.   
Using a Truck 
Similar to the trailer method, a truck can be used to transport a trampoline to another location.  
The truck will need to have plenty of space to safely place the trampoline and secure it. The potential downfall of this option is you may have to disassemble certain parts of the trampoline, like the enclosure net or trampoline poles, to make it fit – not only in your truck but through the small spaces in your backyard.  
Disassemble and Reassemble the Trampoline 
Ideally, you won't have to completely disassemble the trampoline, move it, and then reassemble it again. Picking up the trampoline, using trampoline wheels, a trailer or a truck are ways to move a trampoline without taking it apart.  
However, if you're moving to another house and don't have room to transport the assembled trampoline, you may need to revert to the disassemble/reassemble option. This may not be such a problem for cheap trampolines that are easier to assemble.  
But premium trampolines, like Springfree Trampolines, are more complicated to install, so you will likely want to avoid this option if assembling the trampoline is a pain.  
Hire a Trampoline Moving/Relocation Service 
Lastly, if you can't move the trampoline yourself, there are trampoline relocation services available for hire.  
If you don't want to bother with moving the trampoline to another location, hiring professionals to haul it for you could be an option. Trampoline moving services can potentially do the following:  
Disassemble, move and reassemble the trampoline if you're moving to another house. 

Move the trampoline from the front yard to the backyard or vice-versa.  

Put the trampoline into storage. 
Pricing will depend on many factors, including location, the size of the trampoline, the brand of the trampoline and if trampoline accessories are included, among others.  
How much does it cost to move a trampoline? Trampoline moving services can cost up to $500 or more depending on the factors discussed above.    
7 Trampoline Moving Tips 
When moving a trampoline, you will need to be extra careful to not damage the product or worse, suffer an injury yourself. Here are some expert-led tips to help transport your trampoline safely: 
Have a well-thought-out plan before moving the trampoline to a new location. Use color stickers and label parts if disassembling/reassembling.    

Always try to recruit help when manually moving the trampoline.   

Follow basic lifting techniques – like not rounding your back and lifting with your legs. 

Use moving blankets or other protective coverings when moving the trampoline. 

Ensure the trampoline's new permanent location has 3-5 ft of clearance space.   

Follow disassembly/reassembly instructions CAREFULLY if taking the trampoline apart.  

When in doubt, hire professional trampoline movers.  
Need Help Moving Your Trampoline?  
Moving your trampoline can be an arduous process. But you should be able to choose from the six methods discussed in this article and find a solution to safely move your trampoline – no matter where you're moving it to! 
We at Springfree Trampoline want to make sure you're equipped with the resources to complete the successful transportation of your trampoline.  
If you need something to help you move your trampoline for backyard work or to another location at your house, our trampoline wheels could be for you.  
They are $99, come with two pairs of wheel frames and could be a game-changer for those that need to move the trampoline for mowing/backyard projects! For large trampolines, like our Springfree Jumbo Round Trampoline, you may need to purchase two sets of trampoline wheels.  
If you're facing a more intensive move, we offer trampoline relocation services provided by our trained trampoline installers. Call us at 1800 586 772 for a free estimate on our trampoline moving services!