How to Make the Most of an Urban Backyard with Kids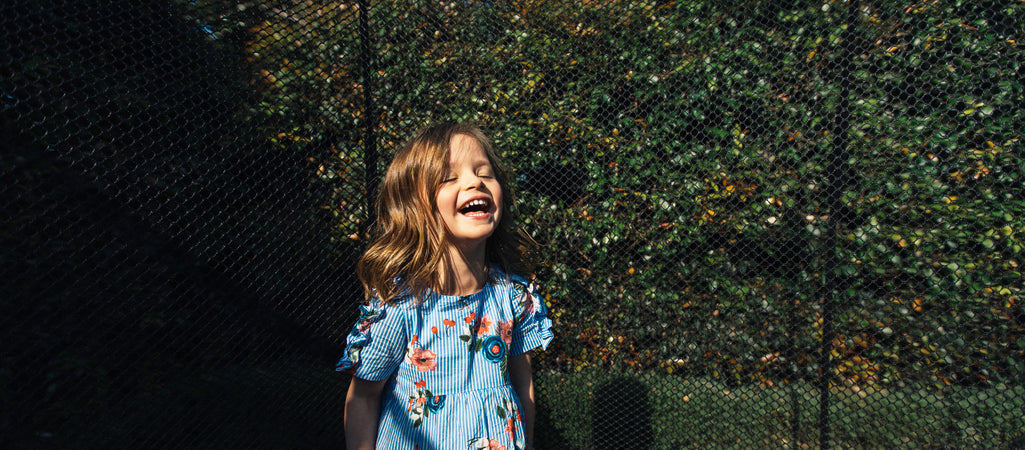 Some of us were lucky enough to enjoy our youth on large quarter-acre blocks that provided ample space for just about any game we could conjure up. But as populations have grown and demand for housing has increased, it is the humble backyard that has been compromised.
As with the tiny house movement, making the most of a smaller, urban backyard really comes down to a bit of creativity and finding ways to use, normally redundant, spaces.
Here are a few ideas to create a fun and playful backyard when space is limited.
Use Vertical Spaces
Most backyards come with some kind of fence, so why not make these fences more functional than just marking out your property boundary.
Some ideas of how you could use your fence space include:
1. Outdoor Chalkboard - great outlet for creativity and also for doing homework! Reserve a panel area on your fence for a chalkboard and see what fun ways your children use it.
2. Music Wall - music walls are a fun creative outlet and as an added bonus, keeps the noise outside. Let the kids record their masterpieces to send to grandparents or to listen to again and again.
3. Rock Climbing Wall - keep the body and mind active with this great addition. Not only will they be challenged physically to climb the wall, they'll have to exercise their minds while doing it.
4. Water Wall - this is a great addition for summer when water play is most fun and enjoyed. Get the kids to help you set it up and watch as they are entertained for hours.
5. Vertical Garden - vertical gardens aren't new but they are great for small backyards. And kids love getting their hands dirty and seeing how plants grow. Make it a vegetable or herb garden so they can enjoy the fruits of their labour that little bit more.
Using 'Empty' Spaces
You may not be aware that there are potentially functional areas in your backyard that you've not even thought of, that can be perfect for creating a kid-friendly play area.
Some examples include:
6. The garden bed - this could be an area in front of trees or shrubbery that would make for a fun mini-playground or obstacle area
7. Build a playhouse - using the voided space under the deck. While the parents can enjoy entertaining friends upstairs, the kids can be playing happily 'below deck'. Great use of space when there isn't much.
8. Treehouse - if you're lucky enough to have a lovely big tree in your backyard, look at a simple ways of creating an escape for the kids. It doesn't have to be too extravagant. Kids have great imaginations that can do the job of sprucing up the space.
9. Zip-line between trees - or balance line or obstacle course. The space between sturdy trees provides several options to keep kids entertained.
10. Make a giant Scrabble set - replace one of your pavers with a giant scrabble set or other fun boardgame!
Integrate Natural Play scapes
There are suggestions that kids play longer and stay more engaged when playing in natural play scapes that resemble the great outdoors. So rather than feeling like you need to add equipment and toys, try to bring natural elements that will sit well within your backyard. For example:
11. Sand Patch - A simple patch of sand bordered by loose, stable rock is one of the easiest ways to achieve this.
12. Sawed-off tree stumps - these are great for kids to navigate, jump and play and use as balance beams
13. Sticks and Stones - Simple sticks to draw in the dirt are very easy ways to keep the kids busy in the backyard.
14. Natural Swings - Look around your yard for sturdy branches to hang swings from, rather than needing to buy a bulky swingset. 
Create mobile play areas
15. Wheelbarrow mud pit - let the kids go crazy in a wheelbarrow mud pit, which can be cleaned up and put away when they've moved onto the next fun thing.
16. Create a sandbox in an old bookshelf - make it easy to move the sandbox around when you use something like an old bookshelf to house the sand. This allows you to move it to be in sight when the kids want to use it and move it out of sight when they are done.
17. Teepee fun. A bit like camping, there is something kids just enjoy about playing in teepees, forts and playhouses. The great thing about these is they can be temporary structures to be put up and put away as suits. 
Finally, 
Add string lights to your backyard. No matter the size, lights make everything feel magical!
Backyard play is such an integral and memorable part of growing up which is why, here at Springfree Trampoline, we love to champion it at every opportunity. We also realise every backyard is different so we have developed trampoline models of various shapes and sizes to accommodate all backyard types. If you didn't think you could fit a trampoline in your yard, take a look at our range today as you might be pleasantly surprised.
We hope you and your family enjoy many hours of play in your backyard.
Other Articles You May Enjoy