How to design an outdoor space for family entertaining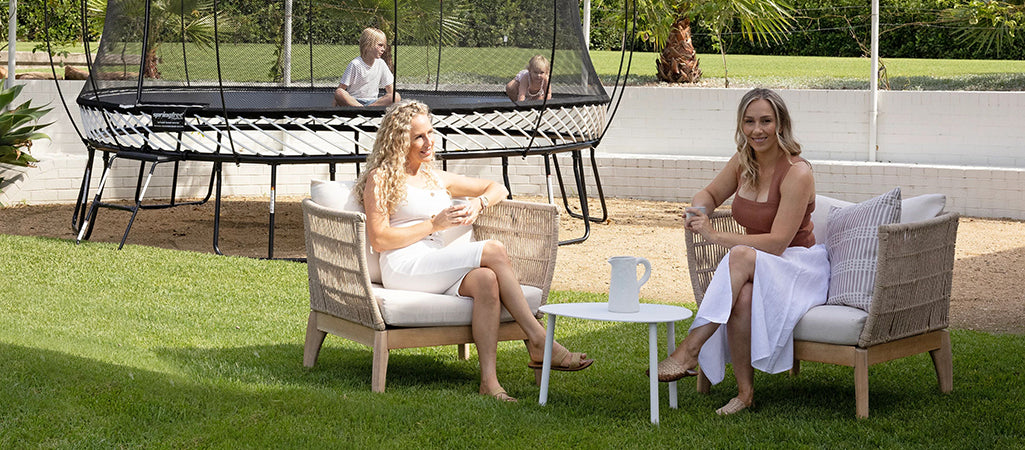 Oak & Orange
Busy Mums. Best Friends. Builders' Wives. We have designed and built over 20 homes in the past 12 years. Crazy as it sounds, we have lived in a lot of these homes, that's life being married to a couple of new home builders. We have got the whole packing and moving house thing down pat! Oak and Orange was born out of our passion to help other breeze through their own new build journey with confidence and clarity. We pride ourselves on designing beautiful homes that are both practical and functional for the modern family.
Learn more about Heather & Sarah here.
What to consider when designing an outdoor space for family entertaining.
We love entertaining at home with our friends and family which usually means a house full of kids. But to keep our sanity and the house looking tidy we love designing outdoor areas with the kids in mind. So, they will stay off the screens and happy playing outside (and hopefully the house won't look like a bomb has hit it).
We love creating zones, and when it comes to outdoor family entertaining there are 4 we like to include –
PLAYING
This is all about the kids and keeping them outside for as long as possible, we like to include a mix of grass and hard surfaces. Springfree Trampoline can go on both surfaces and keeps the kids busy for hours when their friends are over. Oh, and did we mention it's the best looking trampoline we have seen, its minimalist design means it blends beautifully in the backyard especially when surrounded by landscaping.
LOUNGING
This is where the adults get to sit around, unwind, relax and chat whilst the kids enjoy the play areas or swimming in the pool. We like to choose comfy sofas, designed specifically for the outdoors and although we put them undercover, we still choose ones with washable covers. We also focus on things that are pretty and practical so furniture that looks good and comes with a good warranty that is built to last is important just like the 10 year warranty on the Springfree Trampoline.
EATING
How we design this space will usually come down to climate, but the goal should be maximising its use all year round. That might include ceiling fans for summer and a fire pit or pizza oven for winter, just remember for safety to keep the Springfree trampoline away but maybe still close enough that you can keep an eye on the kids.
SWIMMING
This could be a pool or spa depending on the size of your backyard and your location in Australia, but it's just one more option to keep the kids active and adventurous.  Our kids have a blast going backwards and forwards between the trampoline and pool in summer.
Why a trampoline works as part of the backyard design.
Your backyard design should be all about enhancing your lifestyle as well as enhancing your home. A well-designed yard should be practical and look great as it will be used and enjoyed by everyone in the family and can also add $$$ to the value of your home. Because Springfree have so many shapes and sizes to choose from it's really easy to choose one that will work best in your backyard and dare we say even be a standout feature.
How to incorporate a trampoline into the space so it works.
Plan ahead and know where you want it to go especially based on sunlight throughout the day. If you have younger children, it's good if you can keep an eye on them from the kitchen or main living areas of the home. Although a Springfree trampoline is easy to move with the shifting wheels if don't want to move it to mow the grass or you are tight on space, you may want to consider turning your trampoline area into a feature. Consider having a hard surface underneath with garden beds and plants around it. It's a good idea to consider the movement of the sun when deciding its location so there is some shade on the trampoline, especially during the hottest part of a summer's day.
Why choose Springfree Trampoline?
When we are helping others find a builder for their new home, we often suggest reading reviews as well as looking at awards a company may have. We would make the same recommendations for any big-ticket items, and we used the same principles when selecting our Springfree Trampoline. Knowing Springfree Trampoline was voted winner 2022-2023 by product review made our selection an easy choice. We also love the convenience of installation; we were surprised at how quickly it was done and definitely a marriage saver as we didn't need to battle with hubby during installation.