8 Halloween Trampoline Ideas for a Ghoulishly Good Time (2023)
Transform your trampoline into a spooky spectacle with these 8 trampoline Halloween ideas for all ages! Get ready for a hauntingly good time.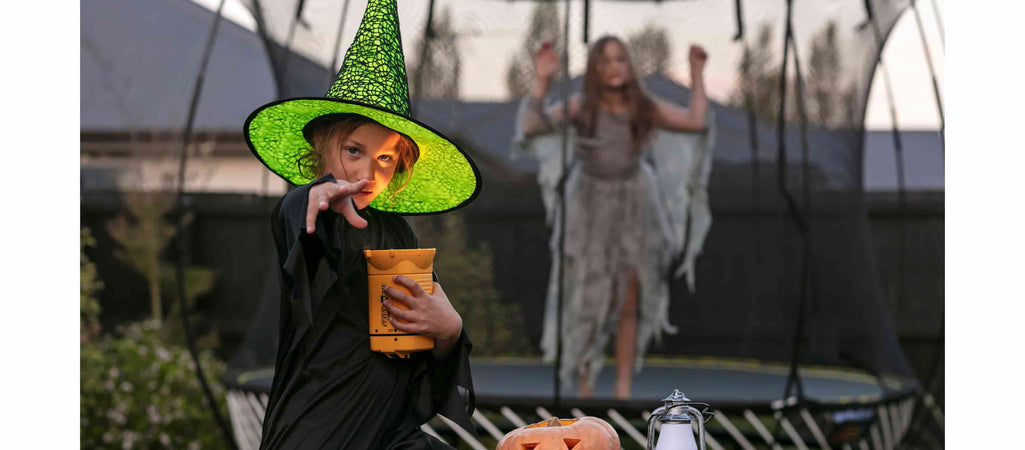 Halloween is the perfect time to get creative and have some spooky fun. And what better way to do that than with a trampoline? 
Trampolines are a great way to get exercise and have fun, but they can also be used to create some truly haunting Halloween decorations and activities! 
In this article, we'll share 8 Halloween trampoline ideas to deck out your trampoline this holiday. These have been gathered from our Springfree Trampoline customers and various sources online. 
Whether you're planning a frightfully fun Halloween party, seeking creative ways to decorate your yard, or just looking for unique activities to celebrate this boo-tiful occasion, we've got you covered!  
8 Best Halloween Trampoline Ideas  
Here are some Halloween trampoline ideas to give you some inspiration this spooky season.  Have you decorated your trampoline this holiday? Make sure to post it and tag us on Instagram (@springfreetrampoline_au)!  
1. Spider Webs/Skeleton 
This one was sent in by one of our Springfree Trampoline customers and it's just great. 
The placement of the spiders and spider webs on the Springfree Trampoline strikes the perfect balance between realism and the eerie, creating a captivating effect. The skeleton with the hat is an excellent touch! 
Photo courtesy of @nicolealyshaa_
2. Graveyard  
This Halloween trampoline idea is perfect for those who have an inground trampoline or a trampoline installed into the ground. You can tell a lot of time was put into decorating this trampoline, and it must have looked even better at night.  
Photo courtesy of Capital Play. 
3. Pumpkin Costume 
This Halloween trampoline idea proves that humans and family pets aren't the only ones who can wear costumes. This example is an excellent representation of how to "costumize" your trampoline. 
Check out "DIY Costume for Your Trampoline to see the exact steps on how we "costumized" this trampoline!  
4. Haunted Trampoline Part 1 
This trampoline gives you the feeling of being in a haunted house.. on your trampoline! According to the decorators of this trampoline, they were able to buy all the decorations for less than $15.  
If you're looking for a Halloween trampoline idea on the cheap, this is a good template to follow. 
Photo courtesy of Saving You Dinero. 
5. Haunted Trampoline Part 2 
Here's another trampoline that exudes the eerie ambiance of a "haunted house." There is an assortment of decorations used here, and the kids would certainly enjoy a nightly jump on this trampoline.   
Photo courtesy of Pinterest.  
6. Haunted Trampoline Part 3  
This trampoline would be a hit at a backyard Halloween party. Not only is the trampoline uniquely decorated, but the surrounding area is hauntingly impressive.   
Photo courtesy of DIY Inspired.  
7. Halloween Movie Night  
The fun thing about trampolines is they can be used for various activities– including a movie night. And what better time to watch a scary movie on a trampoline than Halloween? 
Hosting a DIY backyard movie night is the perfect Halloween activity for kids (and adults) who love scary movies!  
8. Halloween/Fall Mash-Up  
Halloween is one of the signifiers of fall – so why not combine the two? Use hay bales, fake or real leaves, skeletons, pumpkins and whatever you can find. Mix it all together, put your costume on and have a joyful jump!   
It's a great way to reign in the fall season and also a fun activity for the kids if you're spending Halloween at home this year.  
Have a Halloween Trampoline Idea? We Want to Hear From You!  
Halloween is a time for dressing up, telling scary stories and eating lots of candy. But decorating your trampoline can add a layer of extra fun, especially for those who love throwing backyard Halloween parties.   
Have you decorated your trampoline for Halloween? We want to see! Post your trampoline on Instagram and tag us (@springfreetrampoline_au). Also, let us know of any other ideas you come up with!  
We at Springfree Trampoline wish you a safe and Happy Halloween!