13 Halloween Activities for Kids (2023)| Backyard Halloween
No need to leave home for Halloween fun! Discover 13 backyard Halloween activities for kids in 2023 that will make your spooky day the most memorable yet.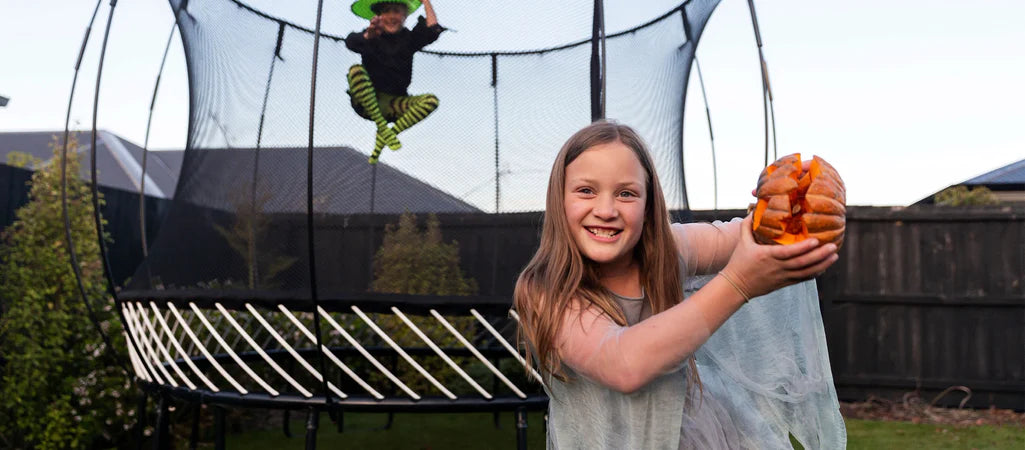 The spooking season is upon us and every house on the block is decked out with petrifying pumpkins, scary skeletons and ghoulish gravestones. Time to get in on the fun!  
At Springfree Trampoline, we know all about providing joyful, everlasting moments for children across the globe. We typically do it through the joy of jumping on the world's safest trampolines, but today, we'll be changing our tune to trick-or-treat. 
If you're looking for children's Halloween activities, but don't want to leave home to seek out haunted houses and corn mazes, we've got suggestions for bringing the spirit of spook right to your backyard. 
13 Halloween Activities for Kids at Home 
Here is a list of Halloween Activities for kids (and adults!) to make this Halloween the most memorable one yet:  
1. Back Patio Pumpkin Carving 
The jack-o-lantern is a classic children's Halloween activity for a reason: it's a fun, seasonal, and inexpensive way to decorate.   
The only problem is the mess after carving, but that's no problem if you set up a jack-o-lantern workshop in your backyard.  
Supervise carefully, especially during the carving and lighting steps. Younger children might be better suited to tasks like scooping out pumpkin goo and using a marker to draw the face to be carved.  
For easy clean up, lay down some old newspaper or cardboard and just scoop up any remaining debris and put in the trash. That way, a bear won't make its way into your backyard and jump on your trampoline like it did to this family:  
 Video courtesy of CBC News.
2. Turn Your Backyard Into a Haunted House 
You can hang up sheets to partition off the inside of your Springfree Trampoline or use sheets on the laundry line to divide the backyard into different areas for haunted house activity stations for neighborhood kids.  
3. Candy Corn Ring-Toss  
Candy corn ring-toss, anyone? To start, pick up some white and yellow paint, orange pylons and glow rings from the local craft store.  
Get the kids to help paint the pylons' tips white and the bases yellow to imitate the color banding on candy corn.   
Then, when it gets dark, crack open the glow rings and try to toss them over the pylons from across the yard. Put some battery-operated lights under the pylons to increase visibility at night.  
4. Decorate the Trampoline and Backyard for Halloween 
Your Springfree Trampoline can become part of your spooky decor as you deck out the yard in decorations sourced from the dollar store or Halloween crafts designed yourself. These can include:  
Spider Webs: With some Elmer's glue, glitter and a few sheets of wax paper, these webs are easy to make. Using the glue, draw out the shape of the web and sprinkle it with glitter. Let it sit overnight and shake off the excess glitter, allowing it to sit and harden for another two days. 
Bloody Handprints: While you might not want to use your best guest towels for this, your kids will definitely love this craft.  Get them to help by dipping their hands in red paint and leaving their "bloody" handprints on a towel or craft paper.  
Hanging Bats: Using black craft foam and some googly eyes, these bats can be hung outside on your Springfree Trampoline or attached to staircases or walls. A complete tutorial and template can be found here. 
Halloween Lanterns: Snagging some orange & purple lights or pumpkin lanterns from your local Halloween store are sure to light up your Halloween party and set the ghostly mood! Be sure to hang some lights on your Springfree!  
Get the kids involved in putting up the decorations to make sure everyone is a part of the excitement!   
5. Bobbing for Apples  
Apple-bobbing is one of the classic Halloween games. It's a time-honored tradition that's easy to set up and guarantees fun for everyone.   
Buy a bag of apples from your local market or grocery store and fill a bucket or tub with water from the hose.   
See who can use only their mouth to get a floating apple out of the tub. Bonus: the apples make for a healthy snack to balance out all the Halloween candy!  
Photo courtesy of @nicolealyshaa_
6. Make Witch's Brew!  
Making Witch's Brew is a fun group activity for making a no-mess slime that the little ones can play with afterward.  
Mix shaving cream, food coloring, white glue, baking soda, and saline solution in a bowl, and you'll have a fluffy dough-like substance you can knead, smoosh and play with.   
7. Ghost Stories on the Trampoline 
Practice your favorite scary story and wait until nightfall to congregate on your Halloween-decorated Springfree Trampoline. Then pass around the flashlight and take turns telling ghost stories in in the dark. 
8. Whip-Up Some Halloween Food  
A Halloween party wouldn't be complete without spooky snacks! These Halloween food ideas are sure to be a hit:   
Finger Dogs: With a few strategic cuts and some ketchup on hot dogs, they'll make your guests think you're serving fingers for appetizers!  
Mummy Pizzas: Mummy pizzas are simple to make with just a few slices of bread, pizza sauce and some strategically placed slices of mozzarella cheese and olives. Place them in the oven for a few minutes for the cheese to melt, and you've got a simple and easy kid-friendly treat. 
Apple Teeth:  Apples, marshmallows and some peanut butter are all it takes to make these scary-looking teeth. Cut the apples into slices and use the peanut butter to stick the mini marshmallows between the two slices.  
Party Favors: Use latex gloves and fill them with your favorite candy and chocolate, then tie them with a ribbon. These make for great party favors for your guests! Make a Halloween Tic-Tac-Toe Board 
9.  Make a Halloween Tic-Tac-Toe Board
If you have a square-tiled patio, use black and orange chalk to color a 3x3 grid of squares in a clear area or set up a grid using yellow Halloween caution tape on your Springfree Trampoline mat.  You can also use chalk and choose fun Halloween-themed items for your game pieces.  
10. Costume-Crafting Party 
Pull out the costume trunk and gather up your costume crafting supplies for a day of designing Halloween costumes on the back patio. Pick a sunny day and get to work snipping, gluing, sewing and modeling your best costume ideas. 
Tip: If you want to enjoy the decorations for the season (and not just Halloween), you can design a scarecrow to live on or near the trampoline! 
11. Pin the Spider on the Web!  
Have the kids use a black marker to draw small spiders on construction paper and a giant spiderweb on mural paper.   
Cut out the spiders and put the spiderweb up on the wall. Take turns getting blindfolded, spun around, and trying to stick the spider on the center of the web with a pin or tape. Whoever's closest wins a candy prize!  
12. High-Flying Costume Photo Shoot on the Trampoline 
 Show off both your new costume and your Halloween decorations by going for a bounce on your decked-out Springfree Trampoline and taking some action shots of bouncing mummies, ghosts, and whatever else you've dressed up as.  
Just remember to have a station to leave any costume pieces that could be a bouncing hazard. 
13. Dead Man Trampoline Game 
Instructions: In this game, select one person to be "the sitter" or "the dead man." The sitter sits in the center of the trampoline and starts counting to 10. While the sitter counts, the remaining participants must use stealthy moves such as crawling, rolling, or quiet hopping to conceal themselves from the sitter's view. 
Once the sitter reaches the count of 10, they roll over and, with eyes closed, begin to crawl in an attempt to tag one of the other participants. While the sitter is searching, the participants are allowed to move around on the trampoline but are prohibited from jumping over the sitter. It's important to note that the sitter is not permitted to stand up at any point during the game.  
For more exciting trampoline game ideas, be sure to check out our list of the "16 Best Trampoline Games!" 
Which Halloween Activities for Kids Do You Enjoy?  
We have lots of fun Halloween Activities for the kids above, but don't forget the classic Halloween games, like having blindfolded people put their hands in brains (wet spaghetti), or eyeballs (a bowl of grapes) or guts (leftover pumpkin goo)!  
We would also like to hear which Halloween activities your kids enjoy. Reach out to us on our Springfree Trampoline Instagram Page or tag us in your post and let us know! 
Happy haunting!