Father's Day Chats with Jordan Lewis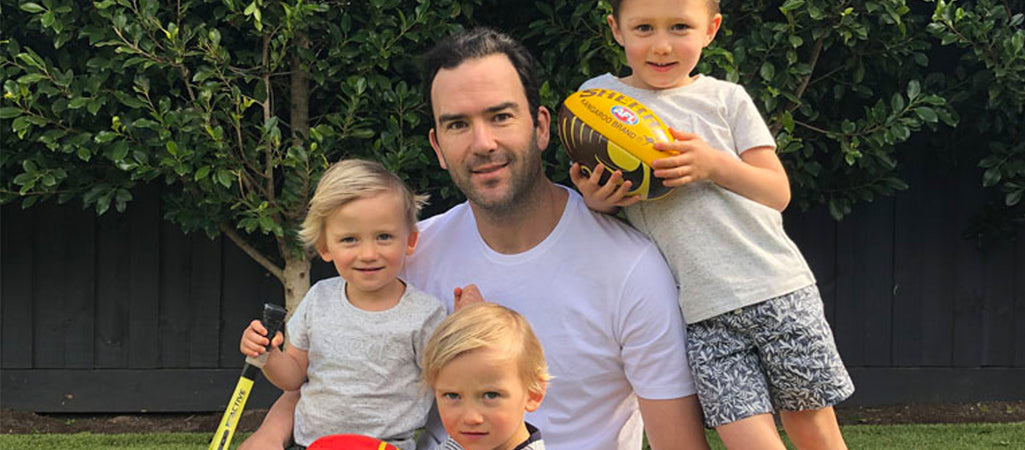 With an impressive list of credentials in the AFL arena, including one of only seven players to have won four AFL premierships, Jordan Lewis is used to being recognised for his sporting achievements. But as father to three beautiful boys, there's no doubt that fatherhood is his greatest achievement.
1. What was the first thought that ran through your head when you became a father for the first time?
It was a very surreal moment, I was filled with love, disbelief and pure joy.
2. What do you think it means to be a father?
You have a responsibility to be a positive role model - you need to show respect and kindness to others, use your manners, be grateful, listen, set goals and have a good moral compass.
3. What are the lessons or values that you most want your children to learn from you?
I know it sounds cliche, but I believe it is important to treat people how you would like to be treated. I also hope that my children value manners, gratitude and hard work.
4. What is something you learned from your own father that you'll forever remember?
My father doesn't let anything worry him, if something has happened and it's in the past - leave it there.
5. COVID has been a fairly stressful time for families – adjusting to lockdowns and disruption to our everyday lives. How have you found the best way to get through this with your family?
Our boys are 2 and 4, there isn't any formal schooling, so we have created our own structure for the day that includes Springfree Trampoline, football, tennis, riding bikes, painting, drawing, building and cars. The boys are loving having the extra family time.
6. What do you enjoy most about being a father?
I enjoy watching them learn, grow and change - I don't want to miss a thing. At the end of the day, my wife and I sit down and reflect on any stories or moments from that day that made us laugh (and/ or scream!).
7. How would you like to hear your children to describe you?
Fun, caring, kind and happy.
8. What are you most looking forward to for the remainder of this year?
Football finals, long days outside with our boys, more time with extended family and the beach!