Hands up if you have spent the last week or so dedicated to trying to keep the kids as entertained as possible while being confined to home activities only? Keep your hands up if you just need some time out. There is no denying that being homebound has its challenges. All of a sudden working in the office is looking pretty sweet. But without knowing when we're going to return to 'normal life' we need to ensure that we don't burn out while making sure that the rest of the family is ok because that will just land us where we don't want to be… unable to make sure the rest of the family is ok!
All it might take is a 5-minute break while the kids are having lunch or they're happily playing on their Springfree trampoline, or they're immersed in their online school learning. The dishes, emails, washing, toys on the floor can all wait 5 minutes as you indulge in a little self-care.
Download one or all of these apps to help provide you with some downtime.
Headspace guides meditation beginners through mindfulness techniques to help you achieve balance in this very unbalanced world. And the best thing is you don't need to block out a lot of time - two- to three-minute meditations exist for when you need to pause and centre yourself in the middle of a stressful day. They normally provide their introductory sessions for free (series of 10, five or 10 minute meditations). But also during this shutdown / lockdown / difficult time, they are offering their Weathering Storm series for free to help everyone manage and get through.
Shine allows you to prioritize mental health by helping set personal growth goals, sending daily motivational texts, and providing "Shine talks" on everything from stress and anxiety to self-love to burnout. It's like having your best friend in your pocket 24/7 reminding you that you can keep going. It'll be the little check in and reminder you need to push through those difficult moments when you just need someone to tell you to breathe. Shine are also offering free services throughout the COVID-19 period with a toolkit of free resources.  
Goodreads connects millions of readers for free. And if there's anything we are seriously lacking right now it's connection. So if you can find the time to sit down with an amazing book (perhaps get the kids their own book to get stuck into) and find out who else is reading the same book, ask each other questions or discuss that crazy plot twist. There are also plenty of virtual book clubs popping up, so have a look if there's one in your local area or even start one yourself! It might just be the connection and escape you need to get through this crisis.
Colorfy, your digital colouring book. You may recall sometime ago, the trend of colouring in to help relax and meditate. Well this is essentially taking that trend and turning it digital. So  instead of bingeing that Netflix series you've re-watched twice already, crawl under the covers and open up the Colorfy app. It's super relaxing and the only thing you'll be worrying about is staying inside the lines. Once you're done, save it and print it out to add some new wall art to your room. Again, it could be a great resource for the kids as well – they love colouring in and they could definitely do with some chill.
The Five Minute Journal app is what it sounds like. Start taking five minutes out of our day to reflect and focus on the positive. It includes a timeline view to access all of your previous journal entries, daily inspiring quotes, and a one-photo-per-day tool to capture the feel-good moments, like sunsets and brunch (that you made at home)...obviously!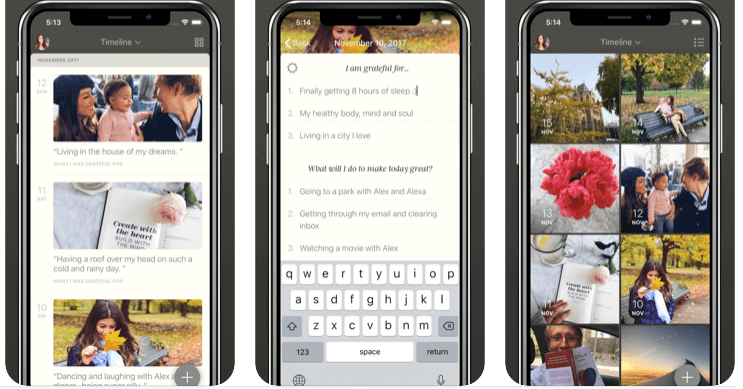 Other apps that we recommend checking out include Calm, which helps people relax when dealing with stressful situation (like consuming the never ending news cycle).
Happify promises to boost your mood, improve self-confidence and combat stress through a series of cognitive exercises and games developed by leading scientists and experts.
And Sanvello (formerly Pacifica), which based on cognitive behavioural therapy, you rate and track your mood over time and record your thoughts in order to identify thinking patterns to discover and track possible triggers.
There is no doubt that despite the world being in turmoil and probably our own lives, to some extent, we are lucky to have amazing technology and tools at our fingertips, that provide us with the ability to have a 5 minute break and recharge, to connect with family and friends who you can't visit right now and to entertain your kids in so many fun and educational ways.
Finally, it's not an app and it's not fancy technology but a jump on a Springfree trampoline does wonders for thrashing out stress and anxiety. So if all you do have is 5 minutes and the idea of being on your phone doesn't appeal… head out to the backyard and go for a good old jump. Your body and mind will thank you for it – plus it might motivate the kids to get out and active too.
Stay safe, stay strong and stay at home.
Other Articles You May Enjoy