9 Reasons Every Kid Needs a Trampoline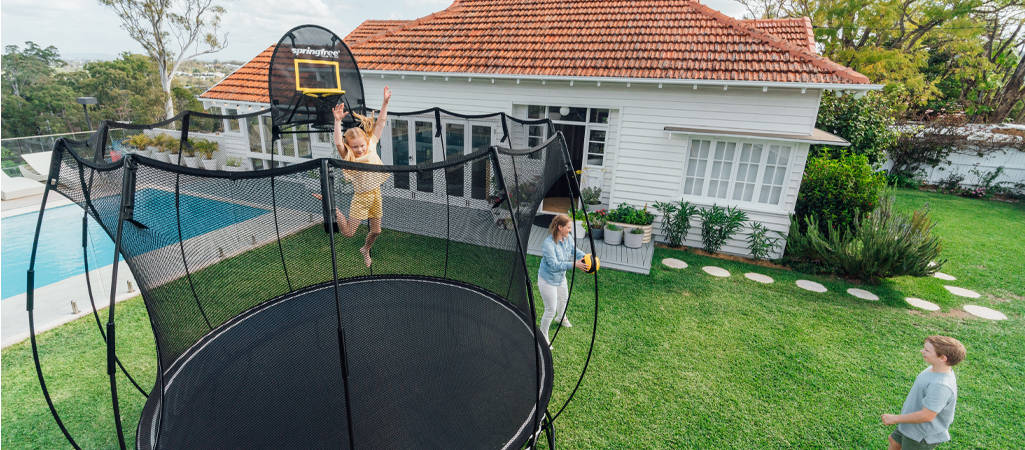 Trampolines have changed a lot since we were kids, and in a good way. There are now trampolines available which are so much safer, with Springfree Trampoline leading the way with the removal of all hard-impact points from the jumping surface.
But some things never change – like the joy of bouncing.
Jumping on a trampoline is something people have loved for generations. That feeling of pure joy when you bounce, care-free. The increase in endorphin levels and the resulting energy-boost. The knowledge that you're getting a great workout while having fun (without having to pound the pavement)!  And jumping still provides hours of entertainment.
Here are 9 reasons a trampoline will make a great addition to your child's lifestyle (and yours):
1. It's good for their health
These days there aren't many recreational activities your kids are 'just dying to do' which are also healthy for them.  A trampoline keeps kids jumping around, working their muscles and cardiovascular systems. It's a great way of enhancing children's muscle development, strengthening bones and reinforcing joints. 
Bouncing on a trampoline is also great for detoxifying the body and strengthening the immune system, as it stimulates internal organs and promotes lymphatic circulation. It pushes toxins out of cells and allows nutrients in.
2. It's good for their minds
Jumping makes you happy. The increased oxygen circulation stimulates the release of endorphins that are naturally mood-enhancing.
The motion of jumping up and down on a trampoline is fun and a great way to wind down after a difficult day in school. The concentration, fun and repetition of rebounding on a trampoline is great for advancing sensory skills. 
It can also help kids' ability to learn. Through calming kids down and improving their concentration, trampolining can improve kids' engagement in learning. The trampolines themselves can also be an effective and engaging tool for learning. Counting, jumping onto coloured shapes and following directions are just some of the ways that kids can learn through play.
For kids who are wary of new things and physical activities, trampolines are a great way of building their confidence. There is no right or wrong way to move on a trampoline (provided you are jumping safely) so they experience instant success, which increases their courage and self-confidence.
3. It improves balance and coordination
Bouncing on a trampoline creates a constantly shifting centre of gravity, which kids must quickly respond to by adjusting their positions and bilateral movements.
This is known to drastically improve their co-ordination and balance. This in turn also helps kids feel more confident.
4. Hours of entertainment at home
A trampoline is the kind of thing that will make kids want to stay and play at home. Play-dates are less of a challenge, as having friends around to jump on the trampoline is great fun for all involved. If you've ever taken your kids to a trampoline-owning friend's house, you'll know the trampoline is the first thing they run to.
The safety assurance of a safe trampoline like a Springfree Trampoline gives you the comfort to know you can just zip up the trampoline and let them play.
5. They're getting outdoors
Just like a trampoline keeps kids healthy because they are being active, it also gets them out into the yard, enjoying fresh air.
Instead of indoor, inactive play, which is becoming an increasing problem for parents, they'll get their vitamin D in the sun while they're having fun! 
They'll be reminding you of what kids were like when you were growing up, and will be begging you to let them go outside and play.  You won't be chasing your kids out of the house; you'll be chasing them back in for dinner.
6. It's good for YOU (and your fitness)
Let's be honest, we all wish we were young when we see our kids doing things our bodies now find a challenge. Excuses aside, jumping is not one of those. You can get out on that trampoline too!
NASA discovered that 10 minutes of jumping is equivalent to a 30-minute run. Now that's efficient use of your time!
There's so many ways you can use a trampoline for your home workout. And of course, that feeling of defying gravity is always fun! It brings out the inner child in all of us, and gets the heart pumping faster than you may think. 
There's plenty of great blog articles to guide you, like 10 Exercises to Tone and Tighten and Trampoline Muscular Endurance Training Program.
7. Years of family fun
Trampoline fun is great for any age – we believe you're never too old to bounce! It's a great way for the whole family to enjoy being outside together. And there's something so special about that.
It's so nice to see the kids out by the trampoline together, with the onlooker cheering on the jumper.
Think trampoline cubby houses, fun family nights laying on the trampoline gazing up at the stars, trampoline 'family Olympics' weekends and so much more!
8. It will stand the test of time
Investing in a high quality trampoline should give you not hours of fun, but years of fun for the whole family. It should stay with you as your kids grow.
At Springfree Trampoline, we believe quality is of the utmost importance. That's why every Springfree is built to last, using only the highest-quality materials. It's why our trampolines undergo rigorous quality-testing. 
And it's why we've extended our trampoline warranty to 10 years. Not just on parts of the trampoline, like the frame. Our 10 year warranty covers the entire trampoline. So you get the same enjoyment, year after year. 
You can create a lifetime of memories with a quality trampoline.
​
9. You'll enjoy peace of mind 
Investing in a safe trampoline means you can rest easy, knowing your kids are enjoying safe outdoor play.
Springfree Trampoline boasts the title of the world's safest trampoline. Our unique innovative design removes all the hard impact points from the jumping surface. With no springs, no impact points and no pinch-points. 
Doing your safety research will arm you with all the information you need to make the choice that will give you total peace of mind for years to come.