5 Fun Outdoor Exercise Activities for Kids
With digital devices and online gaming vying for our children's attention 24/7, the challenge of getting the kids excited about engaging in outdoor activities can be very real in some families.
We've put together 5 fun exercises to help incorporate exercise into kids' lives. You might like to look at one or all of them, but it's important to remember when you find something that works, stick with it! A love of the outdoors is something no parent ever regrets instilling in their child's values. 
1. Reaching for the Sky on Your Trampoline.
It's time to reminisce and go back to one of your favourite childhood outdoor activities, jumping on the trampoline. A good bounce is one of those favourite memories that are truly hard to beat.
We all remember the sense of achievement from nailing the somersault and spending countless hours bouncing on those long summer evenings - but do you ever remember thinking, 'I'm glad I'm exercising while I jump'. Probably not. That sense of jumping and having fun is far more sensory than thinking about the exercise component. Which is insteresing considering that trampolining can actually burn more energy than jogging or fast walking, and places less stress on growing bones and joints. Also perfect for supervising parents who like to keep an eye on what's happening in the backyard!
2. Goggles? Towel? Swimmers? Lets GO!
Its no secret kids LOVE the pool. There's something about learning to swim that really encourages a healthy competitive edge to develop in a child, and at the same time it works to shape a real love of life in the water and an essential respect for the danger of water in all environments.
Learning to swim is not only a lifesaving skill, it works quickly to strengthen the lungs (ideal for many kids with respiratory conditions like asthma) and build cardiovascular fitness. Usually, your local pool holds lessons for kids of all ages, which means they stay safe at all times in a supervised area. It's also an incredibly effective booster for confidence, as their skills sharpen and they become further at ease in the water.
Nothing tires kids out like a good swimming lesson and a half hour free play duck diving and horsing around in the local pool. Becoming a great swimmer sets a great example for the whole family and as an added interest to regular outdoors activities, it keeps things fresh and fun, which kids really love!
3. Going to the park? Don't forget the ball!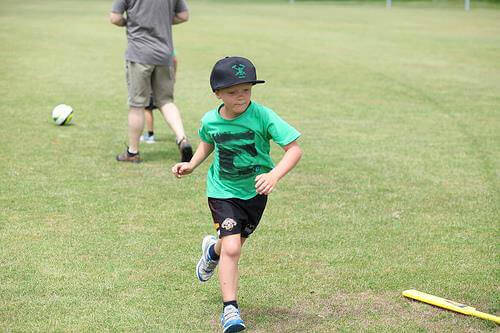 There's a lot of truth to the saying 'time flies when you're having fun.' There are so many ways to burn up an hour of time at the park, but bring a ball with you and that time seems to fly past in an instant.
While some kids get all the competitive spirit they can handle from soccer or Aussie rules ball games, you don't necessarily have to sign them up to a team. For really effective outdoor bonding and fitness enhancing exercise, invest in a cheap ball of any size and create your own game!
Catching and throwing helps build confidence and capability in co-ordination skills additionally to that priceless bonding every parent wants. Interestingly, throwing a ball enhances focus at a sustained level through brain training, which means that after an hour of ball games, your child will often demonstrate better capabilities of concentrating, focus and retaining information. Now, where's that soccer ball?
4. Skipping - What's your Best Score?
If you're able to remember the foot skills of mastering Double Dutch on the ropes, why not teach your kids to fall in love with skipping as well?
As one of the most effective ways to enhance cardiovascular fitness, skipping is an incredible workout at any pace, it teaches kids valuable co-ordination skills and encourages concentration and effort to keep the pace. For younger kids it can also be a valuable tool in learning number and counting, simply turn the rope to count the skips and better your score every time!
5. Biking - A Taste of Freedom.
Every kids loves bike riding. For many kids it's the first real taste of independence and self-initiated movement, and while the learning phase can be a hair raising experience for adults, the co-ordination and level of focus needed to ride a bike teaches kids about safety, and responsibility for their actions.
If you needed any more encouragement, just think about how good it felt to fly round on the bike in the sunshine with your friends, and how quickly that time passed. The trick is to find a safe outdoor space to learn to ride, and teach your kids about respect and responsibility for others using on a bike path. With these skills, your kids are going to develop a deep affection for the outdoors and a lasting love of independence, something every parent wants.
Every parent wants the best for their child, which is why making the right choices for your child when it comes to exercise is so important. At Springfree Trampolines, we're committed to bringing the love of the outdoors back into the lives of children across the world, which is why we've focused on a new definition for trampoline that encourages kids and gives parents peace of mind. See the Springfree™ Trampoline difference today!
Other Articles You May Enjoy