2019 Birthday Party Activities for Kids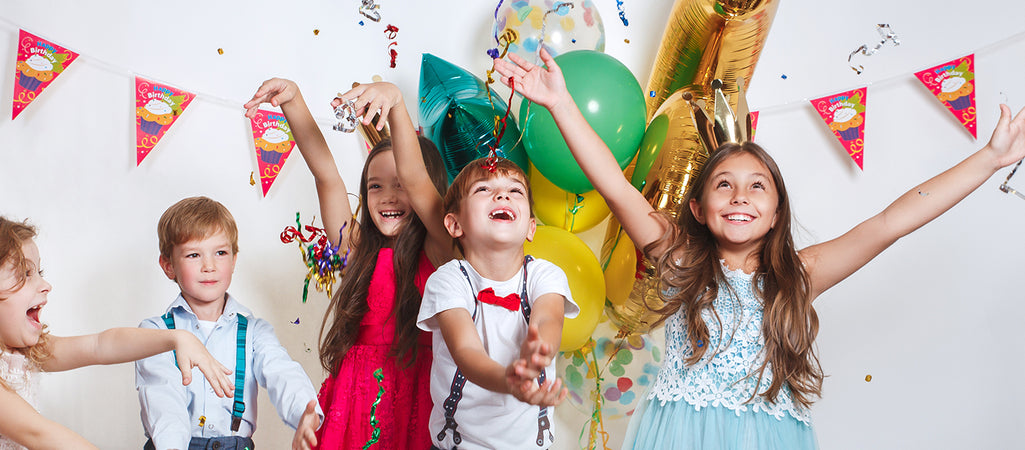 Children's birthday parties offer an ideal opportunity for kids to participate in traditional types of interactive play. Go through old photo albums of birthday parties your parents organised for you while growing up, and trigger fun-filled memories to share with your birthday boy or girl! Decide together what activities you'd like to recreate in your home or neighbourhood environment. Here are just a few ideas you might like to consider:
Obstacle Course
Get your children and their birthday guests outside and active by building an obstacle course! Include challenging segments to exercise different parts of their body and help them develop different motor skills, such as crawling, hopping, balancing and jumping (on your Springfree Trampoline if you have one)! Be sure to test the course ahead of time to ensure every obstacle is operational.
Some household items and yard space or grasslands is all that is required. Here are some items you can gather up from home to build an exciting obstacle course:
Trampoline – Start with a jump on your Springfree Trampoline – each child needs to shoot a slam dunk in their FlexrHoop before moving on to the next hurdle!
Cardboard boxes – Cardboard boxes can be used as tunnels, or shoe boxes can be used as targets!
Laundry baskets – Laundry baskets can be filled with soft, spongey balls for little kids to find a hidden object or jump in and out of!
Outdoor equipment – A cubby, sandbox or slide that already exists in your yard can be part of your course too. Children can slide into an inflatable pool filled with water or soft, spongey balls.
Ladder Run – Lie a sanded, wooden ladder flat on the ground for kids to skip over each rung.
Table tunnel – Balloons hung with string or streams of ribbon suspending over the edges of a tabletop can sway as kids pass through!
Rope swing – Kids can get a good running jump to clear a wading pool. Tie some huge knots so the rope is easy for small hands to hang onto.
Balance Beam – A plank of wood can easily be laid out a simple balance beam for kids to walk across. Making them balance something on their head might make it trickier so they have to start over again if the object falls before the get to the end!
Hula hoop – Plastic hula hoops can be laid out in a straight line for kids to spin around their hips at least three times before the hoop drops to hit the ground.
Egg and spoon – A classic egg and spoon race can be used to get kids over the finish line!
Some elements can double as party favours, such as plastic hula hoops or foam noodles.
Hold an awards ceremony at the end of the party and present some sort of medal to every participant. A clever and appetising idea might be to tape chocolate coins to ribbons that can be worn around the neck as pendants!
Pin the ____ on the ____
"Pin the Tail on the Donkey" is an old favourite, but for a trendier twist, you can base the game on the theme of the kid's birthday party or whatever you think the kids will like. Pin the fishtail on the mermaid, the horn on the unicorn or want on the fairy, instead!
Pop a poster up on the wall of your chosen character or animal, have children write their first name on the object they are meant to pin, then instruct one child at a time to attempt to pin their object as close to the correct body part as they can, while blindfolded and slightly dizzy after being spun around several times. The child who comes closest to the target wins a prize!
Pass the Parcel
A huge hit with younger children, this game is worth the time, preparation and investment. Prior to the party, pick and purchase a prize that relates to your child's party theme or is something that you know will be popular with your child's guests, and then wrap it in lots of layered wrapping or recycled paper – enough so that every child can peel back at least one layer. Children sit in a circle and take turns passing the wrapped parcel while listening to some cool kids' tunes being played by the host. Whomever is holding the package when the music is randomly stopped, gets to remove the outer layer of paper. The music is then restarted and continued until one child is lucky enough to end up unwrapping the last layer of paper to unravel and keep the ultimate surprise! To be fairer, you can insert a lolly or balloon within each layer so each child receives a small prize for participating. Hot tip: create a fast paced playlist of popular kids' music in advance to keep it interesting when the kids get impatient waiting for their turn.
Hang and Hit a Piñata
Piñatas are great birthday fun and a hit with kids of all ages!
Have your themed piñata hang from a tree or monkey bars at around head height. It is traditional to blindfold and gently spin children around three times so they are slightly disoriented before allowing them to hit the piñata with a stick of wood. This makes the game slightly more challenging however the stick can be swapped with a cricket bat, and the option of blindfolding can be dropped to make it easier for younger children to find and break the mould.
Each child should be granted the opportunity to hit the object at least twice but for safety's sake, please ensure everyone is standing at least five metres away from the guest taking the turn hitting! Also make sure the kid that succeeds in smashing the target has completely stopped swinging the weapon of choice before letting children race in to collect their surprises!
Scavenger Hunt
A scavenger hunt consists of a bunch of riddles or clues purposefully hidden in numerous spots throughout a particular location, such as a backyard or playground. One clue card leads players to next, so the course can't be completed until each riddle is chronologically solved, with a grand prize for the winner who finishes first and/or smaller prizes to be collected at each clue station.
An easier alternative for less creative minds is to simply hide wrapped candies or small treasures around the play area for your invited guests to hunt, and let children keep what they find. Another alternative that is a little more involved is to hide a series of tokens (such as painted rocks or coloured gemstones) around the play space for guests to find – the child who finds the most wins a special prize. Finally, at the much more complicated end of the scale is a hunt with a series of pre-written clues that children must read and solve (as a group) in a trail around the party space to find a hidden treasure. Kids too young to read? Draw picture clues instead!
Here at Springfree, we are committed to families and want to help make it easy for you, as parents, to ensure your child has an interactive and memorable birthday party, so we hope we've put some great ideas in your heads to inspire you!