15 Gadgets You Didn't Know You Needed As A Parent
Plato once said 'Necessity is the mother of all invention' and in Plato's day that was probaly true. However Agatha Christie (possibly) more accurately said "I don't think necessity is the mother of invention. Invention, in my opinion, arises directly from idleness, possibly also from laziness - to save oneself trouble."
And when you see the sheer volume and variety of gadgets and inventions being released into stores on the daily, you can see Agatha Christie's point.
But let's be honest, when you come across a gadget, device, product or service that makes life easier, there's generally no complaining.
So on that note, we've found 15 gadgets that we didn't know we needed until we saw them and then we just didn't know how we could live without them!
1. Dragon Touch Kids Tablet
We've all left the iPad lying around and our kids are smarter than we realise, opening up said iPad with the code they've seen you punch in 100 times... and then somehow you've ended up with new games on your iPad and a few questionable charges on your iTunes account - and that is probably best-case scenario.  Enter the kid-friendly version of the iPad - The Dragon Touch Kids Tablet. This tablet gives them access to games, videos, books, and more, all monitored through parental controls and personalized screen time limits. The device even comes with one year of FreeTime Unlimited (regularly $2.99 per month), which provides educational content and games from PBS Kids, Nickelodeon, Disney, and the like. So you can rest assured that they are seeing and using content suitable for them and in time frames that you are comfortable with.
Image Source: Amazon
2. Jetkids by Stokke Bedbox®
Love travel but not so much with the little ones? Word on the street is that the Bedbox® is a game changer for long-haul flights. For kids up to 6 or 7 years old, this piece of luggage is fun and functional! Ample storage to hold all those 'must-haves' that your child decides they need on the trip. Once packed let your little one can ride on it (or pull it) through the airport terminal for stress-free transport - no more late gate arrivals! Once you board your flight, transform the BedBox® from a suitcase to bed in 5 simple steps (Just be sure to check your airline's policy on kids' travel sleep aids).
Image Source: Stokke
3. The Mommy Hook 
We've all been there... getting the groceries from the car to the house. We can hear your sighs! You've probably tried to carry everything by hooking the bags all the way up your arms, struggling your way to the front door - and don't even get us started on doing it with stairs (also, how are you supposed to get your keys out of your pocket?). The Mommy Hook lets you carry all your bags with one hand, and it features a cushioned grip to help you. So ridiculously simple but useful! Mommy Hook, where have you been all our life?
Image Source: Amazon
4. The Gripet Keeps Your Notes Handy
Ok - how many 'important' notes have you got lying on the kitchen bench/dining table/coffee table? You know what we're talking about! Well, this handy note holder easily grips the notes you need to store and releases the ones that you need access to. Simply tuck a note or memo into the Gripet until you need it again. When you do, gently pull on it and the Gripet will let go without dumping the rest of the notes that it's holding. It comes with both magnetic and adhesive mounts depending on where you want to put it. Please and thank you.
Image Source: Amazon
5. Wilton 2105-0801 Countless Celebrations Set
Do you take a sharp inhale when your child tells you they want their birthday cake to be their name? Save the stress, time and money with this pan that has several different moulds that you can arrange in to form whatever letter or number you want. Child happy, parent calm!
The pan does come with complete instructions for use. It also has a non-stick coating that allows for easy release and quick cleanup.
Image Source: Amazon
6. This Notebook Is Waterproof!
It's no secret that kids love to spill things and when they do, they seem to know how to target really important documents or notes. While this notebook has been designed with 'writing in the rain or in a workshop', there's no denying that it'd come in handy for those of us who are note takers or list makers with kids who love to spill water (or any liquid/food/spew/etc). The Rite in the Rain notebook is filled with 50 double-sided sheets of totally weatherproof paper.
The paper repels water, sweat, grease, and mud and won't turn to mush whenever you use it in less than ideal weather conditions. And all you need is a regular ol' No. 2 pencil! (Though you can also use a Fisher Space Pen if you're so inclined.)
Image Source: Amazon
7. Rocketbook Everlast Reusable Smart Notebook
Or, if you're someone who still prefers to use pen and paper for note taking, list making, journaling or brainstorming but you find you end up having to type all these handwritten notes onto your computer - which, is super inefficient and time consuming - then this Rocketbook Everlast Reusable Smart Notebook is going to be your new best friend. Even though the notebook only contains 36 pages, they can be wiped clean with a damp cloth, and can also be exported to Slack, email, Google Drive — you name it. 
Image Source: Amazon
8. Ember Temperature Control Ceramic Mug
You're busy, you get distracted, you start one thing that leads onto another thing and then another thing... and its 10am before you get back to that cup of tea you made at 9am this morning. Sound familiar? Meet the Ember Temperature Control Ceramic Mug. This fancy mug will keep your drink at your desired temperature for however long you decide to nurse it (or forget about it). 
Image Source: Amazon 
9. Wacaco Minipresso NS, Portable Espresso Machine
Do you live your life on the go?  Then you need to acquaint yourself with espresso on the go. You are going love this Wacaco Minipresso NS, Portable Espresso Machine, its so genius! You can literally pressure-brew a full cup of coffee in two minutes, anywhere!
Image Source: Amazon
10. iRobot Braava Jet 240 Robot Mop
If you're a fan of the iRobot Vacuum, then you'll want to give this iRobot Braava Jet 240 Robot Mop a try. It will clean your floors when you're not around, so you have nothing to worry about later. Does it get much better than that?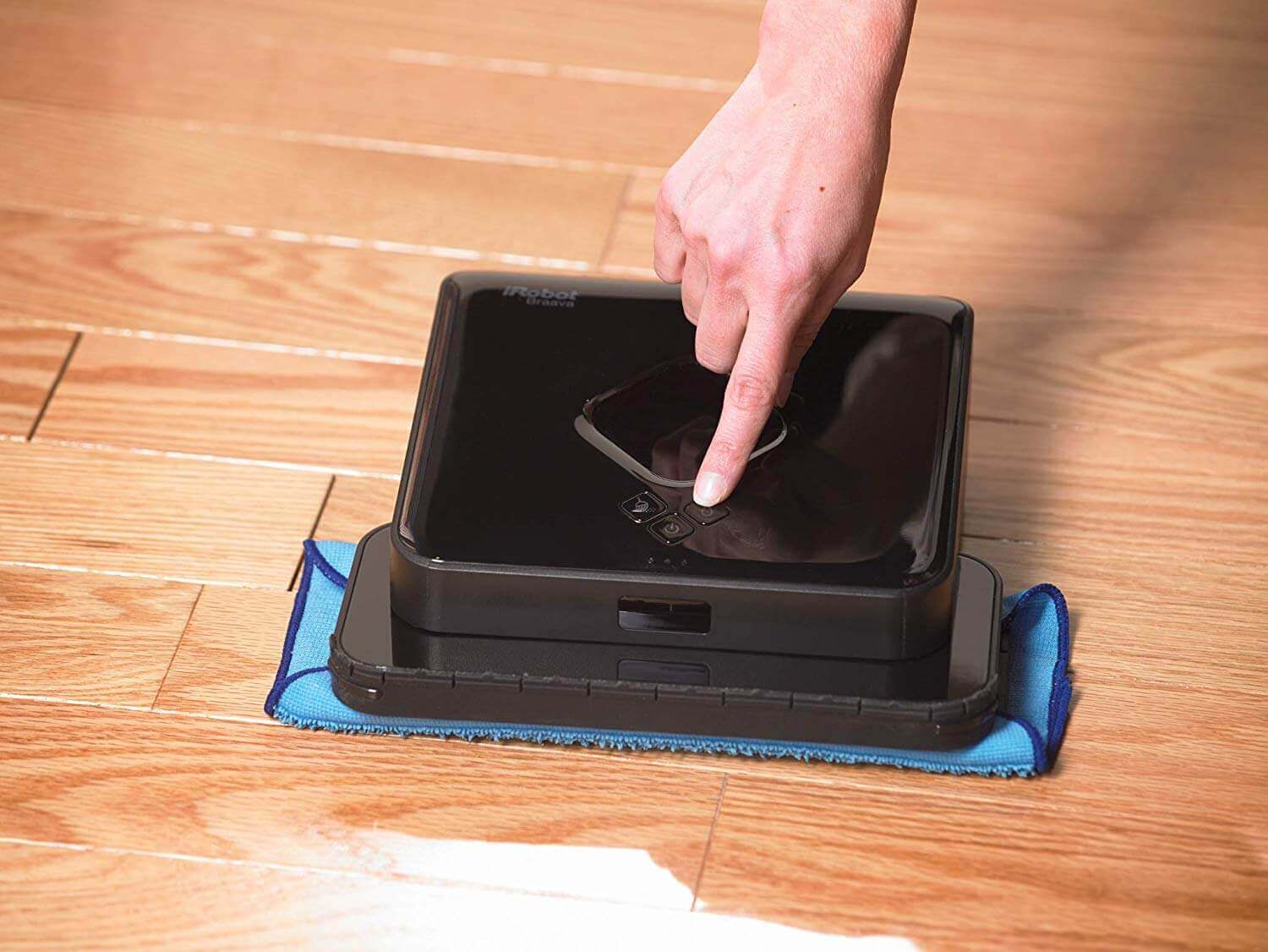 Image Source: Amazon
11. Under Bed Motion Sensor Light
This clever Under Bed Motion Sensor Light will turn on when you get up at night. Great for littlies who 'suddenly need a cuddle' in the middle of the night or if you need to get up for night time feeds (for the baby...or you). The soft light is much easier on sleepy eyes and motion sensor means you don't need to worry about finding switches in the dark. Win Win.
Image Source: Amazon
12. August Smart Lock Pro + Connect
You'll always know who is coming and going with this handy August Smart Lock Pro + Connect. Not only does it provide keyless entry for you, but you can track who comes in and out of your home 24/7. Plus, it's compatible with Alexa, so all you have to do is say, "Alexa, lock the door." Honestly, you had me at 'keyless entry! When you have hands full or screaming kids when coming home, taking away the struggle of the juggle at the front door is a god-send! Oh and the other features are kind of handy too.
Image Source: Amazon
13. CINEMOOD Portable Movie Theater
Create a movie night anywhere you go with this CINEMOOD Portable Movie Theater. Think summer movie nights in the backyard (perhaps on your Springfree Trampoline), or sleepovers, travel, anywhere that has a surface and little eyes looking for entertainment. In such a convenient size and different models to suit your family, CINEMOOD is a great addition in any household.
Image Source: Amazon
14. Wohome Wireless Key Finder
If you have a habit of misplacing your items - or probably more accurately have little fingers who like to 'hide' your items, this wireless key finder is practically a must-have. Simply attach one of the six color-coded receivers onto your keys, phone, wallet, remotes, or practically anything else, then press the corresponding button on the remote once it goes missing. The receiver will begin to emit a beeping sound, allowing you to easily find whatever you're looking for. 
Image Source: Amazon
15. Sony Noise Canceling Wireless Earbuds with Voice Control
Because sometimes you just need some quiet time! These sleek airbuds use the most advanced noise cancelling technology ever in truly wireless headphones, so you can lose yourself completely in your music, podcast, audio book etc - but it does come with a handy feature that allows you to instantly chat with someone next to you without taking your headphones off. This little device also helps you manage your day. Just ask your favourite voice assistant to start your entertainment, connect with friends, get information, listen to music and notifications, set up reminders and much more. They may just become your favourite accessory.
Image Source: Amazon
So whether it is out of necessity or laziness, there's no denying that these, sometimes silly and but mostly useful, 'gadgets' are definitely worth being in our lives! 
We'd love to hear if you have any of them or if you have suggestions of other gadgets that you highly recommend for parents! Connect with us on Facebook or Instagram to let us know!
Here are some other articles you may enjoy:
- The 15 Must-Have Back to School Supplies for 2020
- 20 Fun Ideas To Do When Kids Say 'I'm Bored'