10 Reasons A Trampoline Will Change Your Life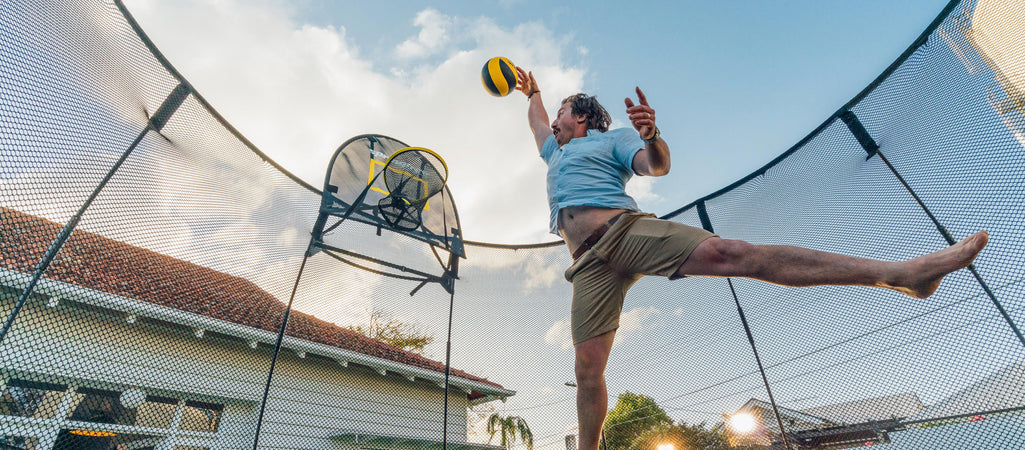 As told by our number one dad, Derek.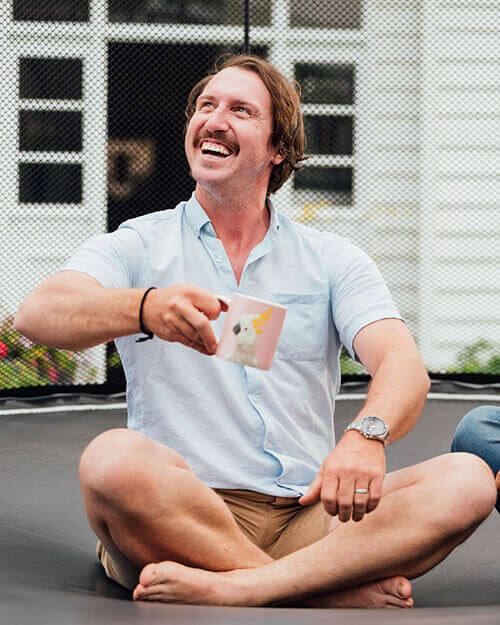 Everybody loves a trampoline. No matter how young or old you are, once you start bouncing and those endorphins kick in, you can't help but feel joy. Getting a trampoline for our family was one of the best things we ever did. Here are 10 reasons why we say that a trampoline will change your life - trust me, parents, you will relate!
1 - It's a great way to keep the kids occupied 
We love our kids but sometimes we just need that "me" time. With a trampoline in the backyard, it's easy to catch a peaceful moment watching your children bounce, or an older child can supervise play while you catch up on life admin. When you have a Springfree, you can worry less, knowing that Springfree Trampoline is the only trampoline in the world to pass every safety check by an independent consumer group. (Some good ground rules: no flips, bounce one at a time, and keep the zip done up at all times.)
We had another Springfree family share what it's meant to them here:
2 - It's a great excuse for family time 
Any excuse to spend more time with the family is a good excuse in my books. With the trampoline in the backyard, we get the whole family outside to bounce, and come up with games to play while the kids wait for their turn to bounce. We also use the waiting period to chat and catch up on what's going on in their day and what they learned at school - not only have we learned a lot more about the kids, we know that these are memories that they'll hold onto!
3 - It's like having a gym in your backyard 
So get this, a NASA study shows that 10 minutes of jumping on the trampoline is the equivalent to 30 minutes of running— anyone can do 10 minutes of bouncing and you have the added bonus of not battling parking and gym equipment at your local gym. Plus, bouncing works out leg muscles and cardiovascular at the same time, so you'll never skip leg day!
4 - It's amazing for children's development 
Studies show that bouncing on a trampoline helps people of all ages develop coordination and balance within 12-14 weeks. Plus, bouncing reinforces the musculoskeletal system. That's why it was originally used to train astronauts. Bouncing on a responsive trampoline surface will give your children better coordination in other sports and physical activities, and give them stronger bones later in life, lowering their risk of osteoporosis.
Another family shares how having a Springfree has assisted the development of their sons, particularly one who has been diagnosed with autism.
5 - Springfree Trampoline come with a 10-year warranty 
Unlike the treadmill that wears out, or the exercise bike with the pressure belt that keeps slipping, every Springfree Trampoline comes with a 10-year warranty and is built to withstand millions of jump cycles, so you can get the most of your family exercise equipment - this has to be one of my favourite things! Getting a Springfree has been one of the best investments I've ever made for the kids.
6 - It's low impact, but high fun!
Many kinds of cardiovascular exercise, like jogging or soccer, take a toll on your joints (noticing this a lot more, now I'm getting older!). That's because the surface you're running is hard and causes high-impact jolts to your system. When you're bouncing on a Springfree Trampoline, the surface absorbs the impact of your landing while simulating the effects of high gravity, allowing you to build muscle with less stress on your joints. That's why trampolines are popular with physiotherapy!
This Springfree family has so much fun on their Springfree and share their experience with us:
7 - You can work out your kids' bodies and brains.
There are plenty of games you can create on the trampoline with a bit of chalk, props and accessories to get the minds working while they play. Whether testing memory or addition, the options are endless as to educating through play on the trampoline.
8 - It decreases your risk of life-threatening diseases.
The risk for type 2 diabetes, cancer and cardiovascular disease are all lowered by regular daily exercise like trampoline bouncing, which also lowers stress, improves your body's levels of happy hormones like serotonin and endorphins, and improves mood and sleep. (This is great for tuckering the kids out when they're cranky or overexcited - which feels like all the time!)
9 - It will help you redefine "exercise.
One study showed that people who see physical activity as a fun pastime instead of "exercise" (something they have to do) were more likely to enjoy higher energy levels, control their eating (help, please) and be more satisfied with their workout. - Anyone else sold, right now?
10 - You'll feel like a kid again.
A lot of parents buy Springfree Trampolines for their children, but after seeing how much fun their kids have, it's their inner child who ends up hogging all the bounce time. Give it a week of watching the smiles on their faces and we bet you'll be insisting on your turn for the next jump! The kids will be the first to tell you that they're always trying to get me off the trampoline!
Other Articles You May Enjoy