Why Active Play is Important for Kids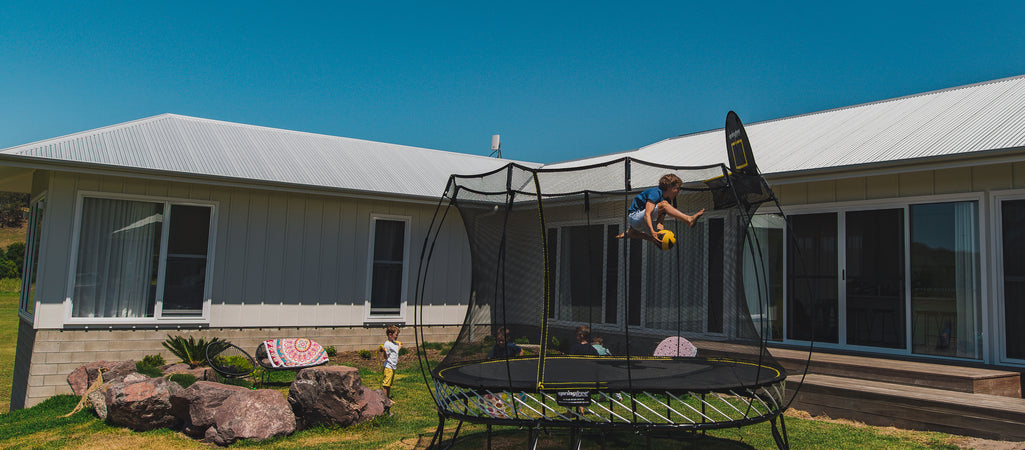 It could be easy to dismiss the need to encourage active play in kids. They, for the most part, appear naturally physically active and love to move around – as we've all experienced when we've just tried to get them to sit still and eat their dinner on some occasions!
However, as children get older, it can become challenging to ensure that your kids get enough daily activity. Various obstacles can get in the way, such as:
increasing demands at school, or
a feeling that they're not good at sports,
perhaps a lack of active role models,
parents can sometimes hinder it based on fear of their children getting hurt in sport, or
the kids may just find it easier to entertain themselves in front of a screen.
So, for parents it's important to find a way to encourage physical activity into their everyday lives, despite these barriers, to set your kids up with healthy habits that will last.
Benefits of Active Play
The benefits of active play for children are not too dissimilar to those for adults. As a result of regular active play, your children will:
Strengthen bones, muscles, hearts and lungs
Improve coordination, balance, posture and flexibility
Maintain a healthy weight
Reduce the risk of getting heart disease, cancer and type-2 diabetes later in life.
Experience better sleep
Establish connections between different parts of the brain
Improve concentration and thinking skills
Improve confidence and self-esteem
Have opportunities to develop social skills and make friends
Gain a better outlook on life
More likely to be motivated, focused, and successful in school
Physical activity is an important part of play and learning. And when child does physical activity with you or other people, it can be a great way for them to build relationships in your family and community. Plus it's also just good fun for all involved!
How Much Active Play Do They Need?
The following are the recommendations according to Australian Guidelines, based on the different age levels.
Infants, up to one year: Daily, 30 minutes of floor play with toys and simple objects that encourage them to move.
Toddlers, 1-3 years: Daily, at least three hours. This includes at least 30 minutes of adult-organised activity daily and 60 minutes of unstructured physical activity—especially outdoors.
Preschoolers, 3-5 years: Daily, at least three hours. This includes at least 60 minutes of structured physical activity every day and 60 minutes of daily unstructured physical activity is recommended—especially outdoors.
Children 5 years up to 18 years: Daily, at least one hour of moderate to vigorous physical activity plus several hours of light physical activity. Activities that strengthen muscles and bones, should be included at least three times a week.
Ideas to Get Them Active
It's important to choose the right activities for the child's age, provide plenty of opportunities for them to be active and keep the focus on fun! When kids enjoy an activity, they want do more of it.
With school-age kids spending more time in front of screens, try find physical activities they enjoy and feel successful doing. These can range from traditional sports like soccer and basketball to martial arts, biking, hiking, and playing on their trampoline.
There are different levels of physical activity and the easiest way to include it is to incorporate it into their daily routine. Some ideas on how to get them active include:
Light physical activity:
Going for a stroll
Play a musical instrument
Standing to paint at an easel
Balancing on a low edge wall
Low impact obstacle course
Blowing bubbles and catching them
Walking around or playing sitting / standing games on the trampoline
Moderate activity (gets children gently huffing and puffing):
Walking quickly or moderate hike
Riding a bike to a friend's house
Dancing to music in the lounge
Skipping without a rope
Swimming games in the pool or chasing waves at the beach
Running around the garden or park chasing butterflies
Throwing bean bags / balls into baskets
Shooting hoops
Easy jumping games on the trampoline
Vigorous activity (sees you child huff and puff a lot as well as sweat):
Playing fast running games
Kicking and running with a ball in the backyard
Riding a bike fast
Playing organised sport
Bat and ball games
Skipping with and without a rope
Swimming laps in the pool
Jumping on the trampoline
Activity that strengthens muscles and bones might include:
Running
Climbing
Lifting
Jumping on the trampoline
There are so many ideas and ways to create fun ways of keeping your kids active throughout their childhood. Certainly, having a trampoline in your backyard will go a long way to helping encourage active play in a fun and safe way. But spend the time with your children to understand what active activities they really enjoy doing and do your best to encourage them as much as possible. And remember, kids learn from positive role models.