Top Ten Playgrounds & Parks in Brisbane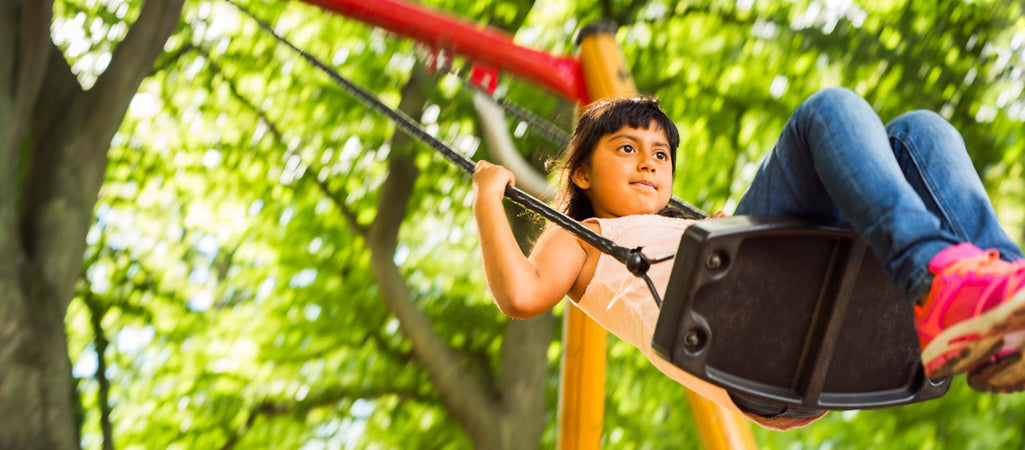 Get the kids out of the house this weekend and explore some amazing family friendly playgrounds, park and gardens in your backyard. We've done the round up for you, so all you need to do, is pick the next adventure.
1. New Farm Park
Hang out with all the hipsters in the inner-city, trendy suburb of New Farm, at one of Brisbane's oldest parks and most popular spots for local families to engage in interactive play!
Alongside the Brisbane River, New Farm Park includes a large sporting oval to organise a neighbourhood team of football, soccer or cricket players. This is also a great space to toss a frisbee or play ball with the kids!
Mums and bubs meet to connect with one another in a circle surrounded by beautiful rose gardens while their older children entertain themselves climbing on a wooden jungle gym which weaves in, under and around a giant fig tree formation.
New Farm Park also hosts regular events throughout the year such as Farmer's Markets on the 2nd and 4th Saturdays of each month, and seasonal Moonlight Cinemas.
2. Sherwood Arboretum
If bird watching and nature are your family's thing, this is for you. Heritage-listed Sherwood Arboretum protects rare and endangered species of trees ranging from wet rainforest to open Eucalyptus forest. Trees that thrive in a sheltered setting are specifically grown for scientific, educational and display purposes. When founded in 1925, this particular arboretum set a new trend by being the first to virtually exclude exotic trees not native to Australia.
Thanks to its abundant tree cover, filtered wetlands and mangroves – all well-established alongside the Brisbane River which acts as a corridor for wildlife – Sherwood Arboretum is also a hotspot for bird-watching. 170 species have been sighted over the past fifteen years so it's not uncommon to discover 40-50 different types of birds on a 90-minute walk along the trail. Even rare ones such as the Pale-vented Bush-hen, Spotless Crake and White-headed Pigeon sometimes make exciting appearances!
3. Whale Park at Wynnum Wading Pool Foreshore
Kids will have a whale of a time at this remarkable park for water play!
Imaginations run wild at this playground with its highly inventive equipment. While children attempt to dodge being squirt as they run and jump from one fixture to the next, whales randomly spout water at them, making them squeal with laughter!
Filtered sea water from the bay flows freely into the shallow wading pool, a safe place for young kids to slide into and swim on a hot summer's day. Although this park is suitable for all ages, little ones will require assistance on the slide which is high.
There is also a sandy area with space to kick a ball, tracks to walk or bike, and a jetty to go fishing. A popular place to picnic or host a party on the weekends, and delightful to gaze at the bay while your children play. 
4. Colmslie Beach Reserve
A magnificent maze of bridges and tunnels beckons to be explored at Colmslie Beach and a giant sandpit includes rocker rides, picture boards, and a big fish to play on and around!
Climb over grassy mounds and wind your way along a bumpy path through the playground on your bike or scooter.  Numbers, letters and colourful stones are cemented into the trail to find and follow. 
More fearless children may want to journey further up the hill to experiment with the flying fox!
The park offers plenty of picnic sites shaded by trees along the river where you can watch boats sail past, so bring your picnic blanket and basket!
5. Kalinga Park
Your destination playground awaits behind gates at heritage-listed and heavily forested Kalinga Park!
Treehouses made of timber ladders and poles appeal to adventurous climbers and sliders, with safety nets to catch them if they fall. A separate structure with swings and slides is designed to entertain the younger, less brave children.
Adult fitness enthusiasts can walk, run or cycle along trails that traverse the park and sporty teens can utilise outdoor gym equipment to shoot some hoops, engage in a tennis match or play field hockey on expansive grassy areas surrounding the playground.
6. Rocks Riverside Park
Aptly named for its location on the Brisbane River in Seventeen Mile Rocks, one of the unique aspects of Rocks Riverside Park is the community garden looked after by locals who tend to their own plots of planter boxes. Tomatoes, lettuces, artichokes, leeks, parsley, passion fruits and strawberries are organically grown.
Complete with climbing nets, a flying fox and a water play area, this park also has all the usual equipment for children to entertain themselves.
With loads of open space and a half-sized basketball court, the park is routinely used by as a boot camp for fitness trainers too.
7. Hidden World Playground
Drive down a typical suburban road in North Brisbane and Hidden World's vibrantly coloured playground will practically jumps out at you, so it really shouldn't be all that hard to find!
Filled with fast slides and challenging climbs, Hidden World playground is especially popular with pre-schoolers for birthday parties, due to its ability to amuse large groups of children. Lengthy boardwalks cover the sand-based floor of the area, where children can sit and play with dump trucks or dig for buried treasures.
8. Calumvale District Park
Calamvale District Adventure Park is a lovely leafy Brisbane park, home to a range of impressive play equipment that needs to be seen to be believed! Young or old, brave or timid, there is something to challenge and entertain every sort of Brisbane Kid.
Consider climbing up into an adventurous obstacle course via an 8-metre high net that takes you across wobbly sky bridges from tower to tower. Then it's a race to the finish line, down an enclosed metal tunnel slide.
The 50-metre long dual flying foxes are also a winner and other points of interest include musical play-stations, pieces that spin, and group swings. As well, a huge suspension bridge inspires games of pirates and trolls!
9. Berinba Wetlands
One of Brisbane's best kept secrets is Berinba Wetlands which are manmade, momentous sand and mining operations. Logan Council purchased the disused mine in 2003 which had remained relatively untouched, cleared out rubbish and non-native bush, before revegetating, building bridges, pathways and eco buildings to be enjoyed by the general public.
With wide pram and wheelchair-friendly, easy-grade walkways, boardwalks cut through forests with outcrops and scenic vistas over the lakes and billabongs.
The Billabong Outlook Circuit offers a short, leisurely and picturesque stroll through swamplands, or the Greater Wetland Walk circumnavigates the entirety of everglades.
There is a pelican viewing platform that juts out over the lake below an interactive information shelter. A stunning sculpture by local artist, John Coleman, of a flying eagle spreading its wings over the marshes is actually solar powered.
A children's playground exists with equipment built on sand pits and its own state of the art barbeques, picnic shelters and public amenities.
10. Picnic Island Green
At the southern end of South Bank Parklands, Picnic Island Green has been upgraded to include a contemporary playground that is situated on the greenest of grasslands surrounded by tall trees and lush gardens. Presenting a spinning saucer, cubby house, a basket swing for multiple users, bouncy, soft fall mounds, interactive play walls with built-in finger puzzles, a pathway with an in-built story and talking tubes, this park is magically made to entertain children.
There's also a pond filled with colourful, native fish and teeming with other wildlife such as eastern water dragons which have also been sighted in the area. Gigantic Ficus trees provide the perfect place to play hide and seek in a tranquil island forest!
Use the barbecue facilities that adorn the beautiful River Quay, or eat out at a one of the family-friendly restaurants in the nearby Arbour View Cafes precinct.
Enjoy reading this article? You can learn more about our super safe trampolines or read more Springfree blog articles.