Top Camping Spots to go with the Family in Queensland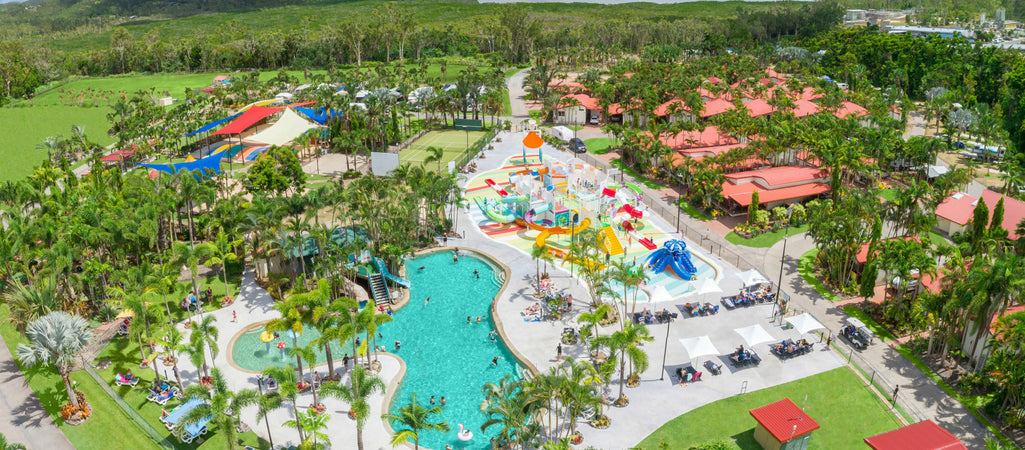 Want to go camping these school holidays but have no idea where to go that will be suitable for the kids? We've found a few gems that will have you and the family adventuring on beaches, lakes, rivers, national parks or water parks, there's a little something for everyone... even the glampers! At Springfree, we're big fans of heading outdoors whether for a weekend getaway or for those long weeks off in summer, so our team have also shared their favourite spots to getaway!
Image Source: Pinterest
1. Kenilworth Homestead, Kenilworth
Kenilworth Homestead is a privately run outdoor education, family camping and function centre.  Camping, Caravan, Camper, and Motor Home all are welcomed at the Homestead. 
They have excellent entertainment for the kids including horse rides, archery, a climbing wall, a BMX track and little animals that the kids can pat.  Sitting on the edge of The Mary Valley River, there are two main swimming areas which are both sandy and really safe for the kids to play and if you have a kayak or floaties, you can head down the rapids for a bit of fun.
Take a trip here out of the busy time for any weekend and you pretty much get your pick of the sites with only a few neighbours.
Its a must do and just down the road you have Kenilworth with a great pub and little shops and cafes.
- Bek, Graphic Designer
Classic Family Resorts
2. NRMA Treasure Island Holiday Resort, Gold Coast
Within 15 minutes of the world-famous Surfers Paradise and close to the Gold Coast's beloved theme parks, NRMA Treasure Island Holiday Resort is in the ideal location. In the summer months, splash the day away at one of the four resort-style swimming pools, the heated spas and Shipwreck Shores, the resort's on-site water park. If spending the day underwater isn't your thing, enjoy a family-friendly screening at the outdoor cinema or make some memories at the pirate-themed on-site mini-golf course.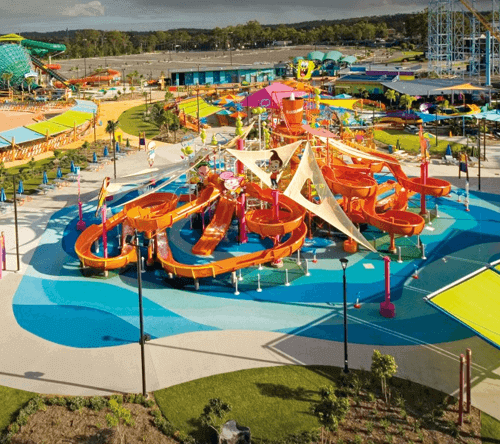 Image Source: NRMA Parks and Resorts
3. BIG4 Sandstone Point Holiday Resort, Sandstone Point
On the glistening shores of Pumicestone Passage, a stone's throw from the iconic Bribie Island is the brand new BIG4 Sandstone Point Holiday Resort. Nestled directly in the middle of Brisbane CBD & the Sunshine Coast, there is plenty to do with magnificent facilities, including waterpark, basketball and tennis courts, fire pit, Go Kart hire and petting zoo, as well as beaches and scenic bushland showcasing the best of South East Queensland escapes.
Image Source: Sandstone Point Holiday Resort
4. BIG4 Adventure Whitsunday Resort, Airlie Beach
BIG4 Adventure Whitsunday Resort calls Airlie Beach home, blowing visitors away time after time with its stunning location and extensive amenities. There are condos, cabins and villas for guests looking for a bit of luxury, but campers and caravanners will also find sites that have been well-thought-out and carefully designed.  Once the kids have had their fill of all the splashing and water-works, head to explore the 3.5 acres of animal park. With its beautiful flora and fauna and babbling creeks, it's a great way to engage with the natural beauty around you.
Image Source: BIG4 Holiday Parks
5. Rivershore Resort, Maroochydore
Located on the beautiful Sunshine Coast, Rivershore Resort offers a unique experience to both traditional campers and new age travellers. With 70 spacious camping/caravan sites and 15 luxury safari tents Rivershore Resort caters for everyone. Rivershore Resort is the only place on the Sunshine Coast to offer luxurious safari tents. So if you're not sold on the traditional idea of camping but want to get amongst nature, these safari tents are kitted out with all your creature comforts and located in prime position taking in the surrounds of the beautiful Maroochy River.
Image Source: Visit Sunshine Coast
6. BIG4 Ingenia Holidays Cairns Coconut, Cairns
If you're looking for a holiday park with access to not one, but two UNESCO World Heritage sites, you don't need to go any further than BIG4 Ingenia Holidays Cairns Coconut Resort. Although the Great Barrier Reef and Daintree Rainforest are on your doorstep, you might find it hard to leave the resort and its wide range of activities. Play 18 holes of mini-golf, hit a few balls on the tennis court, whip your pups into shape at the dog agility park or slip down the water slides at the kids' splash park. 
Image Source: BIG4 Holiday Parks
7. BIG4 Caloundra Holiday Park, Caloundra
Glamping, villas, waterfront views and premium camping sites … BIG4 Caloundra Holiday Park has a plethora of accommodation options to meet your every need. Outside of sleeping quarters, you'll find a boat ramp,the sky-high climbing wall and the vitally important Tom & Andy's Espresso Van – sounds like a dream destination to us.
Image Source: BIG4caloundra
National Parks
8. Eurimbula Creek Camping Area, Eurimbula National Park
North of Bundaberg, Eurimbula National Park features 17 unpowered campsites shaded by ancient eucalypts in the woodland beyond Bustard Beach. Kayaking on azure waves and fishing on the beach await you, all just a short walk from your tent. Light a campfire by the beach (if bans are not in place) for a serious marshmallow-roasting experience the kids will never forget.
Image Source: Aircamp
9. Tallebudgera Creek Tourist Park, Palm Beach 
Perched on the edge of the Tallebudgera Estuary, enjoy a quiet canoe in this protected area or head to the nearby Tallebudgera Beach if you'd prefer to ride a wave.A much-loved spot in Queensland, Tallebudgera Creek Tourist Park also gives you access to the Burleigh Head National Park if you're looking to hit the trails.The park itself should keep you occupied for days, with its range of activities such as swimming, boating, waterskiing, windsurfing, canoes, go-karts and a playground. Make sure to plan to spend more than a couple of days here.
- Bonus Staff Pick from Dani, Head of Sales + Marketing
Went a few weeks ago and loved it. Great location right on the river, with a private beach perfect for kids and families. Food trucks in the park if you don't want to cook and a short 5-minute walk to the beach and cafes.
​
Image Source: Caravan Parkfinder AU
10. Great Sandy National Park, Cooloola
Cooloola is a great place to get away from it all, three hours north of Brisbane. Choose between luxe-ish facilities at Freshwater.  This coastal enclave is the perfect place to collect shells, inspect leaves and generally dive into nature play with the kids.  It's not every day that you can stroll to the water's edge to catch dinner (fingers crossed) and unwind with a panoramic view of the South Pacific.
Image Source: Remote Traveler​
11. Ocean Beach Camping Area, Bribie Island
Cross the bridge from the mainland to Bribie Island where the seas are rich with dolphins, dugongs and turtles. It's an animal-loving kids paradise. Your campsite at Ocean Beach is behind the sand dunes at the edge of the National Park that covers 86 percent of the island and can be accessed by 4WD only.
Image Source: Bribie Island
Beach Camps + Something Different
12. Minjerribah Camping formerly Cylinder Beach Camping Ground, Stradbroke Island
This shady spot peers over Cylinder Beach, one of Stradbroke Island's most iconic surf beaches. The campground is close to the cafes, boutiques and restaurants of Point Lookout, and the renowned Stradbroke Island Beach Hotel. There are laundry facilities, playground equipment and woodfire barbecues. Booking one of the 60 unpowered or eight powered sites is essential.
​
Image Source: TripAdvisor
13. Waddy Point, Fraser Island / K'gari
Waddy Point Beachfront is a fenced clearing open to tents, camper trailers and beachfront camping. There are flushing toilets, hot showers, communal fire rings, picnic tables and gas barbecues. Before entering Fraser Island, a vehicle access permit must be purchased. Camping permits are also required and must be purchased prior to setting up camp. Make sure to visit the nearby Champagne Pools for a picturesque dip.
Image Source: Waddy Point
14. Ashmore Palms Holiday Village, Ashmore
Ashmore Palms Holiday Village isn't just any other holiday park, offering up an amazing array of unique family-friendly facilities to get excited about. Wandering along their rainforest walkway and enjoying the spectacle of one of Australia's largest collections of South American macaw parrots is a must-do, and you can even grab a photo with them if you join a morning information bird tour. If feathered friends aren't your thing, you can take a dip in one of the lagoons or take advantage of the free tennis court hire.
Image Source: Ashmore Palms Holiday Village
15. Cotton Tree Holiday Park, Cotton Tree
Whether you love the calm waters and peaceful atmosphere of the river, or revel in the easy-breezy salty seaside, Cotton Tree Holiday Park fits the bill with direct access to the Maroochy River and Maroochydore Beach. Wind down with a wine on the beach, grill with the family at one of the numerous barbecues dotted around the park or immerse yourself in the tranquillity of the water and partake in some fishing.
Image Source: Sunshine Coast Holiday Parks
16. Kirra Beach Tourist Park, Coolangatta
Kirra Beach's claim to fame stems from the Kirra Surfriders Club, which boasts world-famous members like Mick Fanning and was the first surf club in Queensland. As you'd expect, the waves are fantastic for beginners through to champions, and Kirra Beach Tourist Park is perfectly placed for those seeking out surf. The park is also home to an on-site saltwater pool, a bouncing pillow and an outdoor lawn space that is great for a picturesque picnic or a family game of footie.
Image Source: Destination Gold Coast
17. Cape York Camping, Punsand Bay
As you travel to the tip of Cape York, you hear rumours of the excellent woodfired pizza at Punsand Bay and after roughing it to get there, you'll deserve a few slices and a cold one. Other reasons to stay are the pool, beachfront campsites and the short distance to "the tip".
Image Source: Capeyorkcamping
18. Beachcamp Eco Retreat, Fraser Island
Fraser Island is a true bucket-list destination perfect for a multi-generational, 4WD family holiday. Beachcamp Eco Retreat offers a little bit of civilisation on an untamed island, where you can relax and wash the pristine white sand out of your swimmers after long days exploring this remarkable World Heritage Site. Take in the sweeping ocean views, cook up a barbecue feast or stoke the wood-fired pizza oven, and enjoy a campfire sing-a-long under a starry night sky. Each glamping tent features a bathroom, linen, towels, and blankets. Perfect for nature-loving, down-to-Earth families.
Image Source: Noosa Country Drive
19. Sanctuary by Sirromet, Mount Cotton
Encased in lush greenery only half an hour from Brisbane, Sanctuary by Sirromet delivers all the tranquillity its name evokes. Tented pavilions offer the kind of comfort that will endear the experience even to the fussiest teen, with spacious interiors, bedding, lounges, power and even free Wi-Fi. Never fear; the pavilions are still completely secluded by bushland from their location on the grounds of Sirromet Winery and offer views across Moreton Bay and easy dining.
Image Source: She Goes
We'd love to know your favourite holiday spots so connect with us on Facebook or Instagram and tag #springfreesummer with your favourite summer holiday spot.
If you're looking for camping spots in other states, you might like to check out our other blogs:
Happy Camping!