How To throw A Springfree Birthday Party!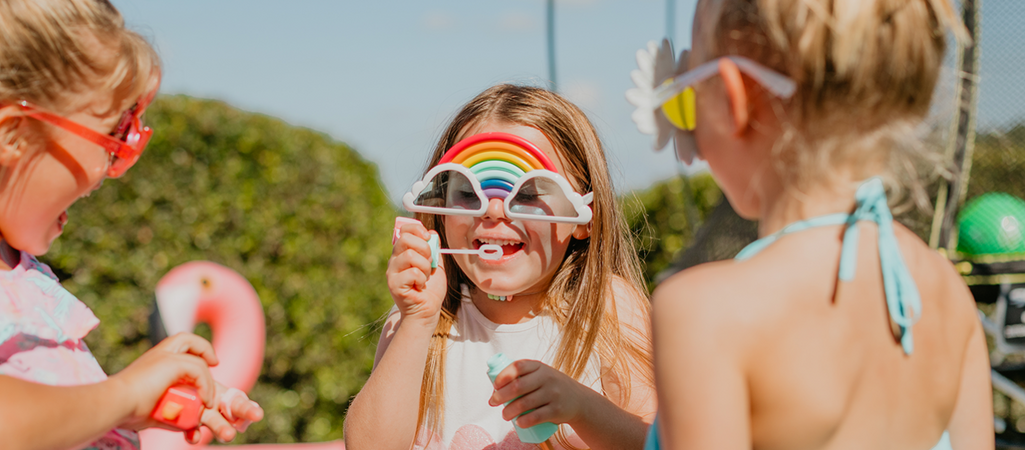 Have you got a birthday coming up this Spring? Check out our ideas for throwing a Springfree Birthday Party!
Rumble In The Jungle
We all loved the movie "The Lion King" and "The Jungle Book" growing up, and with recent re-makes of these movies, why not be inspired and theme your child's birthday with a "Rumble In The Jungle" themed party and bring out that inner lion/ess or Tarzan from within.
There are many cool ways to theme your child's birthday "Jungle style", just ask us, we know from experience!    
Check out our Jungle styling tips below:
Dress code: Green or jungle related
Balloon installation: Arrange an assorted green balloon installation for your Springfree Trampoline.
Plants: Own real or artificial tropical plants? Bring them outdoors and position them around the party area. (Don't have potted real or artificial plants? K-Mart is your best friend for that!)
Plates and Cutlery: Keep it green and add a splash of gold or brown to spice things up!
Stuffed animals: Are you hoarding a pile of stuffed animals? We have use for them!!! Pull out any jungle stuffed animals (or close to it) and strategically place them in and around the plants.
Cake: C'mon, who doesn't like a themed cake! You can source pretty affordable themed cakes which the kids will love. Plus they make a great photo prop.
Summer Days
How much fun are summer birthdays! Outdoors, in the backyard, tunes cranked, BBQ is on and kids are running wild in and around the sprinkler or playing Marco Polo in the pool. 
We love the "Summer Days" birthday theme as this style is full of bright and vibrant colours, inflatables and funky props.
Check out our Summer Days styling tips below:
Ball Pit: Kids love a good ball pit and you can purchase a bag of 100+ from your local $2shop. Grab a couple of bags and fill your Springfree Trampoline to create the ultimate ball pit!!!
Inflatables: There are some pretty cool inflatable pool toys on the market now days and they are cheap (Pineapples, Watermelons, rainbows, Flamingos, etc.). Purchase a couple and throw them in your pool or around the back yard. They become great space fillers and party props. We promise you the kids will use them no matter where they are.
Artificial Cactus plants: Again great props to place around the party area, and K-mart is the place to buy these.
Photo booth: Grab yourself a length of tropical themed material from your local Spotlight store and hang it in your backyard somewhere where the kids can stand in front of. Next, purchase some fun photo booth props such as: Colourful sunglasses (flamingo, flowers, rainbow, etc.), a bright coloured wig or two, bubbles and some colourful stage jewellery from your local $2 shop. Pop them in a box next to your tropical back drop and you're all set (P.s. mums phone always comes in handy for photos).
Kidchella Birthday
A great way to be FESTIVEall. When we envision a Kidchella party we picture tepees, bunting, fairy lights, peace signs, earthy tones, Flower crowns and flowy dresses.
See our Kidchella party tips below:
Tepees: Tepees are a cheap space filler and props to have at any kid's birthday party, you can usually purchase these from any K-mart store.
Bunting: Awesome for theming, especially for a Kidchella party. There are so many cool varieties on the marketing and you can find them across a variety of stores ($2 stores, K-mart, Big W, etc.)
Fairy lights: Easy, cheap and effective! Plan your child's birthday around dusk, so the solar fairy lights can kick in and create that festival glow (Bunnings sells a cool range of solar powered fairy lights)
Side walk chalk: How great is chalk, easy to clean, doesn't stain and it keeps the kids entertained for hours. Buy a box of Crayola Side Walk Chalk and let the kids get creative on the mat of your Springfree Trampoline.
Flower crowns: A fun activity for the kids to do at a birthday party. You can find instructions online and most of the items you can purchase from your local $2 shop. 
We'd love to see pictures of your Springfree birthday parties so be sure to tag us #springfreebirthdays on your socials!
Special Birthday Offer – Sign Up Today!
Celebrate your child's birthday and give them the ULTIMATE surprise - a Springfree Trampoline! Imagine the delight in your child's face when they see their new Springfree in the backyard! Springfree wants to help make your child's birthday extra special by giving you an exclusive birthday offer! All you need to do is sign up and you will receive a special offer 30 days before your child's birthday.