Hot Birthday Trends for 2020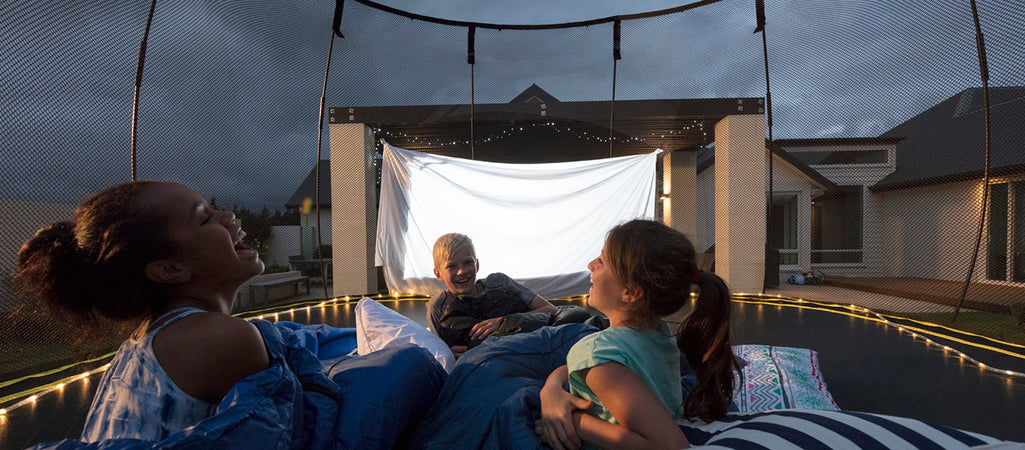 Every year, it feels like birthday party expectations are increasing. Theming is BIG so fortunately we have things like Pinterest to provide ample suggestions on how to create the ultimate look for your child's birthday. But it does help to start with a theme and this can often be challenging. So we've found the top 8 themes that are trending for 2020.
Movie Night Party
A classic party theme that everyone loves! You can set up indoors or out, pick a classic kid movie, set out popcorn, blankets or forts, and even print out tickets! Check out our trampoline DIY movie guide for some inspiration.
Bubbles and Brunch
We aren't referring to the bubbles you remember pre-kids, but a morning party with brunch items and kid-favourite bubbles is a winning combo. Offer up egg muffins, scones, fruit and other nibbly goodies, and let the kids go wild with a wand or two. If you've got older kids, why not set up a bubble lab with experiments, instead.
Image Source: Pinterest 
Spa Party, Glamping, Camping & Slumber Party
The big trend being seen, especially with older children, are sleepover spa parties. This does not have to be at an actual spa! The market is flooded with fun low-cost home-based spa treatments. Drop cucumber slices in ice water to cover their eyes while they let a face mask settle in and offer soft and cozy robes and slippers and twirl their hair up in a towel for a day of pampering.
Slumber parties make some of the best memories, string up some garland and lights, a few decorations, music and it's a party! If weather permits- go glamping outside.
For a Camping theme, you could pitch a tent in your backyard if weather allows and have a night under the stars or set up in a room inside. Have everyone bring sleeping bags, BBQ some sausages & dig into some fire-roasted marshmallows. You could apply a bush animal party theme. Mix in some bandannas, nature decor and lanterns and have activities like a scavenger hunt list. Check out our backyard camping guide. 
For younger kids or kids that aren't ready to make the jump to a whole night sleepover, invite friends over around dinner time, and plan fun "night time" activities like karaoke, a dance party, glow-in-the-dark games, outdoor games you can play in the dark or even crafts.
Image Source: Pinterest 
The New Princess Parties
Mermaid, unicorn, and rainbow themes are popular alternatives to the traditional princess party.
Unicorns and mermaids are fun, ethereal, glittery, and build a child's confidence through traditional and inspirational storytelling. You can really get creative with these themes: from the cake to the party favours you can get as creative as you want.
Make it a Rainbow Unicorn Party to take it to the next level. Activities can include decorating unicorn headband horns.
Image Source: Party with Lenzo
Tea Party & Fairy Party
This is one of the sweetest trends coming on from creating a backyard tea party, in the house or at an actual venue. From Alice to Wonderland Themes to Shabby Chic Vintage Themes, kids love playing dress-up- not to mention those yummy tea sandwiches and pastel macaroons are too cute! Have the kids decorate crowns or wings as activities. Or they can paint their own tea cup.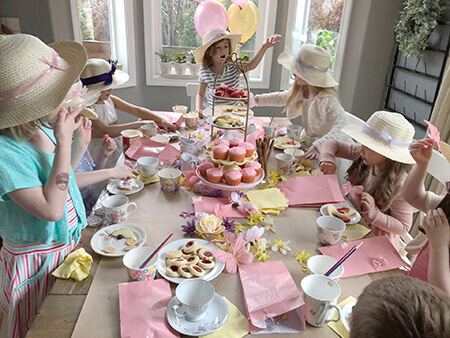 Image Source: Pinterest 
Cooking and Baking Parties
Another idea for both boys and girls is to have a cooking or baking party. With kids cooking competition shows rising in popularity, kids are being encouraged and inspired to learn to cook or have some creative fun decorating cupcakes and cookies. 
You can do this at home by putting out different coloured icings, sprinkles and topping. As an activity them could decorate and personalize their own aprons and wear chef hats.
Image Source: Evite Party Ideas
Mad Scientist or Exploration Party
This is all the rage! Kids will love being hands-on with a science-themed bash! Hand out lab coats and safety goggles, drink from beakers, and put together simple experiments.
You can do this at a home party or most children's museums offer kids birthday parties at a reasonable cost, so the kids can party SMART!
Image Source: Kara's Party Ideas 
Arts and Crafts Party
Ditch the nice clothes and let your kids get messy! A messy art party could use things like squirt guns, mega-canvases, shaving cream and paint-filled eggs, to get kids' creative juices flowing.
These are great opportunities for kids to do something different and use creativity to create something to hold on to forever. Keep kids busy with art and craft stations during the party. Kids can create a painting or a craft that will also serve as a party favour.
If you can't stomach the chaos (and mess!) check out your local craft stores to see if they offer birthday parties which will save you from the mess!
Image Source: Pinterest 
Special Birthday Offer – Sign Up Today!
Celebrate your child's birthday and give them the ULTIMATE surprise - a Springfree Trampoline! Imagine the delight in your child's face when they see their new Springfree in the backyard! Springfree wants to help make your child's birthday extra special by giving you an exclusive birthday offer! All you need to do is sign up and you will receive a special offer 30 days before your child's birthday.
Other Articles You May Enjoy