Finding Your Perfect Match - Choosing the Right Trampoline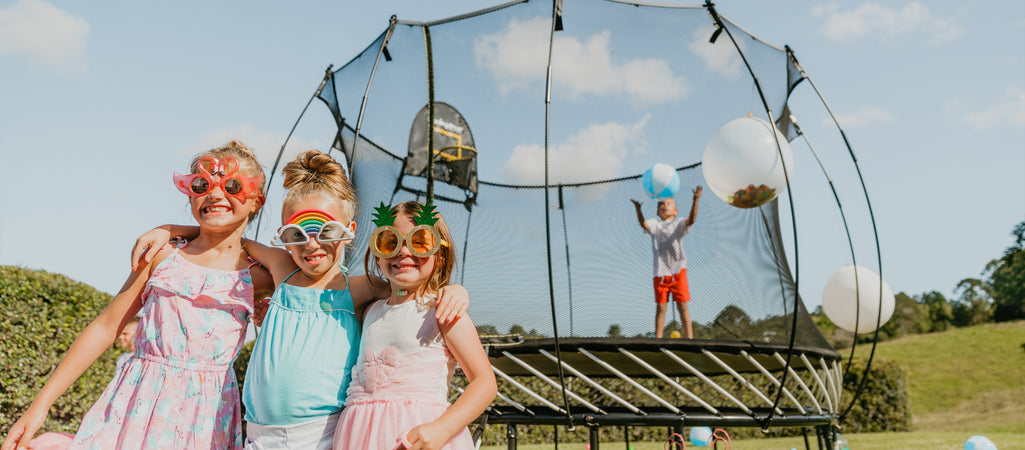 What is your checklist for buying a trampoline for your family?
Is it safe? 
Is it high quality and will last a long time?
Does it come with a reliable and long warranty?
What size and shape will best suit our yard and our family?
With Springfree Trampoline, you can tick the first three with no hesitations, 
Springfree Trampoline is the World's Safest Trampoline
It is tested to the highest of quality control standards to withstand our harsh weather conditions
It is the only trampoline to come with a 10 year warranty for all components of the trampoline
And the fourth purely comes down to personal preference and the size of your backyard
Springfree Trampoline has a variety of shapes and sizes to suit all backyards and family dynamics
Choosing the Shape
The decision on the shape largely comes down to your backyard size and shape, bounce zones as well as personal preference.
The great thing about Springfree Trampolines is that the 'bounciness' is the same across all models.
Round trampolines typically have one bouncing zone and directs jumpers towards the middle of the trampoline.
Oval trampolines have two jump zones which is great for little gymnasts.
Square trampolines have four jump zones.
Choosing the Size
Small Family? Little Jumpers? Low on Space?
Are you a city dweller with little space to spare? Have little jumpers, eager to have a go? Or maybe space is tight but quality is a must. For little jumpers, small backyards or smaller families, one of our three smallest models will be the perfect fit for you. 
Smaller Backyard Options
We have a fantastic range to suit small spaces and beginner jumpers.
The Mini Round is the smallest in dimensions, so if you've got a really small space such as a patio, it's likely the best fit. It is also perfect for beginner jumpers and at a great entry level price point.
Size: 1.8m
Bouncing Area: 2.8sqm
View Trampoline
The Compact Oval is our smallest oval model that suits small and narrow spaces. Similar in size to the Small Round, the Compact Oval is best suited to beginner jumpers.
Size: 1.8m x 2.7m
Bouncing Area: 4.4sqm
View Trampoline
The
Compact Round
is the next step up but still perfect for compact yards or spaces and ideal for little jumpers.
Size: 2.4m
Bouncing Area: 5sqm
View Trampoline
Have a little bit more space or slightly older children?
Our series of Medium trampolines have been designed with this in mind. Most homes have a little bit of yard and your children need/like a bit more space to flex their jumping muscles! ... 
Medium Backyard Options
We have a fantastic range of great medium sized trampolines for jumpers of all ages.
The Medium Round is a great all-rounder. It presents more jumping space than the Compact Round for older kids if you can fit it. It's a great pick for families with jumpers of all ages, and a good pick for active bouncers.
Size: 3m
Bouncing Area: 7.3sqm
View Trampoline
The Medium Oval has been designed for backyards that are long and narroy! The oval models are great for families with more than one child, or for kids who love gymnastics. Our oval models have two points on the trampoline that the jumper can get the highest bounce (where the round models have one).
Size: 2.4m x 3.4m
Bouncing Area: 7.3sqm
View Trampoline
Big Family? Large Backyard? High-Energy Kids?
If you've got a big backyard with room to spare, a large family, high-energy kids or little gymnasts, one of our larger Springfree Trampoline models will be perfect for you. 
Large Backyard Options
We have a fantastic range large trampolines to suit larger yards and families of all ages.
Our Large Oval is great for long, narrow backyards with a little more room, and is highly popular for kids who do gymnastics as well as families with more than one child. The Large Oval has two places the jumper can get the highest bounce, and plenty of room – which is why it's so popular for families with more than one child, or little gymnasts!
Size: 2.4m x 4.0m
Bouncing Area: 9.5sqm
View Trampoline
Our Large Square and Jumbo Round are the largest of the Springfree range, with plenty of glorious bouncing space! If you've got a big backyard with space to spare, these trampolines are designed for you and children (and adults) of all ages. These are great for big families and high-energy jumpers.
Large Square
Size: 3.4m x 3.4m
Bouncing Area: 9.5sqm
View Trampoline
Jumbo Round
Size: 3.9m
Bouncing Area: 12.6sqm
View Trampoline
Which Will You Choose?
Whether space is tight or you've got space to spare, you'll want to choose the best possible fit for your backyard and family.
Choosing which Springfree Trampoline model best suits your family is often influenced by the size and shape of your backyard.
If you're ever unsure or concerned about the size or shape of your backyard, we're here to help ensure you select the perfect Springfree for your family.
We have a couple of resources to assist you. 
Experience Centres
If you are located in either Sydney, Melbourne or Sunshine Coast, you can head along to an Experience Centre to see different sizes in person. We also have various displays throughout the country.
Augmented Reality
Our unique Augmented Reality (AR) tool makes the process simple. Simply select the trampoline you're interested in, on your phone and through the AR tool, you will be able to see how it looks in your backyard. You can learn more here.
Virtual Measure Your Yard Service
Alternatively, book your FREE and VIRTUAL backyard assessment now by completing the form below and one of our friendly team will be in touch to assist with making your decision.