Top 5 Best Trampoline Brands in Australia (2023) | Expert Analysis
Who are the best trampoline brands in Australia? Our expert analysis can help you make an informed decision. Read on to find out which brand is the right one for you!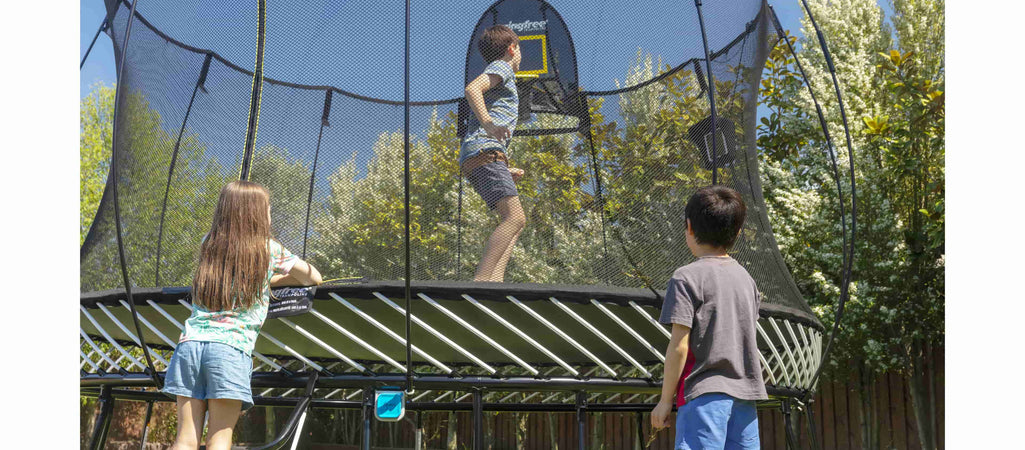 Many brands sell trampolines, and if you've landed here, you're probably wondering: "Which one is the best?" 
You may not think the brand matters when buying a trampoline—in fact, an analysis we conducted last year revealed that 40% of potential trampoline buyers couldn't name a single trampoline brand! 
Buying the wrong brand, though, is one of the big mistakes you can make—especially if you're buying a trampoline for your kids. Over 100,000 trampoline injuries occur each year, making it imperative to purchase a trampoline that is both safe and fun. 
As a trampoline brand ourselves, and the pioneer behind the springless trampoline, we're as knowledgeable as anybody about the trampoline industry, including all the major brands. 
Today, we're going to use our insider expertise to list the five best trampoline brands based on five popular categories: 
Best Value 

Best Mid-Budget Choice  

Best Bounce 

Best Variety 

Best Premium  
How We Chose the Best Trampoline Brands 
Before diving into the list, we want to clarify our methodology.
Our experts, with over 20 years in the industry, thoroughly evaluated each mainstream trampoline brand to find the best ones.
In full transparency, we must note our inclusion of Springfree Trampoline in the "Premium" category, with strong evidence to back it up.
These five brands in this article stood out within their respective categories, but this doesn't discredit other brands. Our list is category-based, from "Best Value" to "Best Premium."
5 Best Trampoline Brands This Year 
Below you will find out the winner for each category, along with their brand's history, what they sell, brand strengths, weaknesses and a summary of why they were chosen: 
Brand History: Australian owned since 2007, this brand has quickly gained traction for their range of shapes and very affordable trampolines. 
What Do They Sell? 
6ft Summit Round - $649
10ft x 15ft Summit - $1,099
12ft Ozultimate Round - $1,199
Image source: oztrampolines.com.au
Brand Strengths:  
Relatively affordable. 

Unique design. 

Notably high single jumper trampoline weight limits (150 kg).  

Strong carbon steel frame, double zinc coated and galvanised. 

Safety pads that cover springs are like a gymnastics mat with 550gsm PVC top and bottom.  
Brand Weaknesses: 
Not a huge variety of products to choose from. 

Trampolines are made from inexpensive materials, which could result in a shorter product lifespan or the need to buy more replacement parts.   

Trampoline warranty is for only 5 years for the frame, and 2 years for all other parts. 
Verdict:  
Oz Trampolines have some decent features, like high weight limits and their products are relatively affordable.
They're not necessarily trampolines that are built to last.  
2. Best Mid-Budget Choice: Jumpflex  
Brand History: Launched in 2009, Jumpflex started as a small company but has grown into one of the notable brands in the trampoline industry.  
What Do They Sell? 
Flex 12 ft Trampoline ($749)
Hero 12 ft Trampoline ($1,399)
Hero 14 ft Trampoline ($1,499)
Hero 15 ft Trampoline ($1,599)
Brand Strengths:  
Unique and fashionable design.  

Trampolines are made from good-quality material.

Include solid durability features—including a 42 mm steel frame and metal components that undergo a six-layer rust-proofing process. 

Offers a 10-year warranty for their frame on manufactured defects (can purchase a lifetime warranty for $59).

Any trampoline purchase comes with a trampoline ladder.  
Brand Weaknesses: 
Very little variety—they only sell 6 trampolines. 

Trampoline safety concerns: Although their trampolines' poles are curved, they are still static and could cause injury to wayward jumpers. Gaps between the mat and the net are possible, exposing a potential falling area.  

You must purchase the lifetime warranty and the standard warranty only covers manufacturer defects for the frame.  

Low recommended single jumper weight limits on their trampolines (90 kg.) 
Verdict:  
Jumpflex is a decent, mid-budget, choice for a trampoline brand. Their trampolines look sleek and their trampoline frames are made of good-quality materials. 
They do not have a large variety to choose from, though, and there are safer trampolines that can hold more weight out there.  
Photos courtesy of Jumpflex. 
Brand History: Mr Trampoline first began in 1949, created by Lionel Duffin. In 2007. In 2007 Mr Trampoline joined with Steelfast to continue improving design, materials and techniques. 
What Do They Sell? 
Two String Performance Beds ($2,325-$2,629)

In-ground Trampolines ($8,070-$9,500)

Above-ground Trampolines ($9,955-$11,080)

Deck Models ($7,365-$8,485)
Brand Strengths:  
Good variety of trampolines to choose from. 

Unique design. 

They offer a variety of colours to suite your landscape design.
These olympic standard trampoline provide a solid bounce.  
Brand Weaknesses: 
Their trampolines can be too pricey for some.  

Their trampolines come with an enclosure net---a HUGE red flag for safety reasons.  

Their warranty is only for 12 months.
Verdict:  
Mr Trampoline has a top-of-the-line, spring-based, bounce and has several different trampolines you can choose from.
Their trampolines do have major safety concerns — as they have no nets and the springs inside the mat.  
Photo courtesy of Mr Trampoline. 
4. Best Variety: Vuly
Brand History: Founded in 2007 by Joe Andon – Vuly has been one of the biggest brands in backyard trampolines in Australia.
What Do They Sell? 
Flare Trampoline ($699-$849)

Ultra Trampoline ($949-$1,299)

Lift 2 Trampoline ($1,249-1,699)

Thunder Trampoline ($1,699-2,499)

Thunder Pro Trampoline ($2,499-$3,649)

Trampoline Accessories ($45-$448)
Brand Strengths:  
Relatively affordable with their budget level trampolines. 

Huge catalog of backyard trampolines to choose from.  

All products come with safety net, some being better quality than others.  

UV-protected materials used. 

Plenty of games and accessories to choose from. 
Brand Weaknesses: 
Besides their Thunder and Thunder Pro Trampolines, the inexpensive price means they are made from inexpensive material: Don't expect their cheap trampolines to last more than three years without needing maintenance.

Numerous safety hazards on most of their trampolines, including metal static poles and a fragile net.  

Low and limited warranty on many of their trampolines. 

The design of their trampolines are not the most visually appealing.   
Verdict:  
Overall, Vuly is a brand that is a good fit for families looking to choose from a variety of trampolines for a relatively good price.
But they do come up short on numerous safety/durability features. They are a solid value brand but could use major improvement on safety, quality and design.  
Photos courtesy of Vuly. 
Brand History: Springfree Trampoline originated in the early 2000s and was the first springless trampoline introduced to the market. Today, Springfree Trampoline is still the only brand that exclusively sells trampolines with no springs.  
What Do They Sell? 
4 Round Trampolines ($999-$2,999)  

3 Oval Trampolines ($1,599-$2,299) 

2 Square Trampolines ($1,999-$2,499) 

14 Trampoline Accessories ($25-$199) 
Brand Strengths:  
Only brand to exclusively sell springless trampolines. 

Trampolines are considered the safest trampoline due to features like their no-spring design, FlexiNet, SoftEdge Mat, hidden frame and use of flexible enclosure rods instead of static metal poles (only trampoline to eliminate 90% of product-related injuries.)  

Made from quality materials such as galvanized steel base with three layers of rust protection, patented composite fiberglass rods for the jumping system and flexible net rods.  

10-year warranty is included for all parts that cover manufacturer defects in material and workmanship.     

Only brand to offer advanced trampoline customisation.

Visually pleasing design that adds to a backyard's aesthetic.    
Brand Weaknesses: 
Springfree Trampolines cost more than other trampolines on the market—making them out-of-budget for some. 

Can be difficult to install by yourself (professional trampoline installation is offered for $399.)
Verdict:  
From a quality and safety perspective, Springfree Trampolines have proven to be the best trampoline you can purchase.
Since they are premium trampolines though, the price can be too high for some, and installation can be difficult to accomplish on your own.  
Photos courtesy of Springfree. 
Which Trampoline Brand Is Right for You? 
The five trampoline brands on this list---Oz Trampolines, Jumpflex, Mr Trampoline, Vuly and Springfree—stand out most in their respective categories, based on our expert analysis and intel. 
However, the brand of trampoline that is right for your family is ultimately up to you to decide. All these brands stick out in certain areas, and depending on what your goals are, one of them might be a better fit than the others.  
The best way to decide is to pick the brand that aligns most with your goals for a trampoline. How do you figure out what these goals are, though?  
How Do You Get the Best Trampoline for Your Family? 
To figure out what's most important for you in a trampoline, you need to first consider all the major factors that go into purchasing the best trampoline. 
Based on our experience with thousands of customers over our 20 years as a trampoline innovator and manufacturer, we've outlined the seven crucial things that deserve your attention: 
Safety Features – What safety features does this trampoline come with?   

Quality – Is this trampoline built with quality materials that ensure its longevity through childhood?  

Durability- Can this trampoline withstand years of jumping and weather conditions without breaking down?  

Trampoline Warranty- What trampoline parts are covered and how long is the warranty?  

Design and Style – Does this trampoline look good in your backyard? Can you customize it?    

User Reviews – Does this trampoline have positive online reviews?     

Trampoline Cost – Is this trampoline within your budget and worth the investment?    
**Other Important Factors- Size of trampoline, weight capacity, installation, customer service and trampoline accessories.  
If you evaluate these factors and use them to prioritize what you want most in a trampoline, you will be able to make a purchase that you won't regret.