Best Family Friendly Restaurants in Melbourne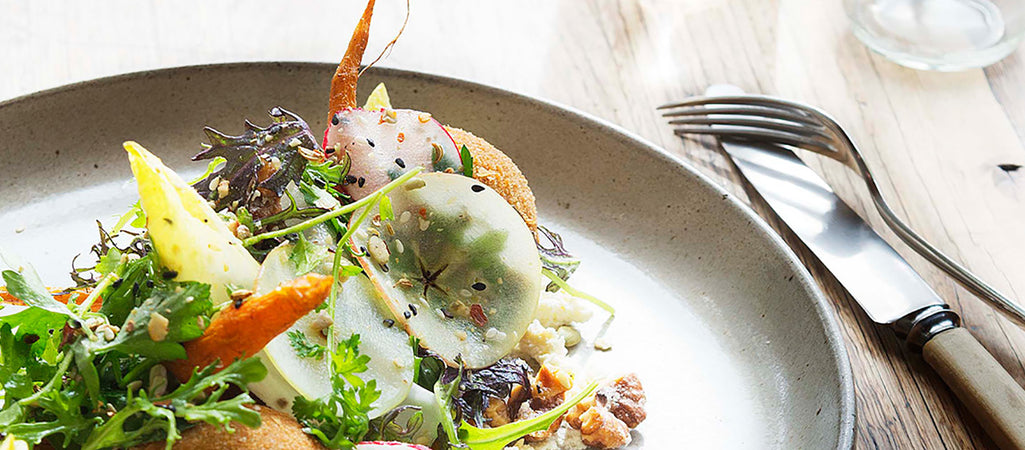 Updated April 2021
If you're a foodie, or maybe just enjoy having dinner out every so often, your options can feel limited when you have the kids in tow. Often your options are limited to fastfood joints (because they have a playground + food the kids like to eat) or the local pub on the corner. But if you're looking for somewhere just a little bit nicer, maybe for a special event or to treat the family, take a look at our list below of the best family friendly cafés / restaurants in Melbourne.
3 Southgate Ave, Southbank 3006
If you've been searching for a child friendly CBD dining option, the search is over. Blue Train welcomes families but still has a quintessentially Melbourne vibe with great food!
As soon as you arrive, the friendly staff will welcome you and have the kids set up with a menu and colouring straight away to keep them busy. Located on the top level of Southgate, the main menu is huge and everyone should be able to find something to enjoy from meat to pizza and salads, with the kids having choices such as pasta, pizza or fish and chips.
Image Source: Time Out
9-15 Inkeman St, St Kilda 3182
This trendy St Kilda eatery opens at 5pm, which is, any family knows, a very family friendly dinner-time.  Owned by a mum, Mr Wolf ensures it caters to your little bambinis with highchairs, crayons and colouring-in sheets, plus a great kids menu, appropriately titled 'Dinner for Little People'. As a special treat, when you order a Bambini meal between 5pm and 6.30pm, you can take advantage of their special offer, which is as described on the menu: "If you finish your dinner…", you can then choose from ice cream sundae with chocolate sauce, a scoop of lemon, chocolate or seasonal sorbet, or the dessert pizza of the day.
This is one dining experience that is perfect for an early Italiano dinner with your bambini, or a great place to catch up with another family or group.
Image Source: Goodfood
130-132 Ormond Rd, Elwood 3184
Does it get much better to be able to enjoy a delicious pizza and glass of vino while the kids are enjoying an outdoor play area complete with cubby and slide?  Jimmi Jamz has you covered making it a great place for group get-togethers and family meals.
The various dining areas are well-catered to families with prams or large groups. A spacious interior, a big back courtyard with a heated undercover area and then right out the back, is the famous fenced in play area complete with cubby house and slide.
As both a cafe and restaurant, Jimmi Jamz provides the option for a morning coffee catch ups through to a lunch family gathering or cheap and cheerful family dinner.
Image Source: Milk Bar
5 Church St, Brighton 3186
Pantry is well-known with Bayside locals and is a bit of an institution.  Channelling a friendly, fun and relaxed vibe, Pantry attracts a mix of clientele.  However, as all the owners have families of their own (one of which is celebrity chef Peter Evans), they know how to create an environment that is welcoming to parents and their little ones.
There are plenty of highchairs and crayons and paper for drawing and colouring in. And of course there are babycinos, little treats, and teeny weeny mini cupcakes among other choices for the kids. Open as a café, they are also open for dinner from Thursday to Sunday from the family suitable time of 5pm, so makes a great option for a family dinner out.
The Delicatessen section of Pantry is full of yummy produce - bread, cheese, small goods and a selection of cakes, pastries, slices, cupcakes and muffins. Yum!
Image Source: Pantry
48 Hitchcock Ave, Barwon Heads 3227
Nothing beats a Sunday lunch and you can't get much better than BeachHouse Barwon Heads to enjoy your Sunday lunch with the family.
The menu provides delicious sharing plates as well as key staples such as fresh fish and chips and a stellar steak sandwich. The kids menu is well planned and nutritious with options such as mini steak and salad; three cheese pillowy gnocchi, fish and chips or a lovely risotto. You may even find adults and kids sharing their food, it's all that good.
But what makes BeachHouse Barwon Heads a little special is the outdoor deck at the front of the building. Constructed from recycled timber, this deck area provides the most wonderful vantage point for people watching on Hitchcock Avenue as the sun beams down! It is a great spot with, a great sharing menu, wines by the glass and a dedicated kids menu and absolutely worth the trip to the Bellarine.
Image Source: BeachHouse Baron Heads
We hope you and the family enjoy trying out these great places and we'd love to hear about them so connect with us on Facebook or Instagram!