For Active Kids: Melbourne's Top Cycling and Scooter Spots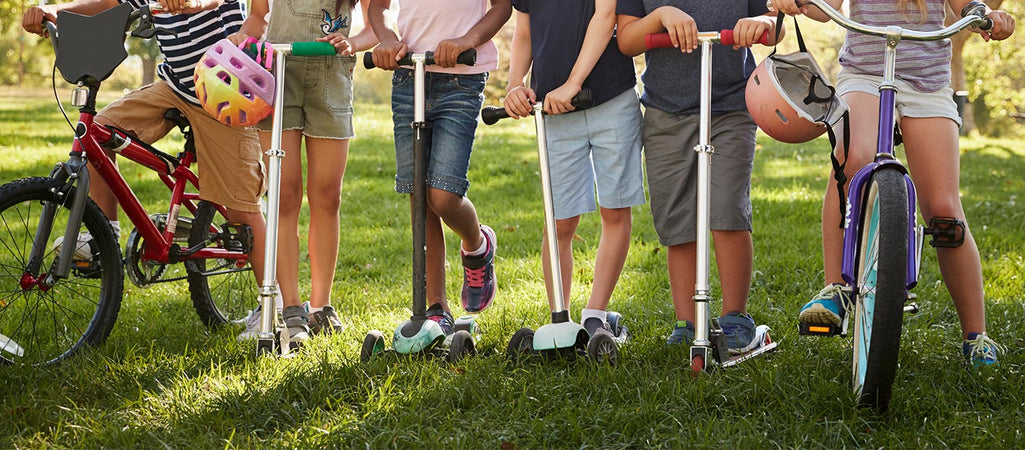 If you're having trouble tearing your kids away from jumping on their Springfree or looking for a change of scenery and activity, the best scootering and biking Melbourne has to offer is just a short ride from your backyard.
Increase the entire family's physical fitness, enjoy quality time together as you venture outside your own neighbourhood, and appreciate all the wider region has to offer for outdoor activity! Start on beginner trails with babies belted into your bike's back seat, progress to moderate mounts for middle-aged kids and eventually move onto more advanced ascents as they become adolescents.
So if you are looking to get the kids out and about this weekend, these are Springfree's top 5 recommendations for riding in and around Melbourne!
Jells Park, Wheelers Hill
At Jells Park in Wheelers Hill, there are 3-4 kilometres of multi-purpose tracks to explore all day, including one that circles around a man-made lake where kids can spot native birds, pelicans, ducks and purple swamphens. Weekends here are often packed with families having picnics or taking their dogs for walks.
After hours of riding each path, there is a local restaurant and kiosk to break for a bite to eat or picnic sites if you've packed your own lunch. Playgrounds are also available if little ones' legs get tired of pedalling and prefer to be pushed on a swing! This parkland is beautiful to visit at any time of the year, but particularly colourful in autumn.
Merri Creek Trail
Within Melbourne's urban environment is Merri Creek Trail, an easily accessible bike path with a more rural feel. Steer your way out of the congested northern suburbs past pleasant views of horse paddocks, and let the sound of a babbling brook soothe your busy kids' minds as you all cruise along the creek and eventually meet up with the Yarra River.
This relatively gentle ride contains only a few steeper slopes that might test your family's fitness levels, but if you are unlucky enough to get a flat or your chain comes loose, there is even a bike shed where volunteers are available to pump up a tire or make repairs.
Hobson's Bay Coastal Trail
A fun, family cycle for all seasons, Hobson's Bay's coastal trail follows the shoreline for 23 Kilometres but can be broken down into shorter stints from beach to bay, depending on your family's biking abilities and ambitions! One of the loveliest seaside stretches is from one end of Williamstown Beach to Altona Beach, called The Foreshore Trail.
The track is perfect for more leisurely rides given it is mostly flat, but for shared use, so be on the lookout for pedestrians. If taking your time, there are signs where you can stop here and there on a fact-finding mission to educate your children about the various reserves they are by-passing, such as the Williamstown Wetlands or Jawbone Marine Sanctuary.
Whether your kids are craving an icy-pole in summer or a hot chocolate in autumn, there are cafes serving refreshments along the way!
Dandenong Creek Trail
With up to 44 kilometres of medium level difficulty cycling, let the Dandenong Creek Trail take your household from Kilsyth South through the south-eastern surrounds of Melbourne, winding its way through wetlands all the way to Patterson Lakes.
This is a great trail to tackle in segments as your family builds up its endurance over time, but it does cross roadways with traffic so it is better suited to older children and teens to traverse safely.
The Yarra River Trail
Both parents and children love Melbourne's Yarra River 22 kilometre bike route for its family-friendly attractions along the ride.
Next to Abbotsford Convent you'll find Collingwood Children's Farm, which aims to bring urban dwellers closer to animals, farming and community, and features Story Time, Farm Craft, Cow Brushing and Guinea-Pig Cuddles.
Or you can lock up your bikes alongside Studley Park Boathouse. Within its walls is a restaurant and café for a spot of lunch. Kayaks and paddle boats can also be hired out if you feel like swapping from paddling to pedalling!
A more direct 8-9 kilometre return route to Melbourne's metropolis can be used as a shortcut if you are confident your kids can navigate the city streets.