For Active Kids: Brisbane's Top Cycling and Scooter Spots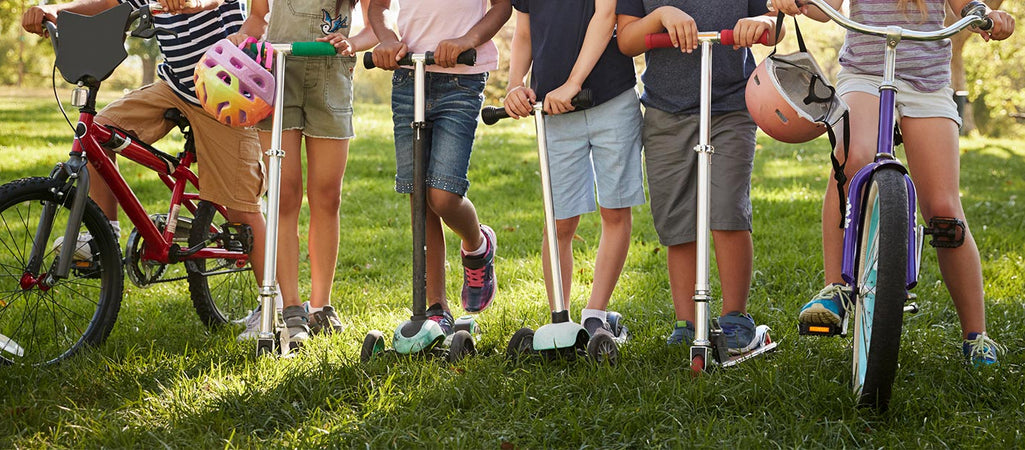 Having trouble tearing your kids away from jumping on their Springfree? If looking for a change of scenery and activity, the best scootering and biking Brisbane has to offer is just a short ride from your backyard. Gather as many grow-ups as you can to tag along with their families' ride on toys too!
Start on beginner trails with babies belted into your bike's back seat, progress to moderate mounts for middle-aged kids and eventually move onto more advanced ascents as they become adolescents. Increase the entire family's physical fitness, enjoy quality time together as you venture outside your own neighbourhood, and appreciate all the wider region has to offer for outdoor activity!
So if you are looking to get the kids out and about this weekend, these are Springfree's top 5 recommendations for riding in and around Brisbane!
Southbank
Southbank is suitable for everyone in the family to scooter or cycle, with a flat riverside path packed with plenty of points of interest in this precinct.
Located within urban parklands is a kilometre-long bicycle path which winds its way under The Arbour, an award-winning architectural marvel which acts as an awning to offer riders some scenery and sun protection. Its canopy is comprised of coiling, galvanised steel posts that are each dressed with vibrant fuchsia bougainvillea flowers when in bloom.
A rainforest promenade is also situated in the hub of these grounds featuring sub-tropical, indigenous flora surrounding your scootering. This foliage is also home to fauna for the kids to spot colourful birds, lazing lizards and tropical fish as they pedal past.
Packed with plenty of picnic spots, the kids can lunch on lush lawn areas or rest on a man-made beach for your blanket. There's even a Ferris wheel if you want to stop and take in the surrounding scenic vista on another type of ride!
Red Hill to New Market
This fun bicycle trip chases Ithaca Creek bank along a 7km return expedition over gentle grades, passing through parks and playgrounds from Bank Street Reserve to Woolcock Park. Except for one short stretch on a quiet neighbourhood street, most of the route is traffic free and shady.
The paved park side path is perfect for parents assisting their little tykes to test out their training wheels. A dirt bike circuit can be found about half way along where more adventurous kids can show off their jumping skills.
Bring a bag of bread crusts or some fishing poles so children can break to feed the friendly ducks or catch a fish from the stream. Alternatively, they can amuse themselves sliding on slides and swinging on swings at the recreation area.
The Wynnun to Manly Esplanade
Ideal for beginner bicyclists, the Wynnum to Manly pushbike path is off-road, flat journeying along the mostly shady, scenic foreshore from Oyster Point to the Manly Marina.
On the way past picturesque parklands, kids can pause from pedalling to play at water parks and wade in tidal pools. The Jetty Kiosk is also a popular place to break for a bite to eat, a refreshing drink, or better yet – an ice cream cone!
Parents will be pleased by the panorama as they follow their children cruising past the beautiful boat harbour and along the picturesque pier, with up to 10kms full of fitness and fun activities for the kids!
Carindale Minnippi Parklands
This green belt bicycle path runs for approximately 9km return through the lush Minnippi Parklands. The track is ideal for younger or less experienced riders and consists of a wide, concrete path that winds through forest areas, meanders across meadows and drives over wooden bridges. At the halfway point, there's a park where kids can stop to play, or use it as a starting point to halve the trail's distance for a shorter spree.
The parklands are also a refuge for water birds and turtles, with watching platforms over lotus-covered chains of lagoons in the creek that runs through the reserve.
Mount Coot-tha Loop (Hard)
For families who want to ramp it up a notch to try mountain bike riding, the Mount Coot-tha Loop is superlative for upgrading their skills. With 23.5 kilometres of extensive trails constructed specifically for cyclists, there's a course for kids at any age or stage of cycling to conquer.
The 10km circuit ride begins on sir Samuel Griffith Drive at the base of Mt Coot-tha. Head clockwise for a modest descent, or anti-clockwise for a more daring ascent. No matter which direction you choose, you'll be rewarded by the lookout's lofty views of rugged hills and can break for a caffeinated cuppa to give you the energy to complete your circumnavigation!
Also set on the mountainside in an exotic rainforest is the Mount Coot-tha Botanic Gardens, home of the Hide 'n' Seek Children's Trail. Your kids can also be led on a mysteriously thrilling escapade to unearth hidden enigmas in the woodlands! A really interactive way to end the day!
Once you've satisfied your need to leave the home environment for a day, it's back home to have a relaxing, family movie night on your Springfree trampoline!