11 Back to School Lunchbox Hacks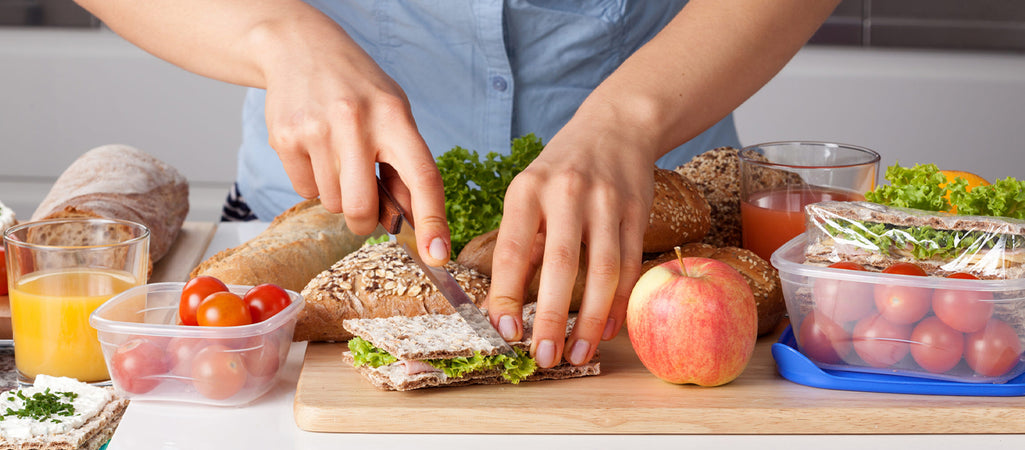 The morning hustle and grind is real and finding time and inspiration for school lunches a challenge. Between our lunchbox meal ideas and these hacks, you will be going some way for setting yourself up for success!
1. Make a List of Lunches Ahead of Time
Start the year off by making a list of 12-15 different lunch ideas and then rotate through the list when you start feeling stuck during the year. Add the lunch ideas to your menu plan each week to help stay focused and ensure you grab everything you need at the store and aren't panicking last minute.
2. Make Your Own Fruit Cups
Skip the sugary syrup and cut up your own fruits ahead of time. Use Cookie Cutters to make fun shapes and find containers with lids to use to store these fruit cups in the fridge for the week (in the above snack station).
3. Freeze Away
Beverages are a favourite to freeze but other lunchbox items can be frozen to act as ice packs to keep everything else cool, and then defrost for eating by lunch time.
You can freeze homemade dip, try hummus blended with roasted capsicum, sun-dried tomato, carrot or beetroot for extra colour and vitamins, in ice cube trays and then just click out one or two cubes into a small container in the morning, with some carrot sticks or brown rice crackers in another container for dipping. The dip will be defrosted in time for morning tea.
Sandwiches, savoury muffins and banana bread are filling and nutritious, and defrost just in time for little break. Fruit tubs, juice and puree also freeze well.
4. Make a Snack Station
Create a Snack Station in your Fridge and Pantry. Devote a little time each week to filling it with muesli bars, rice cakes, crackers and crunchy snacks, plus anything you've baked in bulk over the weekend. Yoghurt and cheese cubes can be stored in the fridge in reusable silicone pouches or muffin cups. Then, when it comes to lunch-prep time, all you need to do is get the assembly line going. Plus, when supplies are low, you'll see it's time to restock before finding empty shelves.
5. Bread Roll-Ups
If the thought of making your own sushi sounds daunting (especially for a school lunch!), try blending the sushi concept with the sandwich tradition. Get the rolling pin (or wine bottle) out to roll out the bread and spreading with any and everything from cream cheese and tapenade, pb+j, hummus + grated carrots and more!
6. Take-to-School Taco Bar
If your kids love taco night, surprise them with a taco bar that fits neatly into their lunchbox. Serve with quick, healthy versions of guacamole and salsa.
7. No More Broken Chips
Crushed chips are never great, but if you put chips in a small zipper top bag and blow it full of air before sealing, those chips will have a little air pillow to protect them. Buying larger bags of snacks and creating your own single size bags is also a money saver.
8. Try reusable pouches
You can buy reusable pouches quite easily these days and fill them with your own healthy yoghurt mix (we love thick Greek yoghurt with honey and cinnamon). But you can also use these to send the kids off with a 'thickie' – it's like a smoothie but much thicker (which kids love). Make the night before and freeze, then it will be defrosted and cool for lunch.
9. DIY Ice Packs
Keep ice packs taped to the inside of a lunchbox so kids won't lose or throw them away. You can also freeze a new kitchen sponge in a zip-top bag (saturate with clean water, place in bag and freeze flat) and use as an ice pack. This is much cheaper than an ice pack - if they do lose it - and lighter.
10. Block Browning
Browned apple slices are a big turn off for most kids, a great hack is to pre-slice it, then put the slices back together with rubber band so they don't have any exposed flesh, and therefore don't brown. If your kids don't like the core, you can remove the core before slicing then place the core back in the middle as you bring all the slices together. So all that should come home is the core (straight to the compost) and the rubber band.
11. Try different shapes and sizes
For some reason, crinkle cut carrots seem much more exciting than regular carrot sticks. You can also use them for cutting sweet potato into wedges and baking in the oven with your dinner, then popping some in the lunchbox for a tasty snack the next day. If you are struggling to get your kids to eat sandwiches, try cutting them into fun shapes using a cookie cutter.
We're sure you all have your own hacks as well. We'd love to see them on our socials, just tag #springfreelunchhacks on your post to share.