10 Things To Do With The Kids In Sydney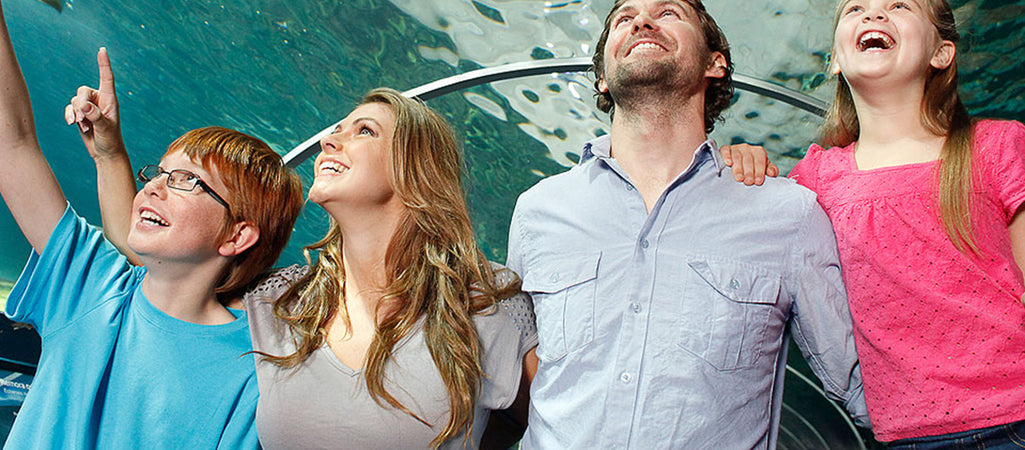 Looking for some fun excursions to explore together as a family in Sydney these school holidays? So are we! Here's a list of Springfree's top 10 things to do, to make everlasting memories with the kids!
1. SEA LIFE Sydney Aquarium
Offering extraordinary entertainment for children, parents and grandparents, SEA LIFE Sydney Aquarium accommodates 700 different species of over 13,000 marine creatures.
Get face-to-fin with scary Great White Sharks and stingrays while wandering through glass viewing tunnels, and experience Australia's sea life like never before! Explore an awe-inspiring array of tropical fish from the colossal Great Barrier Reef in the north, and journey through diverse freshwater habitats of Barramundi from the southern river systems that make up the Murray Darling Basin, and embark on an Arctic Penguin Expedition!
For more info, click here.
2. WILD LIFE Sydney Zoo
Fun for the whole family is a day out at WILD LIFE Sydney Zoo! Featuring guided and walk-through tours of native and exotic animal habitats such as Butterfly Tropics, Koala Encounters and Kangaroo Walk-Abouts, you'll find yourselves going on an amazing adventure through Darling Harbour's unique zoo. With daily feeding sessions, entertaining shows and interactive displays, there's so much to see and do, including coming eye to eye with massive saltwater crocodiles!
For more info, click here.
3. Illawarra Fly Treetop Adventures
The highest zipline tour in Australia is Fly Zipline, a 1.5 hour course that includes 2 suspension bridges and 3 flights across a series of elevated cable, spanning from one tree platform to the next, 35 metres above the earth!  Participants will be provided full instruction by qualified tour guides and interpretation on the Illawara region, while they soar through treetops and capture unparalleled views glimpsing all the way out to the Pacific Ocean and down to the forest floor.
The Treetop Walk will take you and your kids on a 1.5 km magical walk across 500 metres of steel through a canopy of beautiful temperate rainforest 20-30 metres above the ground over to Knights Tower, spiraling to a breathtaking 45 metres above the forest floor! At the edge of the escarpment, there's also the challenging thrill of confronting swaying swingboard cantilevers suspended 25 metres high.
For more info, click here.
4. Nubo, Chatswood or Alexandria
This first of its kind in Australia, Nubo is a novel and innovative educational play space that connects families through quality learning experiences and purposeful design. By combining uncomplicated spaces, qualified staff and bespoke scholastic programs with beautiful, highly designed interior environments, Nubo navigates children and their families through the world of 'Pure Play' together. By encouraging children to nurture their curiosity, explore their strengths and interests through educational workshops, facilitated play and free play, a holistic approach is applied to everything Nubo does.
The space's design allows adults to enjoy some quiet time away from their everyday duties whilst observing their children playing meaningfully from a safe distance. Parents are also welcome to interact with their children as they build, create, climb or read. There is a zone for active play including a giant climbing frame where little ones can slide, climb, and hide. The building room is full of Big Blue Blocks, MagFormers and Laeido Gears.  An emphasis on healthy, wholesome food is made fresh to order from the Nubo café. And a range of children's master classes includes cooking, art, music and coding.
For more info, click here.
5. Luna Park
Featuring free entry, fun and games for the entire family, Sydney's largest heritage-listed amusement park is superbly restored Luna Park built in the 1930's, which still contains traditional rides such as the Ferris Wheel. Unlimited rides passes are available for purchase so you can also take a trip on the crazy Tango Train or slip down the Giant Slides.
A trip to Luna Park is not complete without also playing games and winning prizes by trying your luck on the Laughing Clowns, Crazy Crooners or Goin' Fishin.'
Carnival favourites can also be enjoyed such as fairy floss, hot dogs, ice cream cones, and more. The New Helter Skelter Café offers sandwiches, salads, burgers and rotisserie chickens, and The Deck provides cool drinks with an amazing outlook over spectacular Sydney Harbour.
For more info, click here.
6. Sydney Harbour BridgeClimb with Kids
Since the minimum age has been reduced to 8, Sydney Harbour BridgeClimb with Kids is now a possibility for families wanting to take part in a thrilling but safely organised climb to the top of the scenic bridge! This is a very expensive but special treat and one of the most iconic and adventurous things to do in Sydney. An additional small fee can be paid to ascend the pylon and see an interesting exhibition about the bridge while viewing the spectacular scenery.
There are some more great kid-friendly options if you cross to the north side where you can visit Luna Park, eat at one of Kirribilli's many cafes and restaurants, swim at North Sydney Olympic Pool, or play at Bradfield Park, on the corner of Fitzroy and Alfred Streets.
For more info, click here.
7. Powerhouse Museum
There are three places that form the Museum of Applied Arts and Sciences, and The Powerhouse Museum is the best for children, with regular and delightful exhibits including old trains, suspended planes and Matchbox cars. There's even a permanent Wiggles exhibition!
The Powerhouse Museum's building itself is worthwhile visiting as part of Sydney's history, where it is located in the Ultimo Power Station in Darling Harbour.  Architecture, contemporary culture, decorative arts, engineering, fashion, health, medicine, science and technology, span the collections on display. Ideal for families looking to understand Australia's unique culture, the permanent and temporary exhibitions are particularly focused on creativity and design.
There are regular demonstrations, events, forums, performances, tours and workshops held throughout all four levels of the vast Museum.
Children aged 16 and under can visit free.
For more info, click here.
8. Cockatoo Island
Several of many islands in Sydney Harbour can be visited by the public. World Heritage listed Cockatoo Island is definitely the best one for families. The island can be explored simply by hopping on a ferry for the day or staying overnight on the campground or in the holiday houses.
With so much to learn about Sydney's history, both in convict times and beyond, The Convict Trail is great for children with tunnels to traverse, nooks and crannies all over the island to explore. Start by picking up maps and treasure hunt activities for the kids at the Visitor's Centre. After you wear yourselves out in the fresh air, take a lunch break at one of the cafes and chill out while the kids play on the grass.
For more info, click here.
9. Madame Tussauds Sydney
Madame Tussauds Sydney is a wax museum that is home to more than 70 lifelike celebrities, rock stars, sporting legends, and politicians. Situated on the Aquarium Wharf in Darling Harbour, this museum offers a wide range of fun, immersive experiences for the entire family.
Kids can mingle with their favourite celebrity likeness and step into the spotlight as stars of stories by getting up on stage with popstars, rubbing shoulders with powerful politicians, and testing their athletic prowess against sporting legends. Take a selfie with Australia's hottest stars, Liam and Chris Hemsworth, kick a goal with soccer superstar, Tim Cahill, and accept an MTV award presented by Adele!
For more info, click here.
10. Sydney Tower Eye
From the nearby golden beaches to the distant Blue Mountains, Sydney Tower Eye's Observation Deck takes you to the highest point above Sydney for spectacular panoramic views of the stunning harbour city. With its striking design, this iconic skyscraper has been an integral part of the famous Sydney skyline for the past 30 years and is ranked as one of the safest buildings in the world. Would you believe that if the strands of the 56 cables that stabilize the tower were laid end to end, they would extend from Sydney to Alice Springs? Fascinate your family with facts like this!
For more info, click here.
Springfree Trampoline is proud to partner with Merlin Entertainment. Combine your visit to WILD LIFE Sydney Zoo with a trip to SEA LIFE Sydney Aquarium, Madame Tussauds Sydney or Sydney Tower Eye – and SAVE! Merlin Entertainment's Sydney attraction passes offer sensational discounts compared to standard single entry ticket prices.
Save on tickets here.