Our large square trampoline has a soft bounce and plenty of jumping space. Designed for large yards and children (and adults!) of all ages.
no springs = more jumping space
The jumping surface of our 3.4 x 3.4m square trampoline is equivalent to that of a 4.3 x 4.3m square trampoline with springs. The large square trampoline allows you to maximise your jumping surface while saving valuable backyard space.
BUILT TO LAST. BUILT FOR LIFE.
Our 10 year world-class warranty covers every inch of the trampoline. from net to frame to mat - we're here for you. it's our years of fun guarantee!
Product Specifications
Please select a trampoline model to proceed
Estimated delivery within 3-5 business days from dispatch.
Have questions? Please call us at 1800 586 772 or chat with us.
Make Your Trampoline a Smart Trampoline
Add more fun on your Springfree with the addition of the tgoma accessory! Create a family experience in the backyard that will keep everyone engaged and active for hours.
Learn more about tgoma
Shop Accessories
Get the most out of your Springfree Trampoline with our unique range of accessories. These innovative accessories for trampolines have been designed by our dedicated team of engineers to be specifically used with your Springfree Trampoline.
Shop Accessories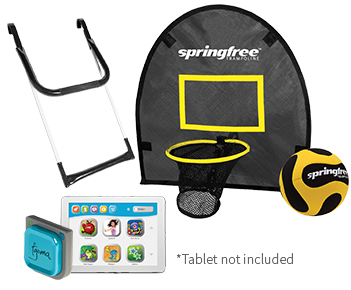 Product Specifications
| Item | Value |
| --- | --- |
| Size of mat ? | 3.4 x 3.4 m |
| Surface area of mat | 10.5 m2 |
| Total space required ? | 6.4 x 6.4 x 6.0 m |
| Structural load capacity | 500 kgs |
| Height of mat above ground | 0.9 m |
| Height of FlexiNet above mat | 1.8 m |
| Total height | 2.7 m |
Box Dimensions
Item
Value
Number of boxes
3
Box weights
41.5 kgs
41.5 kgs
45 kgs


Box dimensions
860 x 850 x 175 mm
1700 x 520 x 170 mm
1700 x 520 x 170 mm


Download Manuals