Kids activities, boredom busters, holiday guides, giveaways, recipes, tips and tricks! We've got you covered this summer! Be sure to bookmark this page – so you don't miss out on all the fun!
Want to shop our great range of trampolines? Let us help find the perfect fit for your family. Shop Now.
Great summer reads
Summer is all about fun, adventure, friends and family!
Get ready to have fun outside with everyone when you use the BEST Summer fun ideas, tips, tricks and resources found here on YOUR Summer Hub!
Back To School
Are you struggling for ideas on how to best get the kids ready and bouncing for school after these holidays? With these tips, it will be a breeze!
Lunch box treats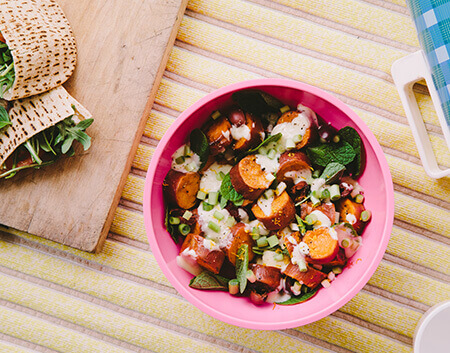 Roasted Sweet Potato Salad with Aioli, Mint + Olives


Serves 4 as a side
For the aioli:
Makes around 1 cup
1 garlic clove
1/2 tsp salt flakes
1 egg yolk
2 tbsp (40ml / 1.4 fl oz) white wine vinegar
3/4 cup (180ml / 6 fl oz) grapeseed oil or neutral-flavoured oil
1/4 cup (60ml / 2 fl oz) olive oil
zest of 1/2 a lemon, optional
extra salt, to taste
Crush the garlic clove to remove the skin.
Finely chop the garlic.
Add the salt flakes to the chopped garlic and use the side of a knife to crush them together until they form a paste.
Pop the garlic paste into a blender, and add the egg yolk and vinegar.
Turn the blender on low speed and gradually trickle in the oils, blending constantly, until all of the oil has been incorporated—around 3 minutes. Once the oil is all in, turn the blender up to medium and blend for another 20 seconds.
Taste the aioli for seasoning and add more salt if required. Add the lemon zest for extra brightness and whiz once to combine.
Transfer to a clean glass jar and store in the fridge for up to 3 days.
For the sweet potato:
1 kg / 2lb 3oz sweet potato, washed
4 tbsp (40ml / 1.4 fl oz) olive oil
salt and pepper, for seasoning
Preheat oven to 200°C / 400°F / Gas Mark 6.
Drizzle a baking tray with half of the olive oil.
Cut the sweet potato into large chunks and scatter them on the baking tray.
Drizzle the sweet potato with the remaining olive oil, sprinkle with salt and pepper, and toss to coat.
Bake in the oven, turning halfway through, for 30–40 minutes or until the sweet potato is tender and golden around the edges.
Allow the sweet potato to cool to room temperature before you assemble the salad.
For the salad:
1 batch roasted sweet potato
1/2 batch aioli
large handful of mint leaves
1 spring onion, finely sliced
200g / 7oz kalamata olives, pits removed
1 lemon, optional
Arrange the sweet potato in a bowl, and dot with the aioli. Scatter over the mint leaves, spring onion and pitted olives.
Serve with lemon wedges on the side.
TACO SALAD WITH BLACK BEAN SALSA + PAPRIKA, LIME + YOGHURT DRESSING
Serves 6–8
For the black bean salsa:
2 tbsp (40ml / 1.35 fl oz) olive oil
2 tsp (10ml / 0.34 fl oz) maple syrup
2 tbsp (40ml / 1.35 fl oz) red wine vinegar
1 tsp salt flakes
1 tsp cumin seeds
2 tsp ground paprika
1/2 red onion, finely diced
2 cans of black beans, rinsed
In a medium-sized bowl, whisk together the oil, maple syrup, vinegar, salt and spices until well combined.
Stir through the diced onion and black beans.
Set aside for at least half an hour so the flavours can combine. You can also make the salsa the night before and store it in the fridge.
For the paprika, lime + yoghurt dressing:
3/4 cup (200g / 7.1oz) Greek yoghurt
zest of 1 lime
juice of 1/2 a lime
1/4–1/2 tsp salt flakes
2 tsp smoked paprika
1 tsp sweet paprika
1. Stir all of the ingredients together in a small bowl until well combined.
To assemble the taco salad:
1 cob of fresh corn, roasted or steamed
1 large cos lettuce, washed and shredded
250g / 8.8oz cherry tomatoes, halved or quartered
2 avocados, sliced
200g / 7.1oz salted corn chips
black bean salsa
paprika, lime + yoghurt dressing
handful of coriander leaves
fresh lime + jalapeño chilli to serve, optional
Slice the kernels from the corn cob.
In a large salad bowl, arrange the lettuce and scatter it over the tomatoes, the cut corn, the avocado slices, the corn chips and the salsa.
Drizzle over the yoghurt dressing, some coriander leaves and some wedges of fresh lime and jalapeño slices, if you're adding them.
Serve immediately.
Roasted Eggplant + Goat's Cheese Pita Pockets


If you don't like goat's cheese, substitute it with feta, tzatziki or hummus. Pan-fried haloumi or other roasted vegetables are a delicious alternative, too.
Makes 4 pockets
For the roasted eggplant:
1 medium eggplant
3 tbsp (40ml / 1.4 fl oz) olive oil
salt and pepper, to taste
Preheat the oven to 190°C / 375°F / Gas Mark 5.
Drizzle a baking tray with half of the olive oil.
Cut the eggplant into rounds of about 1.5cm / 2/3" thick.
Arrange the eggplant on the baking tray and drizzle with the remaining oil. Sprinkle with salt and pepper.
Bake in the oven for 20 minutes, and then flip before baking for another 10 minutes or until the eggplant is tender and golden around the edges.
Allow to cool to room temperature before using.
For the pita pockets:
1 pita bread, cut open
a few slices of roasted eggplant
1 piece of marinated goat's cheese
handful of rocket leaves
a few thick slices of tomato, sprinkled with salt and pepper and drizzled with olive oil
a few basil leaves or other fresh herbs
1. Cut open the pita bread and stuff it full with all the fillings.
Recipes provided by Lunch Lady. For more recipes visit https://www.hellolunchlady.com.au/
Summer Events & Activities
What's on 4 is Australia's leading "What's On" directory to find activities, classes, sports, events, school holiday ideas and party services for kids.
Check out what's on in your area!
To check out Springfree events in your area head to our events page
Built To Last. Built For Life.
Backed by a 10 year product warranty on the entire trampoline. From net to frame to mat - we've got you covered.
Kids deserve safe backyard play that lasts. Our innovative design and high quality materials give you peace of mind that your kids are safe while having fun for years to come.
Australia's Safest Trampoline
Springfree takes the Australian Safety Standards seriously.
Our Springfree Medium Round Trampoline is the only trampoline to pass the Australian Safety Standard (AS 4989:2015) as tested by Consumer Group CHOICE®.